This post may contain affiliate links, meaning I get a commission if you decide to make a purchase through my links, at no cost to you. Please read my disclosure for information. 
Welcome to paradise at Barcelo Puerto Vallarta. You have arrived. Well, not yet. But you will want to visit after reading this post!
It feels like I just got home from Mexico, but we visited last January. I highly recommend making the trip to PV. Stay at an all-inclusive resort miles outside of the bustling, loud center of the city. Honestly, I'm glad we didn't hang out in the city. It was crowded and hot. Driving in town was a chore and it takes your full attention especially at confusing intersections with people randomly crossing the road. Once you cut through town from the airport to the resort, your vacation awaits. It's worth it.
To help you book your all-inclusive trip to BPV, I've broken down the resort and the city into categories. I hope my insider tips will provide you with the best experience possible while at BPV.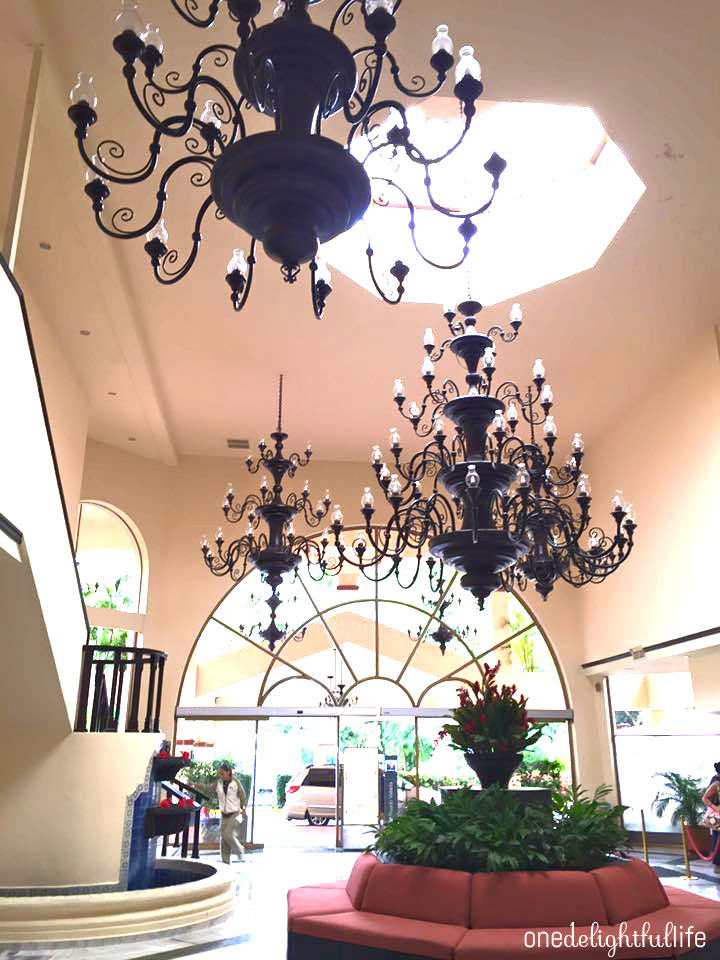 ROOMS
We've stayed at more than one all-inclusive resort in Mexico and each one has its own unique qualities from the amenities to the color of the ocean water. One trait these resorts have in common-total relaxation! Barcelo Puerto Vallarta is no exception.
You definitely want to reserve a view of the ocean or overlooking the courtyard. When booking your room, ask about this option. Otherwise, you may be facing the employee parking lot or a massive grove of shady trees.
We booked the Family Suite, which was 732 square feet of ample space. The rooms are quite spacious and you'll be happy to find that some of them come with two bedrooms, two full bathrooms. Oh, and the showers! They're HUGE glass encased spa-like showers with strong water pressure.
We were in agreement that the beds were some of the most comfortable ones we've ever slept on in a hotel.
Tip: The rooms stay cool thanks to a tile floor and black out curtains, but you may want to bring flip-flops or slippers. The bathrooms include basic toiletries, a hairdryer, plush white towels, and a robe in each bathroom. There is no need to order room service (an extra cost) unless you're too hungover from the night before to get up for the breakfast spread downstairs. Also, the Wi-Fi does NOT work in your room unless you pay an extra fee for it at the front desk. The front desk manager claimed that Wi-Fi worked everywhere else within the resort without a charge. Not true!
DINING
If you stay several nights, you are gifted two to three passes to dine at the higher end restaurants at the resort: Don Quijote, Capri, or Los Arcos. Stay an additional night or longer and the resort gifts you an additional restaurant pass so you can enjoy all three eateries. Take advantage of these opportunities to dine at the resort but bring money to tip your waiter. It's customary. Be prepared to have to book your reservation as soon as the concierge desk opens the day that you want to dine for dinner. A strict dress code applies and men must dress business casual in dress pants. Women usually wear a dress to dinner. If you don't follow the dress code, they will graciously ask you to return to your room to change into something more formal.
What can you expect from the menus? It depends on the style of restaurant as some serve Spanish cuisine while another caters in seafood entrees. Plating of one's food is exquisitely done and camera worthy. It was my boyfriend's birthday during our stay. The concierge and waitstaff presented him with not one, but two birthday dessert surprises throughout the day as we dined. The server at Los Arcos also presented him with a bottle of champagne and rounded up his co-workers to sing "Happy Birthday" to him. The staff at Barcelo resorts always exceeds your expectations by anticipating your every need.
Tip: Don't lose your dining reservation ticket, a slip that you must present at the restaurant's hostess desk. Also, Los Arcos is a casual outdoor dining area during the afternoon serving handmade tortillas with taco bar. Enjoy views of Mismaloya Beach and the Bay of Banderas while munching on barbacoa mini tacos. Corona anyone?
SPA
If you've never had a massage near the ocean, you need to book one. This level of relaxation is unlike any hometown spa experience you've ever had. I should know…I worked at a well-known spa in my city for two years. You will feel your stress fade away while listening to the repetitive crash of the Pacific's waves nearby.
Barcelo Puerto Vallarta spa packages are available and must be charged to your room. You can also just book an individual treatment. However, I recommend a full-body aromatherapy massage coupled with a deep cleansing facial. Both of my treatments were done by the same therapist, which was not something I expected.
So, imagine two hours at the spa followed by…oh, I don't know…a day by the pool. That's one delightful day!
Tip: If someone in your party rather not pay spa prices, you can walk about a quarter mile down the beach to a third-party "spa" and get a massage there for as little as $20 an hour. I also tried out this massage treatment and was glad I did. Yes, the dressing room is primitive. No, you shouldn't expect infused water when greeted. But, it does include the backdrop of ocean waves, a foot bath, and a quality head to toe massage.
ENTERTAINMENT
Pool side entertainment includes a twenty-something disc jockey playing bass thumping hits from the golden oldies to 80s hair bands. The entertainment director isn't a day older than twenty-one years old and his energy is contagious. Before you realize it, you've been persuaded to join in on a game of sand volleyball or happy hour shots at the swim up bar. Younger resort patrons can take advantage of a lengthy schedule of activities on the property. A life-size Jenga game never sat untouched and families with toddlers enjoyed the children's pool.
An evening show is performed every night by a troupe of singers and dancers. I was not a fan of Night at the Circus. It probably wasn't so much the dancers fault. A large table of incredibly drunk Canadians (they left everyone know where they were from) brought in a bottle of Patron and proceeded to drink nearly the entire bottle and celebrate. Loudly. They were not interested in the free popcorn.
BEACH
Not overly crowded the beach is relaxing and tranquil. The water is swift depending on the tide, which ebbs and flows. We were only prevented from using the beach once during our stay due to high tide.
You'll enjoy watching the come and go activity of fishermen leaving in the morning and returning in the late afternoon as well as boys who ride the waves. The occasional salesman will ask you if you want to buy trinkets, but they only ask once and don't bother you again.
The resort has two dining areas that provide ocean views. I highly recommend eating al fresco on the patio.
ACTIVITIES OUTSIDE THE RESORT
Since the resort is not close to town, you will want to rent a car or sign up for excursions that guarantee a shuttle pick up and drop off.  We drove our Enterprise rental car to Vallarta Botanical Gardens, a short winding drive through the hills. Talk about a breathtaking view! The owner, an American originally from the midwest, greeted us warmly and made small talk. This elaborate garden, featuring more than one hiking trail, is his creation. His friendly dog served as a "tour guide" during the entire route of our hike through the trees. Enjoy the educational center or dine for lunch on fresh tortillas and "the world's best guacamole" before you leave.
Deep sea adventures can be booked at the scuba hut near the beach. A German speaking dive coordinator with schedule your appointment to dive with one of his instructors.
Tip: Bring bug spray with Deet to the botanical garden. Posted signs warn guests to wear it, but we didn't think to bring any. Big mistake. "No-see-ums," or nearly invisible type of sandfly, will serve as your "tour guide" as well. Also, wear tennis shoes or hiking booths to enjoy the trails.
WEATHER
We vacationed at BPV during mid January and the weather was pleasantly sunny with slight overcast during the late afternoon. You should expect it to rain at some point during your stay but it won't cancel your plans and is usually so brief, it doesn't matter. It may be quite windy causing members of your party, who like to scuba dive, to have to wait until friendlier waters return. The tide definitely changes throughout the day at this semi-private beach. Don't leave your beach towel on the beach.
PS. Check out my slideshow of botanicals taken while visiting Vallarta Botanical Gardens just outside of the resort.