Post updated November 2023
In Kansas, there is no shortage of breweries to enjoy. Whether you're looking for a taproom to relax with a craft beer in hand or searching for a brewery serving a delicious meal, let my round-up list of breweries serve as a guide.
RIVERBANK BREWING – COUNCIL GROVE
We took a detour on our way home via Council Grove in search of craft beer at Riverbank Brewing (13 E. Main St.), and boy, did we discover a gem! The one-year-old brewery has a spacious taproom with patio seating and beautiful sunshine. Big fans of Yeah Girl Strawberry Blonde and Danube Dream Vienna Ale, we filled two growlers of beer to take home.
We loved their snack menu featuring two charcuterie box options, including locally sourced Alma Creamery cheese curds. I'd recommend stopping at Riverbank Brewing to enjoy a relaxed atmosphere, delicious beer and snacks, and great conversation with the owners.
IRON RAIL BREWING – TOPEKA
Iron Rail Brewing (705 S. Kansas Ave.) makes Downtown Topeka's scene even better. It's a great place to cool off and unwind after a day touring the capital building and area shops. The city was founded by the Atchison, Topeka, and Santa Fe railroad in 1869, and the brewing and its menu selections pay homage to it.
Brewmaster Will Heinen turns out creative beers with names like Hop N Hazy NE IPA and Dances With Skittles. The menu is equally innovative. Think elevated pub grub.
TALL TRELLIS BREW CO. – OLATHE
Tall Trellis Brew Co. (25600 W. Valley Parkway) is a welcoming and beautifully designed space. The family-run business originated as a hop farm and has since grown into a brewery featuring a coffee shop, event location, and lunch or dinner destination. The owners, who are brothers-in-law, did an incredible job creating both an indoor and outdoor patio space with you can sit back and be yourself, plus dogs are allowed on the patio.
Indoors, white tiling and wood textures contrast with green accents. A photograph of their hop farm guides the eye down a hallway. Nearby, an event space is separated by an interior glass door. The vibes are unpretentious and comfortable. It's the kind of place where you want to hang out all afternoon.
The brewery quickly expanded from one barrel to five barrels since its opening in 2022. Although they don't off traditional beer flights, I wanted to taste all five of their brews ranging from an espresso stout to a golden ale. Each one tasted true to character and exceeded my expectations. My favorite was Snap Chaps Western IPA, and lucky for me, I took a crowler home to enjoy later.
They invite breweries who use their hops to join the tap wall. Patrons can choose from guest taps from makers like Fields and Ivy Brewery, Free State Brewing Company, and Kansas Territory Brewing Company. Non-beer drinkers will appreciate their selection of wine and coffee bar selections.
RED CROW BREWING COMPANY – OLATHE
Red Crow Brewing Company (1062 W. Santa Fe) is not just another Kansas brewery. The beer is just as pleasantly unique as the names they give it. Each beer is given a woman's name chosen by the owners, a husband and wife duo. I created a beer flight of five 2 oz pours with names like Eleanor, Isabelle, and Sybil. I appreciated a Kansas Bock, Hattie, for its balanced taste and mouthfeel. 
I was impressed by the brewery's ample space to unwind and craft beer. Locals grouped up at tables with a view of the game. Couples chatted over beer and dinner entrees from the on-site food truck, Casual Foodie.
Although I arrived a few minutes late for Happy Hour (3-6 pm), it did not bother me. The drink and food menu prices matched what you'd pay at any brewery. Casual Foodie's two-page menu included meal choices for every kind of eater. I ordered a soft taco trio with pork bulgogi, jerk chicken, and sweet potato. 
WILCOTT BREWING COMPANY & TAPROOM – HOLTON
I entered Willcott Brewing Company & Taproom (219 W. 4th St.) with my pizza box in hand. I ordered a $10 beer flight with four craft beers to quench my thirst.
Like most home brewers, owner Sean Willcott's passion for making craft beer grew. After three years working at Anheuser-Busch, his family renovated an aging building and opened the brewery and taproom. His beer and the taproom are stellar examples of his hard work.
Five TVs adorn brick-exposed walls providing patrons with a view of the game no matter where they sit. Tables are inlayed with nostalgic board games. The hallway to the bathrooms is illuminated with dangling fixtures resembling hops.
So, how's the beer? I'm happy to report that I loved them all. That's rare. Willcott Brewing Company & Taproom's brews are top-notch, and my favorite brew was 1874, a Red Turkey Whit. It perfectly complements my savory pizza, which I also wholeheartedly recommend.
15-24 BREW HOUSE – CLAY CENTER
15-24 Brew House is kicking out some of the area's best beers. I ordered a four-pour beer flight to sample several brews. As a travel writer, I've drank quite a bit of craft beer, and I'm pleased to say that I enjoyed all Brew House's selections. Peel Out, comparable to Blue Moon, lived up to the hype. The two-time National Grand Champ Belgian Wit was my favorite, followed by 1 Eye Open Tropical IPA.
Voted "Best Burgers in Clay County," I wasn't going to miss my opportunity to order the stacked and smothered Gouda Mac burger. The sandwich is a feast for the eyes. Gouda bites drip with chipotle aioli atop a burger with bacon. You won't leave a single bite on the plate – so leave room for crispy waffle fries! Other menu options include steaks, pizzas, salads, and appetizers.
I was fortunate enough to get a private tour of the backroom brewing facility by Brew Master & General Manager Clint Armstrong. A few questions in, and I realized that Clint was the real deal. He cut his teeth on beer brewing like most beginners and then sought the mentorship of the pros while living in Colorado.
Fast forward years later, Clay Center is lucky to have him cranking out award-winning craft beer that easily rivals some of the best Kansas beer on the market. As we entered the tank room, he said, "Welcome to my happy place." We're all smiling now.
LADYBIRD BREWING COMPANY – WINFIELD
I discovered a new stop on the Kansas craft beer trail at Ladybird Brewing Company (523 Main St). Located in a converted gas station, the brewery serves a rotation of ales typically featuring regionally sourced ingredients.
People drive from out of town to visit the brewery open on Fridays and Saturdays. The shaded patio and indoor seating areas were filled with craft beer drinkers. Inside, you can select from 6-8 beers on tap. The patio is a party space. Look for the cornhole boards to enjoy a friendly game while you sip on suds.
I couldn't decide which beer I wanted, so I created a flight of 3 oz pours. Cool Mom Pomegranate Saison was a winner. But if I'm honest, I enjoyed all of the beer in the flight. The brewery doesn't serve food, but snacks were available for purchase. The vibe was relaxing as alternative music played in the background.
RADIUS BREWING COMPANY – EMPORIA
Local. Unfiltered. This is how Radius Brewing Company (610 Merchant St.) describes itself, and it fits, considering the uber-friendly vibe and delicious menu. The full-service restaurant is open seven days a week, serving artisan-style menu items ranging from wood-fired pizza to sandwiches. How good is the beer? It's award-winning.
You can expect to find at least a half dozen craft beers on tap at any time. After ordering a flight (6, 5oz pours $12), I can attest to the quality of the selection. When it comes to craft beer, I typically like IPAs, but today, I fell hard for Chile Margarita Gose and Mojito Hard Seltzer. Each was uniquely flavored and refreshing.
After working up an appetite, I ordered the Chicken Bacon Avocado sandwich with a broccoli salad. Seated at the bar, 90s rock music played while I chatted off and on with the friendly bartenders. The food was freshly prepared by Chef Bays, and it showed in its flavor and presentation. Before leaving, I ordered a Meat Eater 12″ pizza and a side of homemade dill ranch for the road. It sounded too delicious to resist, and it met my expectations.
TRANSPORT BREWING COMPANY – SHAWNEE
Transport Brewery (1113 Johnson Dr.) was opened in 2019 after two friends decided they wanted to share a beer with the community they loved. Once they settled on the location, a historic building, they went to work renovating the space. A labor of love, they added a tasting room and designed a converted alleyway with couches for extra lounge space. It's a cool space – ask about the hidden cellar.
During my private tour, I learned that the owners always wanted to serve a variety of beers. Nearly a dozen taps line the wall behind the bar of flagship beers and collaborations with other breweries. I enjoyed a flight featuring five beers ranging in flavors and ABV strengths. Top Traveler, a New Zealand IPA, was awarded the best beer in the line-up.
One of the coolest things I noticed while sipping on suds at Transport Brewery was the chalkboard near the bar with tally marks scribbled on it. Each mark represented a beer bought for an active military service person or veteran. You can buy them a beer to be redeemed later.
SERVAES BREWING COMPANY – SHAWNEE
Pronounced like "service," Servaes Brewing Company (109201 Johnson Dr.) attracts craft beer drinkers who hunt down non-traditional flavors like Purple Sweet Potato Pineapple, Like Butterflies Banana Cream Pie, or JOCO Loco Cucumber Lime Gose. They're not afraid to push the envelope. Saevaes Brewing Company is the first Kansas brewery owned and operated by a female head brewer. They earned my respect for the process, unapologetic beer flavors, and inviting tasting room.
Individual tasters are $3, but a flight of tasters is the way to go. Most patrons seemed to agree, as nearly everyone had a board and a flight card at their table. A continuous rotation of beer keeps regulars coming back for more. Open Tuesday-Sunday, the brewery hosts pop-up shop events, trivia nights, and the like. Visit on Wednesday nights to build a mixed four-pack or to enjoy a $5 full pour during Music Bingo.
PATHLIGHT BREWING – SHAWNEE
With 12 beers on tap, Pathlight Brewing (112000 W. 75th St.) serves beers to loyal customers seven days a week. They've received awards for their sours, but you'll find a variety of beers on the menu from Belgian Style Ale to West Coast Lager. I recommend asking for short pours of Wick Hazy IPP and Stay K Tropical Hazy IPA.
Surprisingly, they have about two dozen whiskeys available as well. You'll find their beer on tap at various bars and restaurants in Shawnee.
FREE STATE BREWING CO. – LAWRENCE
There is no better place on Mass Street in downtown Lawrence to enjoy a meal and a craft beer than Free State Brewing Co.(636 Massachusetts St). Kansas' original craft brewery has been serving flagship beers, rotating seasonal selections, and limited selections for decades. I requested the John Brown Ale, but it wasn't available during my visit. Instead, I happily settled for Free State Lager. I was happy to be back at Free State, a place I frequented on Monday $1-pint night during my college years.
Their menu has always included items made from fresh ingredients with flair. You won't find standard pub grub at Free State. The menu options appeal to foodies who appreciate unique flavor combinations and the freshest ingredients. We enjoyed the Filipino Egg Rolls with Sesame Chile Soy Dipping Sauce as an appetizer. We shared the Nashville Chicken Mac, Free State Fish, and Chips for dinner. Both entrees exceeded our expectations.
I highly recommend stopping at Free State Brewing Co. for lunch or dinner during your visit to Lawrence. Although they are not hosting brewery tours, you can check their Facebook events page for upcoming trivia nights or festival celebrations. Locals and visitors alike love the brewery's vibe. Limited patio seating allows patrons to watch Mass Street happenings with a beer in hand.
FIELDS AND IVY BREWERY – LAWRENCE
A farm-to-table taproom, Fields and Ivy Brewery (706 E. 23rd St.) includes a 5,000 square-foot production facility, restaurant, and bar. They pride themselves on using Great Plains Custom Grain to create memorable beers. If you're interested in a flight, you won't see it on the menu but it's available if you ask.
Order a scratch-made pizza with quirky names like Chicken "Fun-Guy" and Italian Rooster. Large salads and highly-recommended wings are popular choices as well.
TALLGRASS TAP HOUSE – MANHATTAN
Tallgrass Tap House (320 Poyntz Ave.) is massive and draws a busy lunchtime crowd. They rotate the lineup of beers to accompany their flagship favorites. My flight came with four 5oz pours. I'd recommend trying a variety of styles but make sure to ask about their seasonals.
I appreciated Skeleton Crew and loved the sample of Tropical Golden Ale. Visit during Happy Hour Monday-Friday from 3 pm-6 pm for discounts and enjoy $3 Tap House exclusives all day on Sundays. Sit on the rooftop deck during warm weather days for drinks with friends.
MANHATTAN BREWING CO. – MANHATTAN
Stopping into Manhattan Brewery Co. (406 Poyntz Ave.) always promises a good time and a lot of beer drinking. There is just something about the friendly staff and the beers, which go down far too quickly that keeps me coming back.
Before my first beer was even finished, I was asked by Jake, the brewery's sales and marketing guru, if I wanted to tour the facility. My beer education began in the brewing area and ended in the basement cooler. I tasted the grain. I perused the rows of kegs. I peered into the tanks. What did I learn? As much as the owners joke around, they take brewing and selling craft beer seriously. The quality shows.
Keep your eyes peeled while visiting the brewery for tiny plastic dinosaurs. The mural on the back wall makes for a selfie backdrop. As I sat at the bar and finished a Bodacious Blackberry Milkshake IPA, I learned that one of the top-selling drinks behind the bar wasn't even a beer. It's their house-made sangria.
For the owners of Manhattan Brewing Co., running a business is more than about slinging suds. Customer service is a priority.
RANGE 23 BREWING – BONNER SPRINGS
Range 23 Brewing's (200 Oak St.) taproom is located in the heart of Bonner Springs serving year-round craft beers produced at their facility in Piper, Kansas. Not only do produce a wide range of beer styles, but they also serve a Prairie Juice line of hard lemonades, craft sodas, and limited cocktails. Ask about seasonal libations.
Visitors to the taproom will appreciate the comfy lounge couch positioned near a stack of board games. Couples or friends conversation over beers can find small tables near the windows providing views of bustling Bonner Springs.
OUTFIELD BEER COMPANY – BONNER SPRINGS
Tucked away inside a restored old mill, Outfield Beer Company (611 W. 2nd St.) serves patrons looking for a variety of beers from American Wheat to Test Batch Weizen. A local favorite, Turn 2 Kölsch is highly recommended on Untapped.
The microbrewery provides tap space for Midwest guest brews from the likes of Boulevard Brewing Company or Brick River Cider Company, and the list is updated often. If you get hungry while sipping suds, nearby Quentin's BBQ & Sides delivers to your table.
WALNUT RIVER BREWING COMPANY – EL DORADO
Brewing beer is an art form, and Walnut River Brewing Company (111 W. Locust) is skilled at its craft. They make beer you want to drink. It is located at 111 W. Locust Avenue, a hidden gem in south El Dorado. Their beer is approachable, and if you're a craft beer fan, this microbrewery is worthy of a visit.
Founded by B.J. Hunt of Wichita and Rick Goehring of El Dorado, the microbrewery began with a passion for creating quality beer. What's unique about the brewery's early story is that the owners knew they were on to something unique that would require real hustle to get it off the ground. They stayed patient as they scaled their business. The end result is a successful brewery business that serves quality products.
Why open a brewery in El Dorado? The water! Brewing beer in El Dorado promised to be naturally better since the water in the area is of superior quality compared to nearby Wichita. Eventually, Walnut River Brewery Company expanded its initial physical space and added a tasting room and small kitchen. (Don't forget to order lunch!) The brewery also operates a cannery allowing its beer to be accessible in liquor stores and area grocery stores.
Warbeard Irish Red remains one of their most requested flagship beers. I would also recommend the HighBeam IPA. Drinkers who prefer a lighter brew will appreciate the Falconer's Wheat, and Teter Rock Kölsch. Also, they often collaborate with area breweries like Norton's or Norseman, so you never know what new creations may be added to their lineup.
BLUE SKYE BREWERY & EATS – SALINA
We were excited to revisit Blue Skye Brewery & Eats (116 N. Sante Fe Ave.). The restaurant consistently offers tasty food, and its craft beers are second to none. They serve wood-fired pizza, burgers, salads, and sandwiches using fun combinations of ingredients. Our Mac Daddy pizza was prepared with garlic butter, Mac N Cheese, and Little Smokies, a shareable meal for two. Expect the unexpected from the kitchen. The pizzas are seriously good.
The family-owned restaurant is always bustling with locals and tourists enjoying the sports bar-like atmosphere. The in-house craft beers on tap include standards you would want to see, plus specialty beers like Hatch Green Chili Cream Ale or Watermelon Crawl.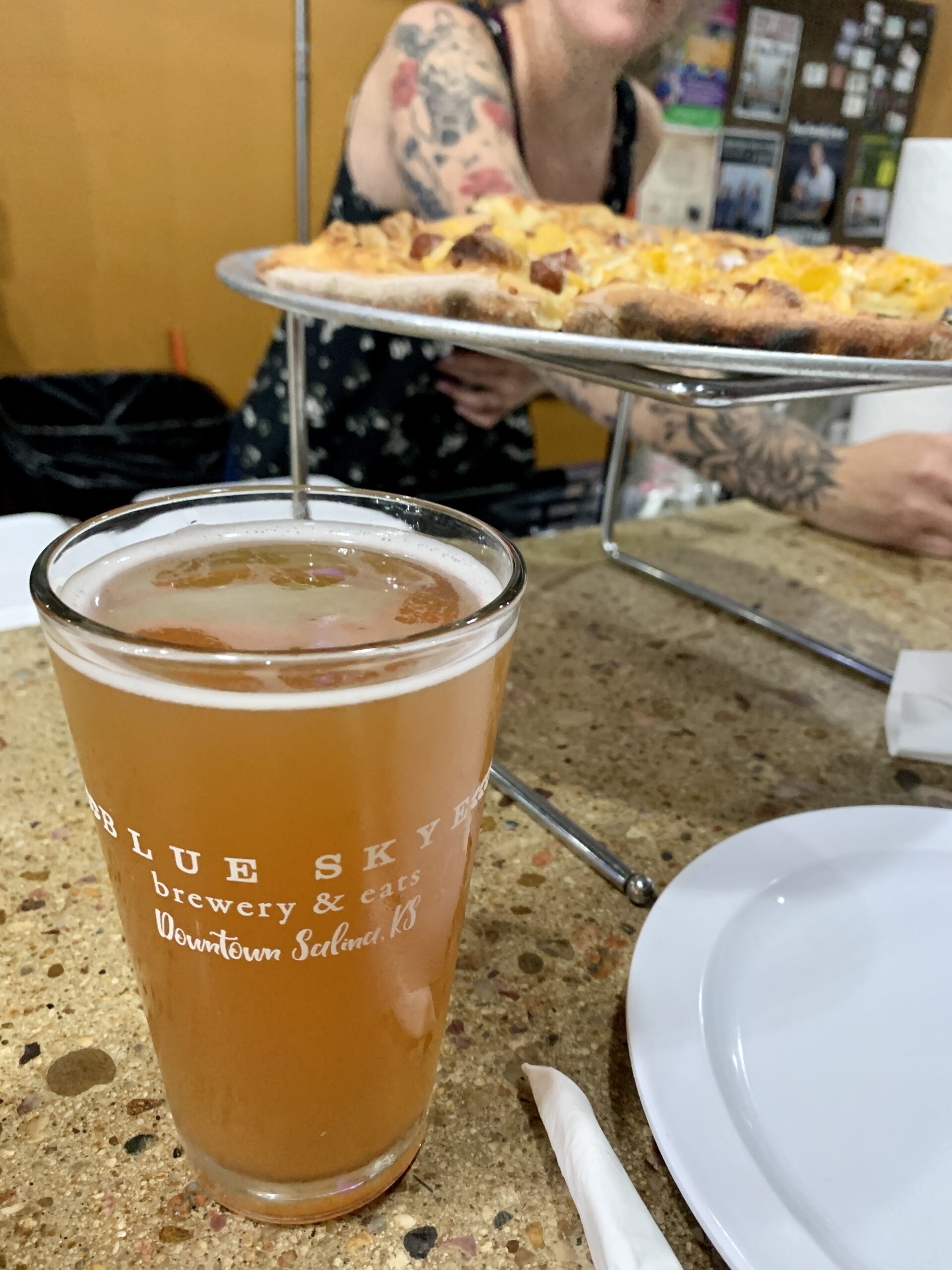 During our visit, we quickly became friends with a brother-and-sister duo from the area. Whitty, fun, and super knowledgeable about Salina, we compared travel stories and talked about our love of craft beer. They told us about Blue Skye's award-winning Bloody Mary bar and brunch menu. So, of course, we returned the following day to try it. The server brings you a glass of ice with a shot of vodka. Your task is to craft your own Bloody Mary recipe using a variety of tomato-based juices, hot sauces, and add-ins. As you can see in the photo below, we had a blast using the skewers to make a bouquet of tasty treats.
THREE RINGS BREWERY – MCPHERSON
You know you're in the right place when you see the food truck chef delivering a hot pizza to customers seated inside a brewery. Three Rings Brewery (536 Old U.S. 81) is known for serving tasty craft beer and having a visiting food truck on-site. Stop by to enjoy a beer on the patio or belly up to the bar inside the taproom.
During our visit, we swapped stories and learned more about the great people that make McPherson what it is while sipping on a Vertigo IPA and their latest recipe, Summer Breeze Lime Gosé. Already a fan of one of their flagship beers, Wanderlust, a Scottish Red, I had always wanted to visit the taproom. Just as we suspected, we left with a full growler and great memories of our time there. It's easy to see why the brewery has a regular following of craft beer fans after five years of business. I recommend visiting Thursday-Saturday to experience it first-hand. View the taproom hours and food truck schedule here.
SANDHILLS BREWING – HUTCHINSON
Sandhills Brewing's (111 W. 2nd St.) taproom is decorated with photos, murals, and references to Kansas birds — the beers are named after them! You can place your order online and pick it up or at the counter. The rotating tap list included in-house beers as well as guest taps. Hungry? They serve personal-size pizzas by LMNO Pizza, a pizzeria in Mount Hope.
The small microbrewery and tasting room are family-friendly, with some overflow seating in the adjacent private event room. Don't forget to take a photo in front of the building's magnificent mural by Brady Scott, a Hutchinson artist.
SALT CITY BREWING – HUTCHINSON
Celebrating the history of Hutchinson's salt mines, Salt City Brewing (514 N. Main) was founded in 2015. The brewery serves beer with "straightforward flavor" using quality ingredients. Visitors to the taproom can expect a spacious setting with numerous taps behind the bar. Four flagship beers, including amber, blonde, IPA, and stout, are available as a rotating seasonal beer selection.
The brewery is a great place to watch the game indoors or enjoy a beautiful Kansas weather day on the patio. Visit on Fridays to enjoy $1 off pints until 6 pm, and you won't leave hungry. The food menu consists of hearty meals, sandwiches, salads, and appetizers.
DROP THE BREWING COMPANY – PITTSBURG
Some breweries are only great a beer-making and fail at food. Drop the H Brewing Company (107 E. Rose St.) nails both. The one-of-a-kind brewery's restaurant owners, Mark and Cathy, have provided Pittsburg with a go-to spot for delicious craft beer and pizza. Originally named after Pittsburgh, Pennsylvania, the town of Pittsburg, Kansas, dropped the H in the late 1800s.
Drop the H Brewing Company's rotating taps, craft cocktails, and wood-fired pizza keeps patrons craving more. The staff is willing to provide a few beer samples so you can try the likes of Dorada Pampeana or Rose Street Red Ale. Another plus? If you're not a beer drinker, they usually have a cocktail drink extraordinary worth asking about.
We sipped on Langdon's Lager and the Belgian Wit during the lunch hour. With the kitchen in sight, it was time to order pizza. Our server told us that the most popular specialty pizza on the menu (they serve nine varieties) is the Drop The Piggy! The homemade crust and sauce were surprisingly good, reminiscent of the pies we dine on in New York. The large pizza was covered in Canadian bacon, pepperoni, Italian sausage, and traditional bacon. Loving every bite and not wanting to leave a morsel behind, we asked for a to-go box.
GELLA'S DINER + LB BREWING CO. – HAYS
chose a seat at the bar so I could have a clear view of the brewers at work behind the glass wall. My bartender was friendly and happy to provide a few beer samples until I eventually decided on a pint of the unfiltered Grapefruit Radler. Undecided between two lunch options, she persuaded me to order a local's favorite, a Smothered Bierock covered in creamy cheese sauce with a side of homemade chips. She also ensured my meal came with creamy bacon horseradish and sweet onion dip to eat with the chips. Lunch never tasted so good! And the beer? It was crisp and aromatic. I'd definitely order it again. Maybe a growler of it.
I'd recommend stopping at Gella's for lunch or dinner any time you're in Hays. The restaurant is large enough that it can easily accommodate groups. Menu prices were reasonable for the quality and portion sizes. If you drink craft beer, you can expect 12 taps, with two rotating on a regular basis.
DEFIANCE BREWING COMPANY – HAYS
Defiance Brewing Co. opened its second location (111 W. 7th St.) in Hays in 2021. I've been a fan of their beer for a couple of years, so I stocked up my cooler before heading for home to Wichita one summer afternoon. My lunch, a large house salad with champagne vinaigrette, hit the spot as I was in need of something fresh and light. Radio hits from my college years blasted in the background, and I whispered the lyrics between bites.
If you're a craft beer fan, I suggest visiting their downtown location. They offer 12 beer selections and a quarter of the menu are IPAs. Rumor has it they are aging beer in barrels in the side room. Craving lunch or dinner? Ask for a menu that features wood-fired pizzas, sandwiches, and salads.
WICHITA BREWING COMPANY – WICHITA
It never fails. I always find a beer on tap that I love at Wichita Brewing Company (two locations). Whether its a flagship beer or a seasonal beer (Yumkin Pumpkin, anyone?), they all pair well with a wood-fired pizza. Locals in the know check the daily drink specials menu for to save big bucks on beers and cocktails.
The brewpub is a family-friendly atmosphere at both locations with outdoor patios ideal for dog lovers.
CENTRAL STANDARD BREWING – WICHITA
Central Standard Brewing (156 Greenwood) is known for its large outdoor patio (that often has a food truck parked nearby!) and its laid-back vibes. They serve flavorful, popular craft beer. My personal favorites include Girlfriend (wheat beer), Wizard of Hops (IPA), and Bling Blau (Sour).
The interior space is also pet‑friendly, and it's common to see strangers becoming friends over conversations about their dogs. A stack of board games keeps the fun atmosphere feeling cozy and familiar.
During warm weather days, the brewing hosts events outdoors that spill over into Hyde Park across the street. Their anniversary block party in August features live music, food trucks, and games for the kids. You may enjoy patio vibes and jam to reggae music when you show up on Sundays.
HOPPING GNOME BREWING COMPANY – WICHITA
One of Wichita's downtown driving establishments, Hopping Gnome Brewing Company (1710 E. Douglas) is where regular patrons arrive with ceramic mugs ready to drink craft beer. They've earned "gnomie" status, many of which belong to the Mug Club.  Like the folklore creatures who love to partake, gnomies are devoted fans of the brewery's flagship beers and rotating taps. When the owners announced they were expanding the microbrewery to include a larger taproom, gnomies showed up in droves to the 7th Anniversary party to support the business. 
You can expect a long tap beer list and rotating seasonal beers. HBIC Sour, Salty Gnome Nose, ICT IPA, and Earl of ESB are likely on the menu any given day. The brewery is known for collaborating with other breweries and community members to formulate one-off beer selections. Hungry? Order pizza at the neighboring pizzeria; they will deliver it to you in the taproom.
Love a food and drink trail? Check out my posts The Best Places to Sip & Savor in Olathe, Kansas, or 16 Kansas Coffee Shops You Simply Must Visit.
NOTE: This brewery list does not include all Kansas taprooms I've visited, but I consider it a resource of must-stop experiences. A fellow author, Michael J. Travis, wrote "Celebrating Kansas Breweries: People, Places & Stories," an excellent guide to breweries across the Sunflower State. Each entry in the book explains the backstory of the brewery's creation.