Disclosure: Visit Lindsborg sponsored this post, however, all opinions are my own. All of the photos were taken by me. 
Välkommen to "Little Sweden" in Lindsborg, Kansas. The charming town is home to educators, artists, and business owners who celebrate their Swedish ancestry.
Only an hour's drive from Wichita, it makes an ideal day trip for travel enthusiasts who want to experience a picturesque small town with plenty of things to do from dining to exploring art galleries to shopping.
DINING
Blacksmith's Coffee Shop & Roastery
Considering arriving in Lindsborg in the morning? Grab something tasty to eat and drink at Blacksmith's Coffee Shop & Roastery (122 N. Main St.) You'll appreciate their freshly roasted coffee while seated inside the authentic, renovated blacksmith shop. During my visit, I tried the popular breakfast casserole and the biscuits and gravy. I recommend asking for a side of lingonberry applesauce — it's delicious! (Lingonberries are a mountain cranberry in Scandinavia.)
The historic building is the oldest standing building in Lindsborg dating back to 1874. Opened as a roastery and coffee shop in 2017, it continues to serve visitors a scratch-made breakfast menu and seed-to-cup coffee. You'll love the building's original architecture and historical design from its brick-exposed walls to the industrial finishes. How many blacksmith tools will you spot during your visit? View their hours and plan your visit here.
350 Degrees Bakery
Freshly baked goodies await your arrival at 350 Degrees Bakery (118 S. Main). It is hard to choose between cinnamon rolls, muffins, cookies, and Swedish Kringler, a flaky puffed pastry. The Swedish specialties sell out quickly so plan to visit before the lunch hour. I recommend buying a bag of Rusk, which are pieces of cinnamon rolls double-baked to yummy goodness. They're perfect for dunking into your coffee. Learn more here.
White Peacock Coffee & Tea Company
The best place to stop to quench your thirst while perusing Main Street's shops is White Peacock Coffee & Tea Company (124 S Main). Don't be surprised if you find yourself waiting in line at this popular spot. Visitors love their Sparkling Blackberry & Lavender Lemonade. They also serve light meals such as the Meaty Swede Bagel and Swedish Pancakes. Plan to stop there.
Crown & Rye
The Crown & Rye (121 N. Main) has been serving great food ranging from traditional Swedish dishes to burgers and salads to Lindsborg residents and visitors for years. It's the best place to stop for lunch during a day trip to Lindsborg.
I ordered the Beef Focaccia sandwich with a side of tomato basil soup. I also recommend the Berry Salad, an iceberg and romaine salad topped with fresh berries, goat cheese, and the house vinaigrette. Everything they serve is delicious. Save room for dessert because they serve a long list of favorites. Plan your visit accordingly because the restaurant is closed on Mondays.
SHOPPING
Main Street
Lindsborg's downtown district includes a number of artisan shops and boutiques. I enjoyed visiting Anderson Butik Scandanavian where I purchased a jar of Swedish Lingonberry Preserves. I also suggest stepping inside Trollslända Toy Store, The Good Merchant, and the Lindsborg Community Library's Used Book Store. If you're looking for Swedish candy and cookies, drive to White's Foodliner and look for the section marked with Swedish flags. I came home with delicious Swedish potato sausage that I highly recommend! View more shopping options here.
ART & CULTURE
Birger Sandzén Memorial Gallery
A visit to Lindsborg isn't complete without touring the Birger Sandzén Memorial Gallery (401 N. First St.) on the Bethany College campus. Born in Sweden, Sandzén exhibited over 170 shows in Kansas and promoted "art for all" when sharing his work with others. He believed in art education and gave lectures to students at his exhibitions.
As a professor at Bethany College, he was loved by his students. The world-renowned artist wanted his artwork to be accessible to public school students so he donated some of his paintings to them. A prolific painter and printmaker, he helped found the Midwest Art Exhibition, an exhibition held annually in Lindsborg. He completed nearly 3,000 paintings during his lifetime. The Birger Sandzén Memorial Gallery exhibits his artwork year-round.
To stand in front of a breathtaking Sandzén painting is to love it. While much of his work includes Kansas, Colorado, Utah, and Southwest landscapes, he also created painted still life and created portraits. Depending on the painting, you may see wide, colorful brush strokes with thick applications of paint. Other paintings highlight more controlled movements of the brush using deep, dark paint hues. While touring the museum, I also appreciated viewing the artist's tools on display in the main gallery.
You can also see work by noteworthy, contemporary artists on display in the rotating galleries on-site. Visitors to the museum may be surprised to find that some of the rotating artwork is for sale.
Admission to the Birger Sandzén Memorial Gallery is free. Donations and memberships are welcomed to support the museum's ongoing efforts to display artwork, host music concerts, and provide educational programs. Plan your visit here.
Hemslöjd
Within moments of your arrival to Lindsborg, you will notice the Dala horses that adorn the town's sidewalks and make an appearance hanging from front porches. Prized for their usefulness on a farm and as transportation, Swedes originally carved Dala wooden horses as toys for children. They were originally made in the Dalarna region of central Sweden.
While you can find them sold in a multitude of sizes of colors today, they are typically painted in a red-orange color. As you walk Lindsborg's business district you will discover that some of them match the business where they sit. My favorite is "Salvador Dala," which is painted using Dali's surrealist style.
Make sure to watch the artists at work painting the hand-carved dalas at Hemslöjd (201 N. Main St.). Guest can ask the woodworkers and painters questions or simply admire their handiwork. I was impressed with the process of carving and painting the dala horses and I know you'll love witnessing the craft first-hand.
When touring the workshop, be sure to look up at the ceiling tiles! Guests are encouraged to leave their mark. Don't forget to check out the retail store for Swedish gifts and Scandanavian home decor. Plan your adventure here.
Small World Gallery
Some people travel to Lindsborg just to visit the Small World Gallery (127 N. Main St.). National Geographic photographer and Lindsborg resident, Jim Richardson, and his wife Kathy have operated the store since 2002. Known for his stunning landscape photography, Richardson's work is sold as oversized prints and cards. He will sign custom orders, so be sure to ask for his autograph. Kathy specializes in sourcing exquisite, one-of-a-kind jewelry pieces, handbags, scarves, and more from all over the world.
I was fortunate to be able to visit with both of them during my visit to the store. As a one-time photography teacher, we discussed his work process and his future travels to Scotland. He is incredibly approachable and loves to talk with people who stop at the shop.
Kathy also took me under her wing to talk about the jewelry on display, which includes Berglagen, a blue glass sourced from Sweden designed in sterling silver settings. Together, they give store visitors a chance to learn about places they'd love to travel to someday by way of photography and beautiful jewelry pieces. To visit the studio is a total sensory experience!
EXPLORING
Other opportunities for exploration away from the downtown district include checking out the view from Coronado Heights, Lindsborg Old Mill & Swedish Heritage Museum, Bethany Church, Red Barn Studio Museum, and the 1904 World's Fair Swedish Pavilion. Another fun activity to do if you have free time during your visit is to cruise the town to spot unique dalas on display.
EVENTS
Lindsborg knows how to host a party. Travelers come from all over to visit the town's many events, including Lindsborg in Bloom, Våffeldagen, Smoky Valley Classic Car Show, and the Coronado Heights Run, to name a few.
I experienced the 60's-inspired event, Lindsborg in Bloom, during my visit. Everyone was dressed in far-out threads to shop, listen to live music, and ate outta sight food. Kids loved the henna tattoo station and bean bag toss for prizes while the adults had their tarot cards read. As I strolled the downtown district in and out of the shops, music could be heard from a live band. It was a groovy time.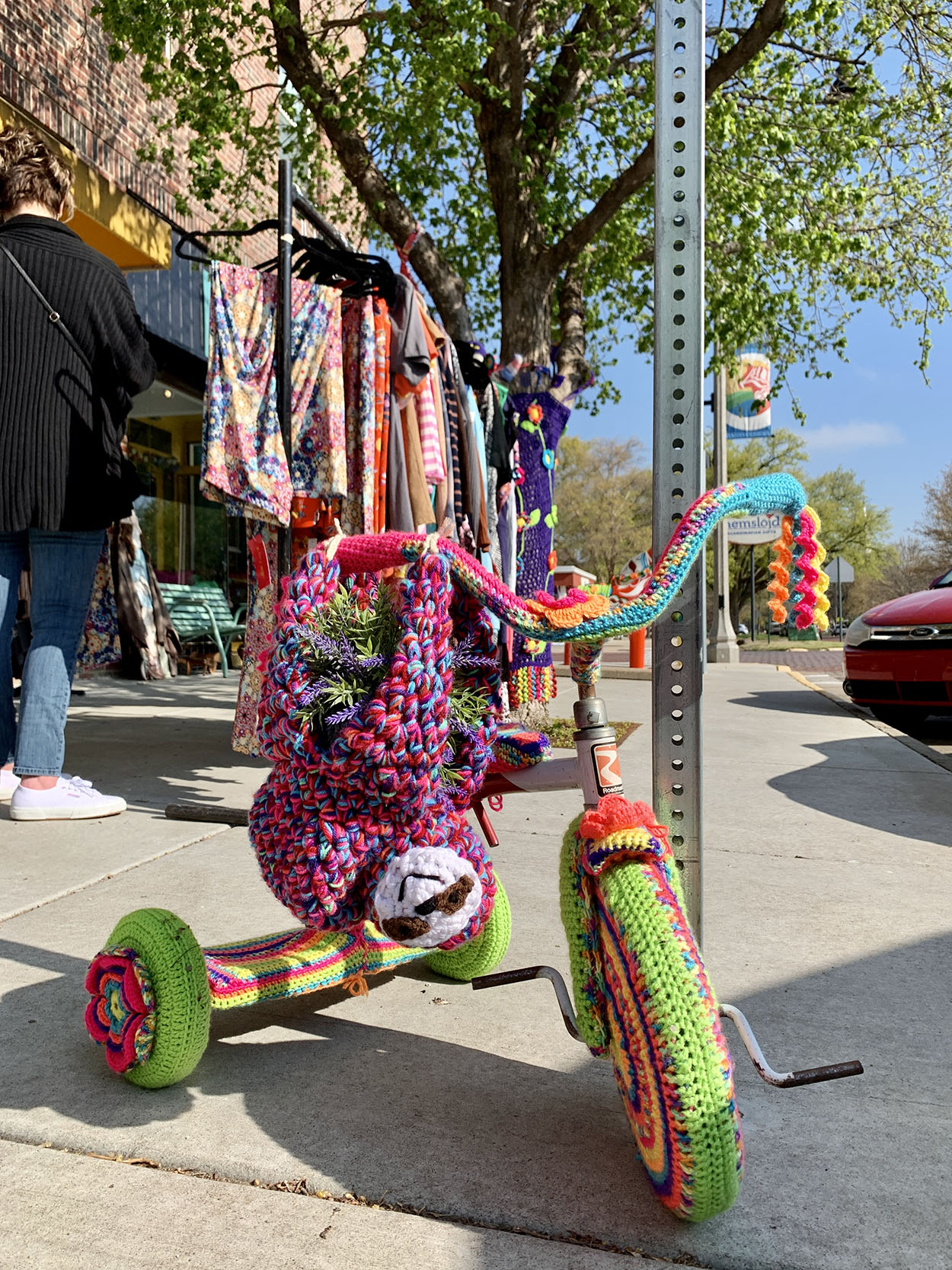 Whether you're hoping to celebrate your Swedish or American heritage, Lindsborg keeps it fun for all ages year round. View upcoming events here. No matter your reason for visiting, you will have made memories and new friends. A visit to Kansas' "Little Sweden" is a day well spent. I can't wait to return.
Considering a road trip to the charming town? Leave your questions in the comments below. I'd love to serve as your travel guide!