Disclosure: Kansas I-70 Association sponsored this post. However, all opinions and photographs are my own.
What's not to love about Salina, Kansas? The downtown district is renewed, the arts scene is vibrant, and the entertainment and dining options abound! The community has everything you're looking for and more in a Midwest town. I suggest you plan an overnight stay to see many of Salina's best attractions.
LODGING
Salina boasts a long list of hotels and motels, but by far one of the best ones to stay at is Hampton Inn (401 W. Schilling Rd.) for its amenities and proximity to I-I35 interstate. Our room featured two queen beds and all of the in-room comforts of home we were looking for including a workspace and free Wi-Fi access.
After exploring Salina, it was nice to come "home" to modern amenities and comfy beds. We took advantage of the indoor pool and spa for ultimate relaxation. A complimentary full breakfast topped our list of must-have accommodations making Hampton Inn a smart choice for an overnight stay. "Hampton's On the House" breakfast is served daily from 6 am-10 am.
COFFEE SHOP
I always need extra caffeine before checking off stops on my travel itinerary. Moka's Cafe (902 E. Crawford St.) was the place to go. Apparently, everyone had the same idea as the drive-up window and indoor dining room were full of coffee junkies like me. It was easy to see why they were so busy. The menu listed tempting breakfast burritos, french toast, and sandwiches. Coffee lovers were in heaven selecting from lattes covered in whipped cream and steaming cappuccinos.
I purchased a freshly brewed coffee with creamer and a flaky croissant. The place was abuzz with activity, so I took a number and waited for my order. Trendy music played while baristas filled cups with cold-brewed coffees and prepped fruit smoothies. Moka's Coffee has perfected the cafe formula. Modern atmosphere + Delicious Menu Items = Must-Visit Café. I'll certainly return for a Mile-High Sandwich for lunch sometime.
SCULPTURE TOUR
With time before we made our way to the Smoky Hill River Festival, we drove downtown to view SculptureTour Salina. The 11th exhibition of its kind to adorn the newly renovated downtown district, we walked the pedestrian-friendly area in search of public art.
SculptureTour Salina encourages you to vote on your favorite sculpture using a ballot deposited into a box at mid-block pedestrian crosswalks. With so many incredible works on display, how do you pick only one? We loved "Butterfly Tree" by Reven Marie Swanson from Colorado. The engineering of the piece kept the butterflies balanced and moving, a design element that made it unique from the others.
All of the sculptures are available for purchase. The sculptures are replenished downtown as each one sells. However, some remain on exhibit like my personal favorite, "Off the Merry-Go-Round" by Jodie Bliss, which was purchased by Homewood Suites. To learn more about SculptureTour Salina and how to cast your vote, visit their website.
MURAL AT THE MILL
If the goal of the Salina Kanvas Project is to attract onlookers and spark conversations about art, their latest project is a success. The Mural at the Mill large-scale mural (343 N. Santa Fe) is phenomenal. Australian artist Guido Van Helten was commissioned to paint the HD Lee Flour Mill to represent the spirit of Salina. His depiction of children at play holding hands around another child communicates a sense of happiness and belonging. Although the mural was still in progress during our visit, it was nearly complete. I recommend driving to the edge of the downtown area to view it. Word has it that there is more to come from other internationally known artists, so stay tuned here for details.
SALINA ART CENTER
The Salina Art Center (242 S. Santa Fe Ave.) offers visitors a chance to view contemporary artwork for free. As soon as we walked into the gallery, I was obsessed with what I saw. Colorful string hung from the ceiling – it was an art installation! A part of "Contemporary Textile" on display through October 3, visitors have to walk thru rows of fiber art to make their way inside. I love an interactive piece that forces the viewer to engage with it.
The collection of fiber artists' work continued throughout the gallery showcasing thread painting, beadwork, weaving, and quilting techniques. As a frequent museum-goer, I'm used to seeing paintings and drawings. "Contemporary Textile" stretched my imagination for what an artist can do with fiber materials. The art center pairs workshops with artists with the exhibitions they host, giving people a chance to learn from quilters, weavers, and stitchers. Find out more about their learning opportunities open to youth and adults here.
I also recommend taking a few minutes to interact with the Art-o-Mat vending machine near the center's entrance. It's not your standard vending machine. It's a retired cigarette machine that dispenses miniature works of art. To use it, exchange $5 for a token and insert it into the machine, and voila! Very cool.
The fun continues next door. If you have time to watch a film, head next door to the cinema, which shows independent films. To view showtimes, check out their website.
SMOKY HILL RIVER FESTIVAL
For over four decades, the town has hosted the Smoky Hill River Festival at Oakdale Park that attracts fun-seekers from all over Kansas. The weekend festival focuses on celebrating the arts. Four stages play top-name regional bands. Over 150 artists contribute their work, many of which are on-site to sell it. Over 30 food vendors serve everything from full meals to concessions favorites on a stick. The festival is a lively celebration that shouldn't be missed.
We loved the variety of choices on Food Row. The hardest part was deciding what to eat thanks to so many delicious options. The smell of bbq permeated the air. The sizzling sound of paella drew onlookers. The line formed for Tex-Mex. In the end, I decided to order a Walking Taco. It is a snack-sized bag of Doritos filled with taco toppings that you eat with a fork! My boyfriend couldn't resist ordering an Italian sausage served with peppers and onions. Honestly, this food court rivaled some of the best I've seen in quality and selection.
Visual arts are a focus of the festival. A portion of the festival is devoted to artists selling their work and demonstrating it. We enjoyed visiting with a landscape photographer at his vendor tent and talking about the many places he worked. Art installations were added on the festival grounds for people to enjoy. The festival features eight artisans and almost two dozen installations. It truly is an #EpicArtsParty.
The festival's live music is astounding. At any given time, there were bands playing on various stages around the park. We walked between stages to enjoy the sounds of The Marcus Lewis Band, SunDub, and The Hooten Hallers. All of the bands were talented, but we enjoyed Jarabe Mexicano from San Diego the best. Their high-energy Mexican folk music inspired the crowd to dance. Smoky Hill River Festival brings first-rate musicians from around the country to Salina. If given the chance, go! It's a great way to expose yourself to new music.
We could've stayed all day, but we had more of Salina to check out. Our experience at Smoky Hill River Festival was memorable and one that I look forward to repeating next year. Parking was a non-issue, the park's trees provided ample shape, and the option to bring a cooler of canned drinks was a pleasant surprise. To plan your visit to next year's festival, check their Facebook page for announcements.
BLUE SKYE BREWERY & EATS
We were excited to revisit Blue Skye Brewery & Eats (116 N. Sante Fe Ave.). The restaurant consistently puts out tasty food and their craft beers are second to none. They serve wood-fired pizza, burgers, salads, and sandwiches using fun combinations of ingredients. Our Mac Daddy pizza was prepared with garlic butter, Mac N Cheese, and Little Smokies, a shareable meal for two. Expect the unexpected from the kitchen. The pizzas are seriously good.
The family-owned restaurant is always bustling with locals and tourists enjoying the sports bar-like atmosphere. The in-house craft beers on tap include standards you would want to see plus specialty beers like Hatch Green Chili Cream Ale or my favorite, Watermelon Crawl.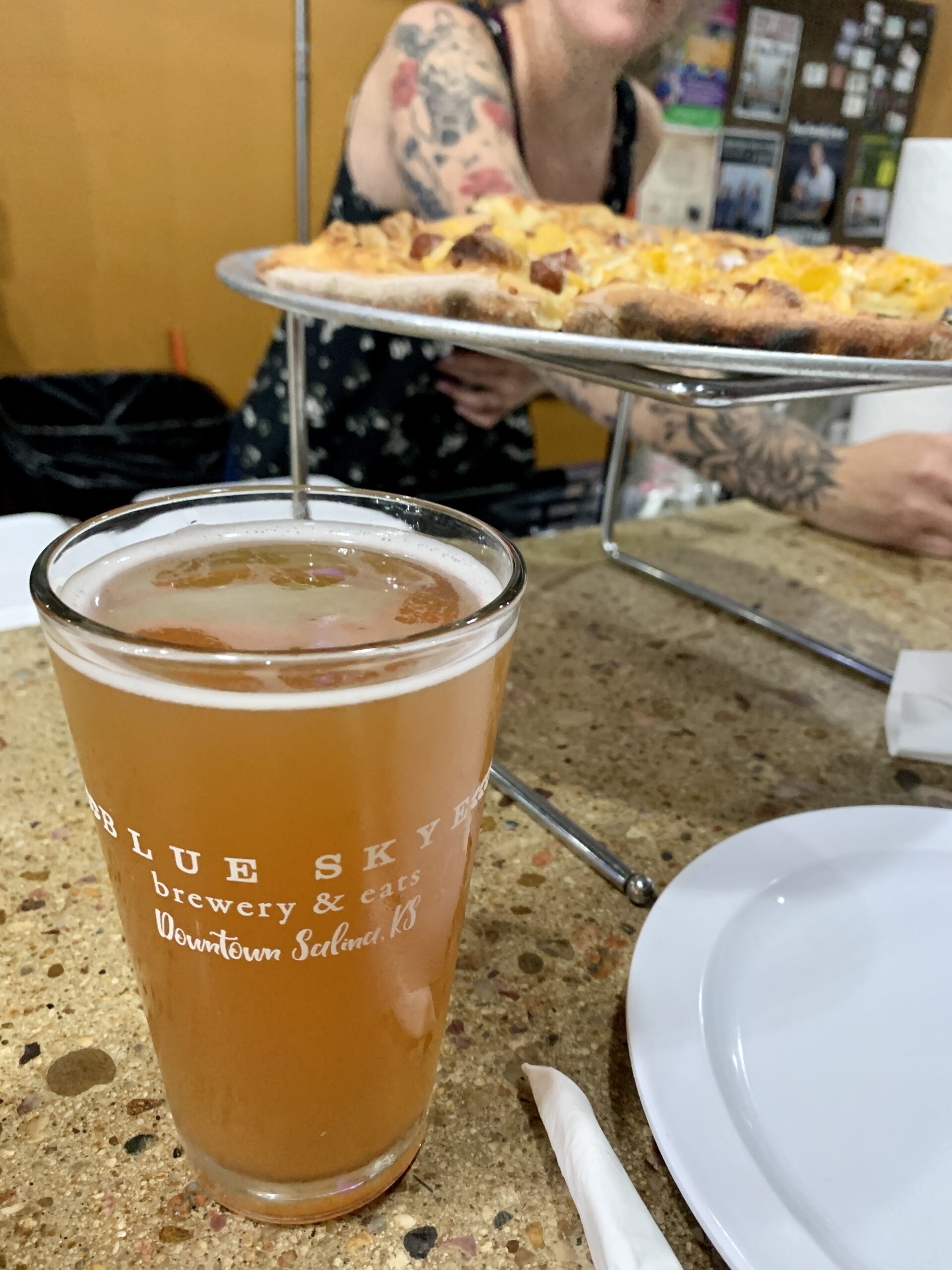 During our visit, we quickly became friends with a brother and sister duo from the area. Whitty, fun, and super knowledgeable about Salina, we compared travel stories and talked about our love of craft beer. They told us about Blue Skye's award-winning Bloody Mary bar and brunch menu. So, of course, we returned the next morning to try it. It was fun! The server brings you a glass of ice with a shot of vodka. Your task is to make craft your own Bloody Mary recipe using a variety of tomato-based juices, hot sauces, and add-ins. As you can see in the photo below, we had a blast using the skewers to make a bouquet of tasty treats.
I'd recommend putting Blue Skye at the top of your list of places to eat when in Salina. The locals are welcoming, and the menu exceeds your expectations. Insider Tip: Don't forget to check out the hallway leading to the bathroom.
DOWNTOWN SHOPPING
The revitalized downtown district includes a number of merchants selling everything from apparel to apothecary. I ducked into a home decor store that caught my eye, Rebecca Jane's (115 N. Santa Fe Ave.). The store is filled to the gills with knicknacks and seasonal decorations by various vendors. Each booth competes for your attention. I couldn't resist buying a few characters to add to my Halloween display. If you love to shop for candles, hand-painted signs, artwork, and farmhouse-chic items, stop by Rebecca Jane's in downtown Salina. To research the rest of the downtown shopping scene, use this interactive map.
COZY INN
Everyone who visits Salina eats at the Cozy Inn (108 N. 7th St.). Since 1922, the original location has served onion-covered, smashed burgers (like sliders) to a constant stream of hungry customers. Good luck finding a seat inside. The six-stool diner is first-choice, but the burger stand's window gives patrons a chance to get their food to go.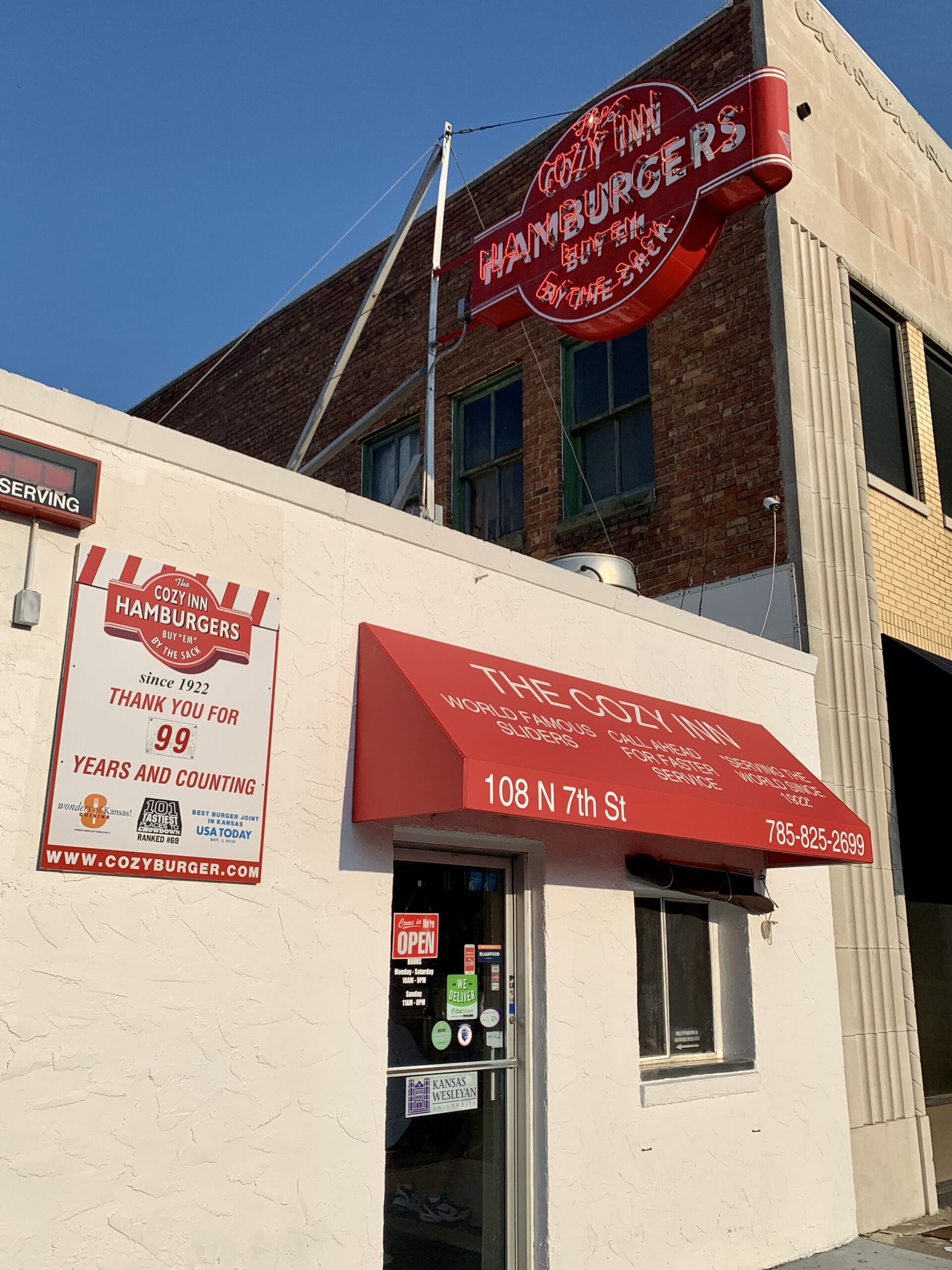 The place was voted by Google as a Top Rated Burger and Best Burger Joint in Kansas 2012 from USA Today. A Single Cozy is $1.29, Double $2.19, and multiple packs start with six burgers up to 36. They are so yummy, that people buy them frozen to go! We ordered a six-pack of burgers with a bag of chips and a soft drink to enjoy at an outdoor picnic table. Between bites, I noticed people eating in their cars, riding up to the stand on bikes, and newcomers devouring burgers for the first time. They'll all return for more. It's a rite of passage to eat at Cozy Inn when visiting Salina.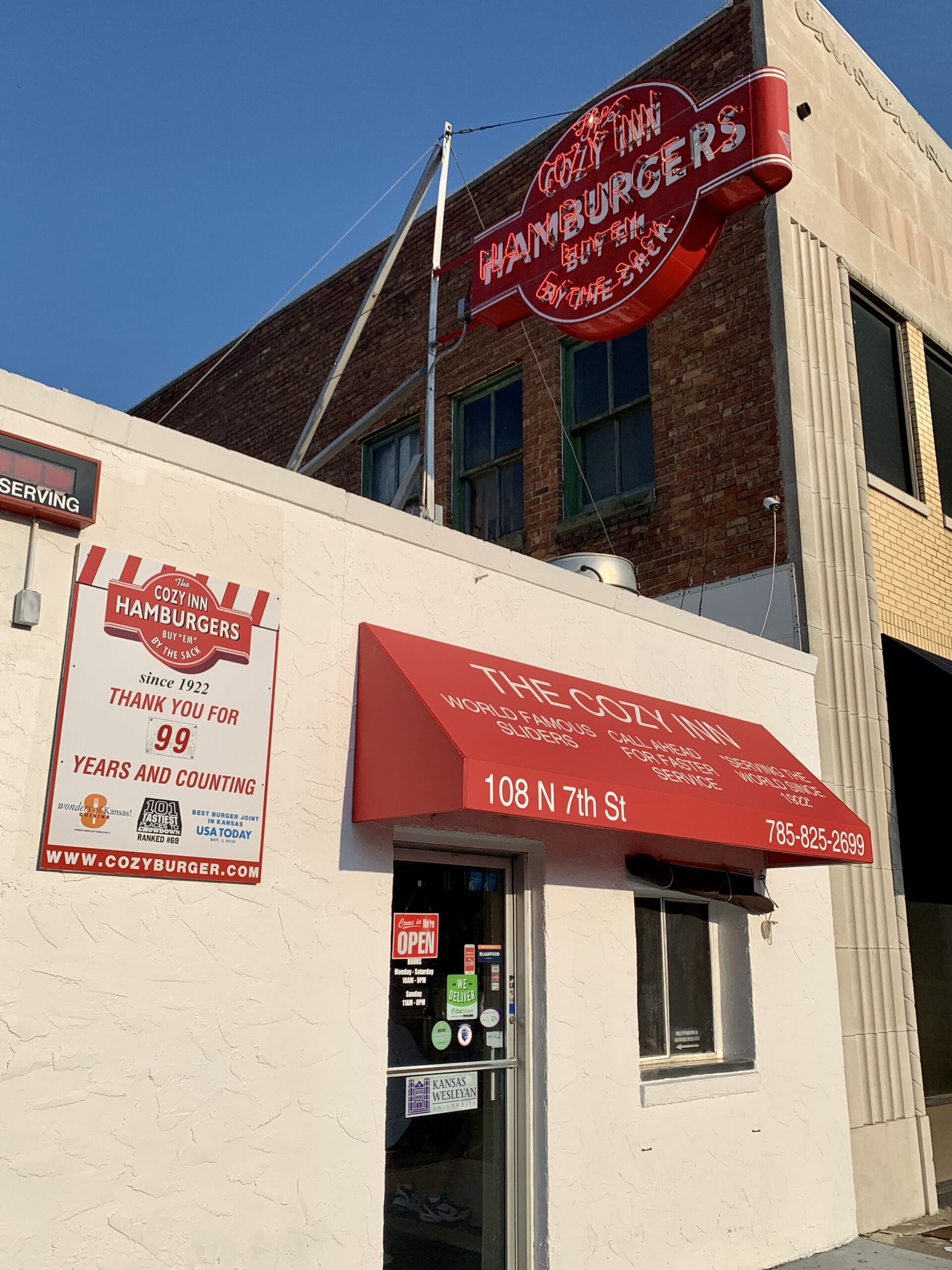 LA CASITA
Last but not least, we wanted to try La Casita (1601 W. Crawford) for lunch before driving back to Wichita. A friend from the area suggested it. Heaping portions and speedy service keep the place full of happy customers. I ordered one of my all-time go-to meals, Chile Relleños (poblano peppers stuffed with cheese). T-A-S-T-Y. I'd recommend dining there. Beware: The food is nap-inducing. I had to drive home so the boyfriend could sleep!
All in all, we had a fantastic time in Salina. If it's been years since you've traveled to the area, it's time for a return visit – so much has been updated! Should you ask yourself, "Where could we visit in Kansas that promises a good time?" Salina is the answer.
In fact, I couldn't get enough of Salina, so I'll make the short drive from Wichita again to check out the Historical Stiefel Theatre for a concert, Auntie Rita's Jamaican Cuisine (not open during our stay), and the Salina Community Theatre. Oh, and you know what? I think I need to tour two of the region's biggest draws again: Rolling Hills Zoo and the Smoky Hill Museum. Who wants to come with me?