Disclosure: Kansas I-70 Association sponsored this post. However, all opinions and photographs are my own.
If ever there was a calling to "Go west!" and discover places you've never visited, it's a Kansas road trip on KS I-70 from Abilene to Goodland. The best part for you? You don't have to do the research – I've done it for you. Carve out some vacation time, fuel up the car, and GO. You don't have to search for what makes Kansas great. It's right here in these towns.
ABILENE
The childhood home of U.S. President Dwight D. Eisenhower, Abilene is one of the most patriotic towns in Kansas. Take a detour off of KS I-70 to discover the heritage of the town starting at Seelye Mansion, an impressive home built in 1905 that is now listed as one of the 8 Wonders of Kansas Architecture. After the guided tour, appreciate the town's history with a train ride on the Abilene & Smoky Valley Railroad, uncover the past at Old Abilene Town, and tour the Dwight D. Eisenhower Presidential Library & Museum (temporarily closed). The fun continues at the Greyhound Hall of Fame where visitors learn about the sport of dog racing.
The downtown district is home to Little Ike Park, quaint shops, and a host of dining options. Ortus Café and Gallery serves crepes and The Hitching Post Restaurant and Saloon is known for daily specials like chicken fried steak and hearty sandwiches. Leave room for dessert to enjoy the chocolates you purchase from Russell Stovers' retail store. Get a full itinerary of this trip here.
SALINA
Salina is one cool place. Festivals, food, and fantastic artwork make it worthy of a stop along KS I-70. With so much to do, I recommend an overnight stay. Begin your day of exploring by checking out SculptureTour Salina, Mural at the Mill, and head indoors at Salina Art Center. Just when you think you've seen all of downtown, Rebecca Jane's offers the best boutique shopping in town.
If visiting during the Smoky Hill River Festival, you're bound to discover more artwork, live music, and concessions food.
Eat as the locals do at the historic Cozy Inn for slider burgers or stop by Blue Skye Brewery & Eats for non-traditional pizza and craft beer. Another tasty dining option is La Casita. Go for the Chile Relleños. Wait! Before heading home from Salina, make sure to order a cup of joe and a pastry from Moka's Coffee. Get a full itinerary of this trip here.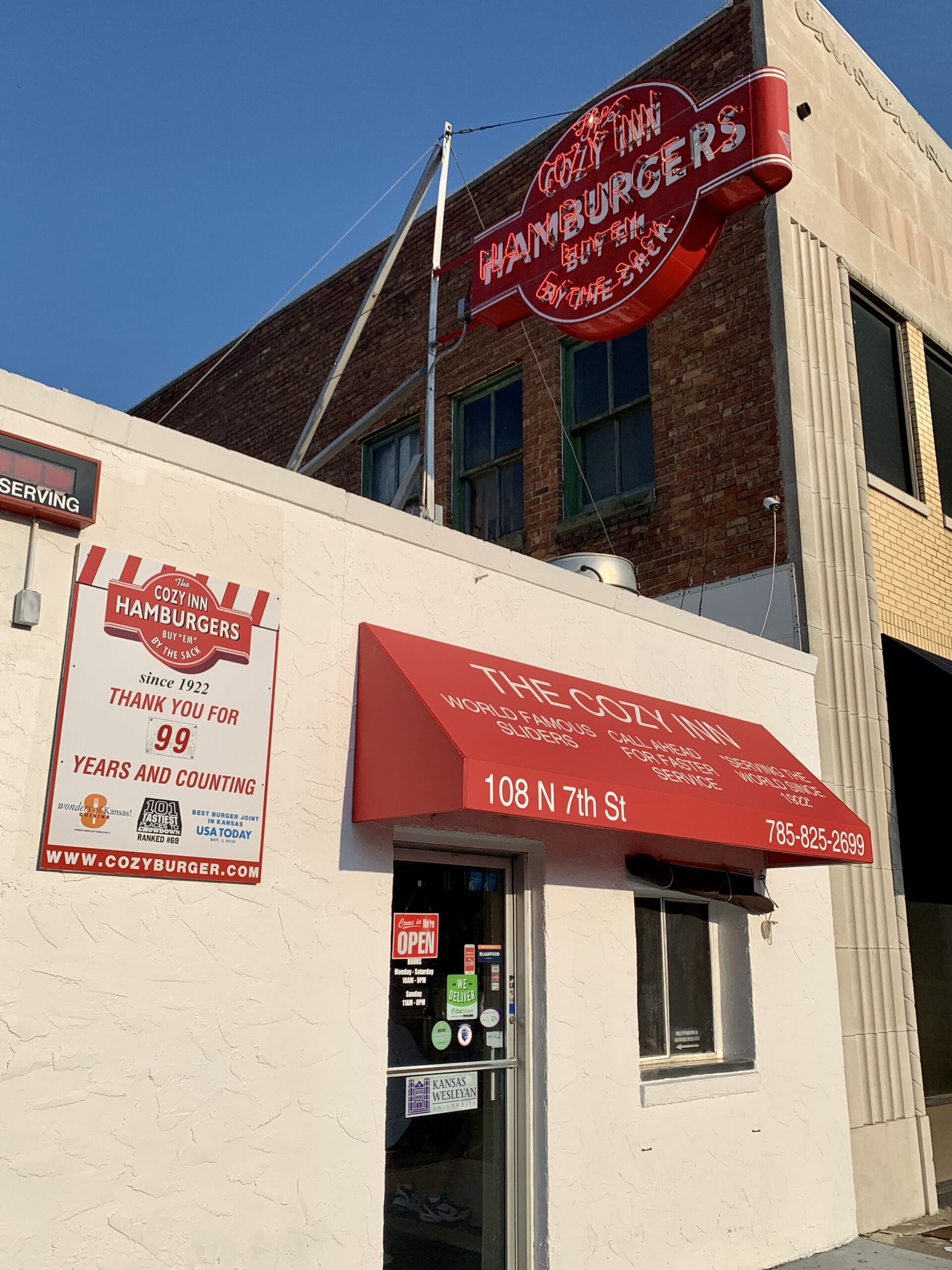 RUSSELL + SURROUNDING AREA
What a place! Before exiting to Russell, visit Wilson to check out the World's Largest Czech Egg and then make the short drive on K-232 along Post Rock Scenic Byway to Wilson Lake for an epic view. I recommend continuing the journey into Lucas, Kansas. The town's residents have made this artsy town exactly what they intended it to be, a place where creativity flourishes. Don't miss Bowl Plaza, Grassroots Arts Center, The Garden of Eden and Cabin, and Miller's Park for eye-opening displays.
Drive 40 minutes west to Russell, Senator Bob Dole's hometown. The agriculture and petroleum-producing town has a lot to offer visitors. Check out casual dining at The Bar or Waudby's Sports Bar & Grill, go mural hunting, tour restored limestone homes, and visit Memorial Park. Get a full itinerary of this trip here.
HAYS
A one-time frontier town that is now a modern college town, Hays guarantees visitors an entertaining stay. Discover the history of Wild Bill Hickock, walk The Bricks of Downtown Hays to trace the history of old buildings on a self-guided walking tour, and track down all of the Pete Felten limestone sculptures around town. Keep your eyes peeled for shops and boutiques while walking the area.
Science lovers appreciate touring the KSU Agricultural Research Center and Sternberg Museum of Natural History. Each one is worth your time and makes for a memorable experience.
Shop and dine in downtown Hays surrounded by restored historic buildings, public art, and towering limestone churches. Enjoy breakfast at Breathe Coffee House, sip a mid-day glass of wine with cheese at Paisley Pear Wine Bar, and then top off the day with dinner at Gella's Diner and LB Brewing Co. Staying overnight? Consider Defiance Brewing Company (Downtown) and Trip Tap House as top-notch dining options. Don't forget to make time to visit the Ellis County Historical Museum before leaving town. Get a full itinerary of this trip here.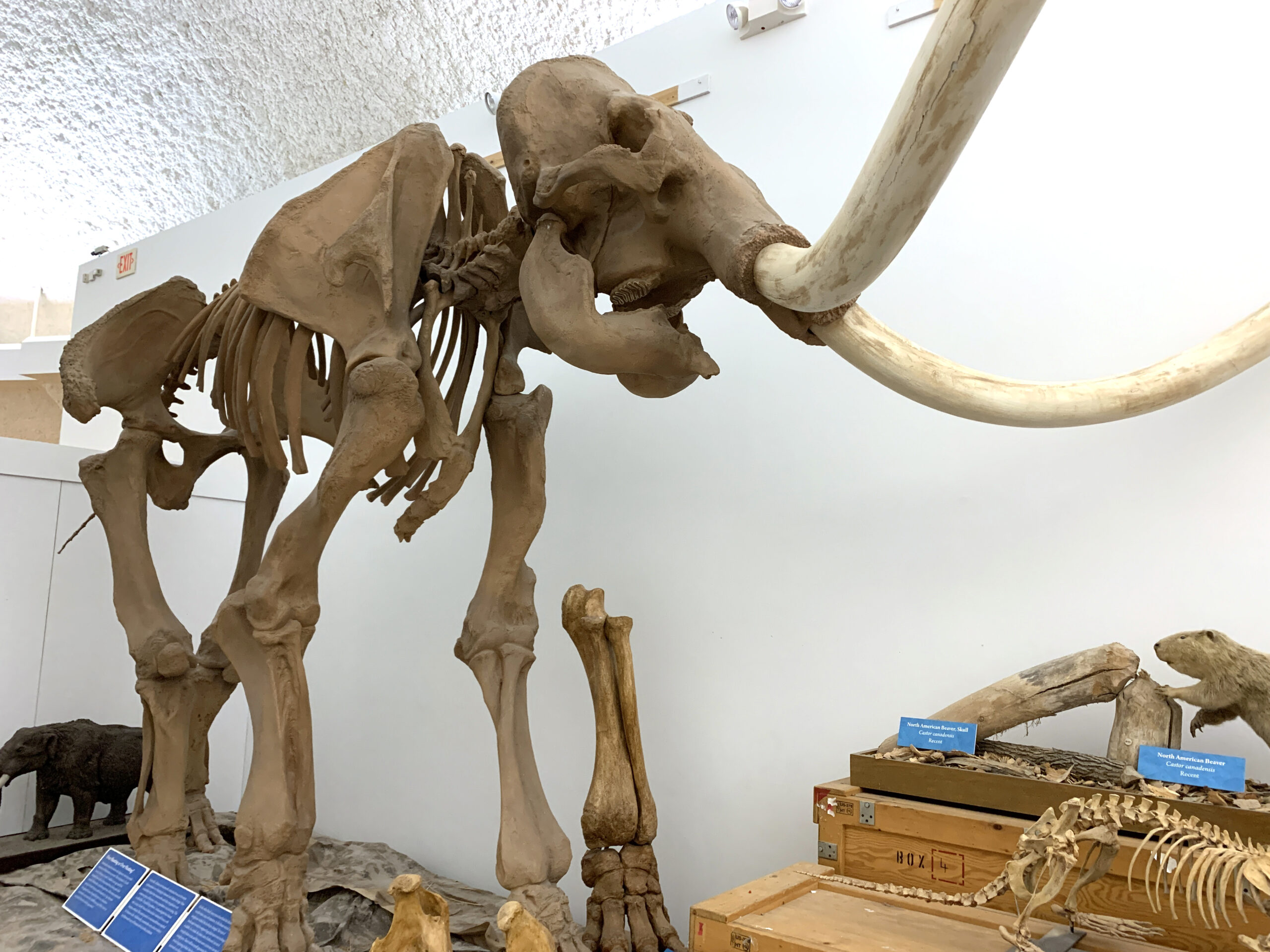 WAKEENEY
WaKeeney reminds me of Mayberry, a quintessential All-American place beaming with hometown pride. Also known as The Christmas City of the High Plains for its North Pole attraction open year-round, WaKeeney rolls out the red carpet for visitors. Travelers enjoy dining at Hometown Bakery and Western Kansas Saloon & Grill when they're not sipping on a vanilla coke at an old-fashioned soda fountain downtown. History buffs appreciate the Trego County Courthouse, Kansas Veteran's Cemetary, and Trego Historical Society Museum.
Keep the good times rolling as you explore Shiloh Vineyard & Winery, stroll the town's parks, take a dip in the swimming pool, and shop downtown at Studio 128. Don't leave WaKeeney without shopping for a keepsake Christmas ornament at Gibson's Healthmart! Get a full itinerary of this trip here.
OAKLEY
Oh my, Oakley is fun! Exit KS I-70 to discover attractions like Buffalo Bill Cultural Center. Why? Buffalo Bill Cody is the town's claim to fame. Take your photo with the oversized bronze sculpture and learn about the buffalo hunter's history as well as the region's many treasures there. Continue your historical exploration to Fick Fossil & History Museum to view artifacts and artwork. One of the 8 Wonders of Kansas, Monument Rocks, gives tourists incredible views of sedimentary rock formed during the Cretaceous period 80 million years ago. Head to Keystone Gallery to hear the stories of fossil hunters, view their findings, and shop the retail store.
Feeling hungry? Locals love Sunshine Bakery for its fresh donuts and specialty coffee drinks. Buffalo Bill's Bar and Grill serves pub grub and Oakley Country Club & Golf Course's menu includes everything from sandwiches to steaks. Make time to shop downtown for souvenirs or home decor at Everything's-a-Bloomin'. Get a full itinerary of this trip here.
COLBY
Are you in search of hometown charm and plenty of fun things to do? Look no further than Colby, Kansas. The western Kansas town's visitors center should be your first stop to plan the rest of your day. Travel down the road to the Prairie Museum of Art and History, one of Colby's top attractions, to learn the story of living on the high plains.
Other worthwhile stops in town include the Colby Aquatic Center (kids will love the slides!) and Colby Event Center, a new facility that hosts concerts and sports competitions. If you prefer a low-key afternoon spent shopping and dining, start at Maevis & Magpie before making your way to City Limits Bar & Grill for downhome eats. End your day with a relaxing walk through Fike Park. Get a full itinerary of this trip here.
GOODLAND
Exiting KS I-70 to visit Goodland is a great idea. The town offers magnificent art, museum tours, and an updated downtown scene. Of course, you must visit the World's Largest Easel Painting, a replica of Van Gogh's "Sunflowers," which towers behind the visitors center. If you love art, make your way to the Goodland Carnegie Arts Center, take a stroll downtown to discover massive murals, and appreciate the detail of art deco architecture. To learn more about the town's history including America's first patented helicopter, enjoy free admission at High Plains Museum. For travelers interested in touring a historic home, the Ennis-Handy Victorian House transports you back in time to see how residents once lived.
Take a break from tours to support small businesses like Lou Lou's Boutique or Mor Mor's Antiques. Once you've worked up an appetite, Good Grounds Coffee Shop & Bistro offers diners light breakfast and lunch options. Crazy R's Bar & Grill is where the locals go to enjoy a juicy hamburger and freshly made onion rings. While waiting for your meal, take time to walk around the restaurant to appreciate the antiques on display. Get a full itinerary of this trip here.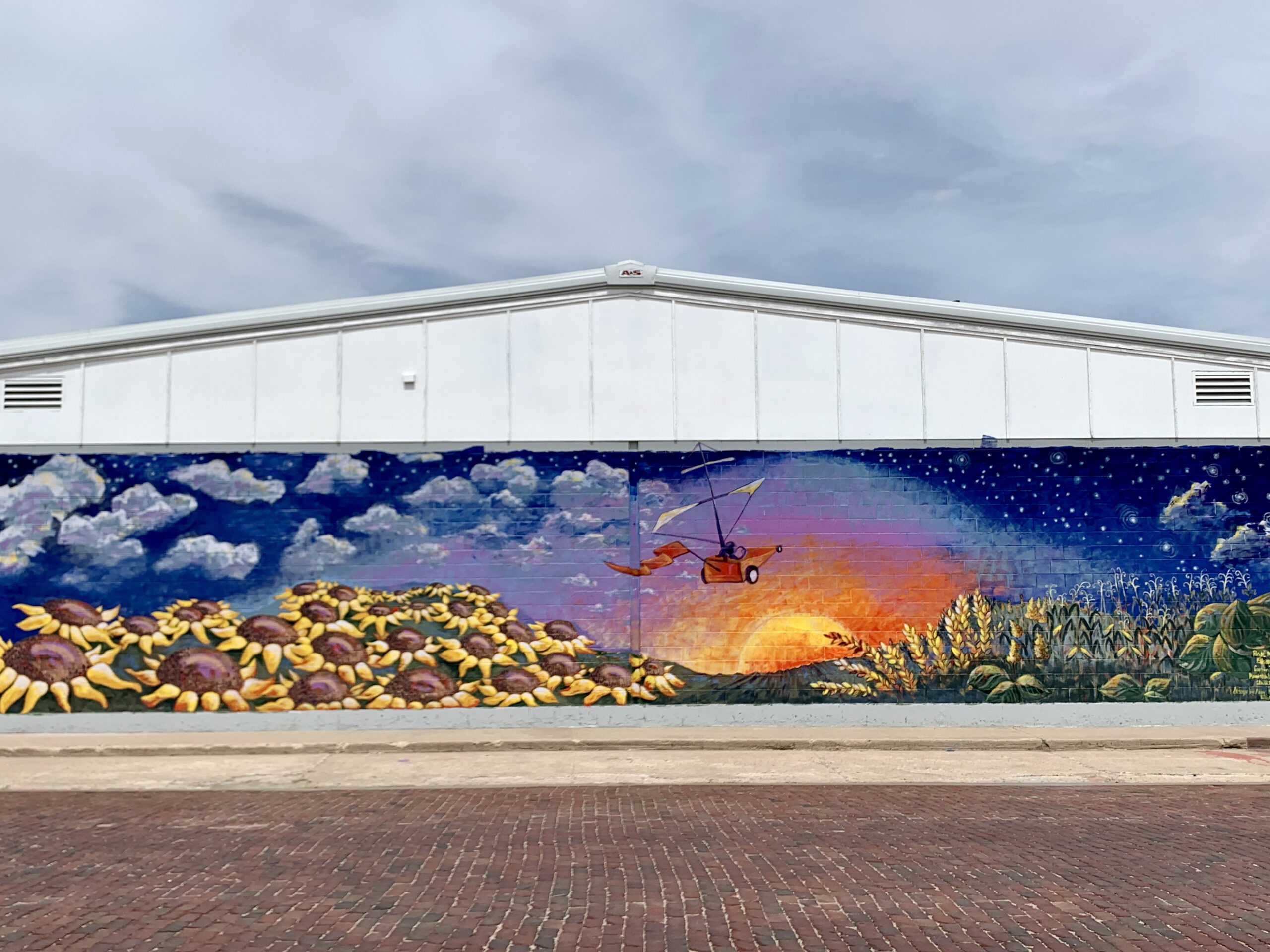 Kansas I-70 aka "America's Main Street" is your connection to incredible destinations to explore as you head west on the interstate. Plan a seven-day trip to visit all of these towns or take a spontaneous detour and explore one of them. No matter how you plan your trip, the journey is definitely worth your time. Grab your keys and take to the road.