Disclosure: Kansas I-70 Association sponsored this post. However, all opinions and photographs are my own.
Good things are happening in Goodland. Having never visited this western Kansas town, I was shocked at how much it had to offer. Established in 1887, it continues to offer residents and visitors fabulous options for entertainment. On any given day, you can experience magnificent art, museum tours, and an updated downtown scene.
LODGING
Goodland has excellent hotels located just off KS I-70. I stayed at the newly opened Holiday Inn Express & Suites (2725 Enterprise Rd.), which receives high accolades on social media for its comfortable amenities. The hotel truly rolls out the red carpet for guests.
My second-floor room included a small foray, king size bed, drink station with mini fridge, microwave, work desk, and an oversized bathroom. When you need a quiet, luxurious room to unwind after driving, this hotel knocks it out of the park. It's the little things that make it special. I turned on the TV to see a message on the screen waiting for me, "Welcome to Goodland, Vanessa!" Wow.
The hotel accommodations also included a complimentary full breakfast. Other on-site perks included a state-of-the-art fitness center, snack counter, and free Wi-Fi. When in Goodland, choose the Holiday Inn Express & Suites for an overnight stay.
ATTRACTIONS
PUBLIC ART
Most Kansans have heard of the Giant Van Gogh, the World's Largest Easel Painting. If you haven't seen it, it's worth taking Exit 17 into Goodland from KS I-70. The 24'x34′ replica of the artist's sunflower painting sits directly behind the town's visitor's center. It was erected on site on June 19, 2001. A must-see attraction, it's easy to walk up to it using the brick-lined sidewalk and get a glimpse. You can expect to see other tourists taking selfies and photos of it.
The mural pictured below, "Rural Free Delivery," was painted by Kenneth Adams and installed in the Goodland, Kansas post office in 1937. The painting, along with others commissioned by The Section for Fine Arts, were created to lift the spirits of people who suffered during the Great Depression. It was one of almost 30 murals commissioned in Kansas.
The post office was built in 1935 and is listed on the state's register of historic places. The interior is stunning, especially the original woodwork and door finishes.
You don't have to look far to discover beautiful artwork and architecture in Goodland, Kansas. The Director of Goodland Carnegie Arts Center, Abby Killingsworth, and a team of artists recently completed this mural "Ad Astra" downtown. Do you see the flying helicopter? I think it's a nod to the replica on display at High Plains Museum in the area.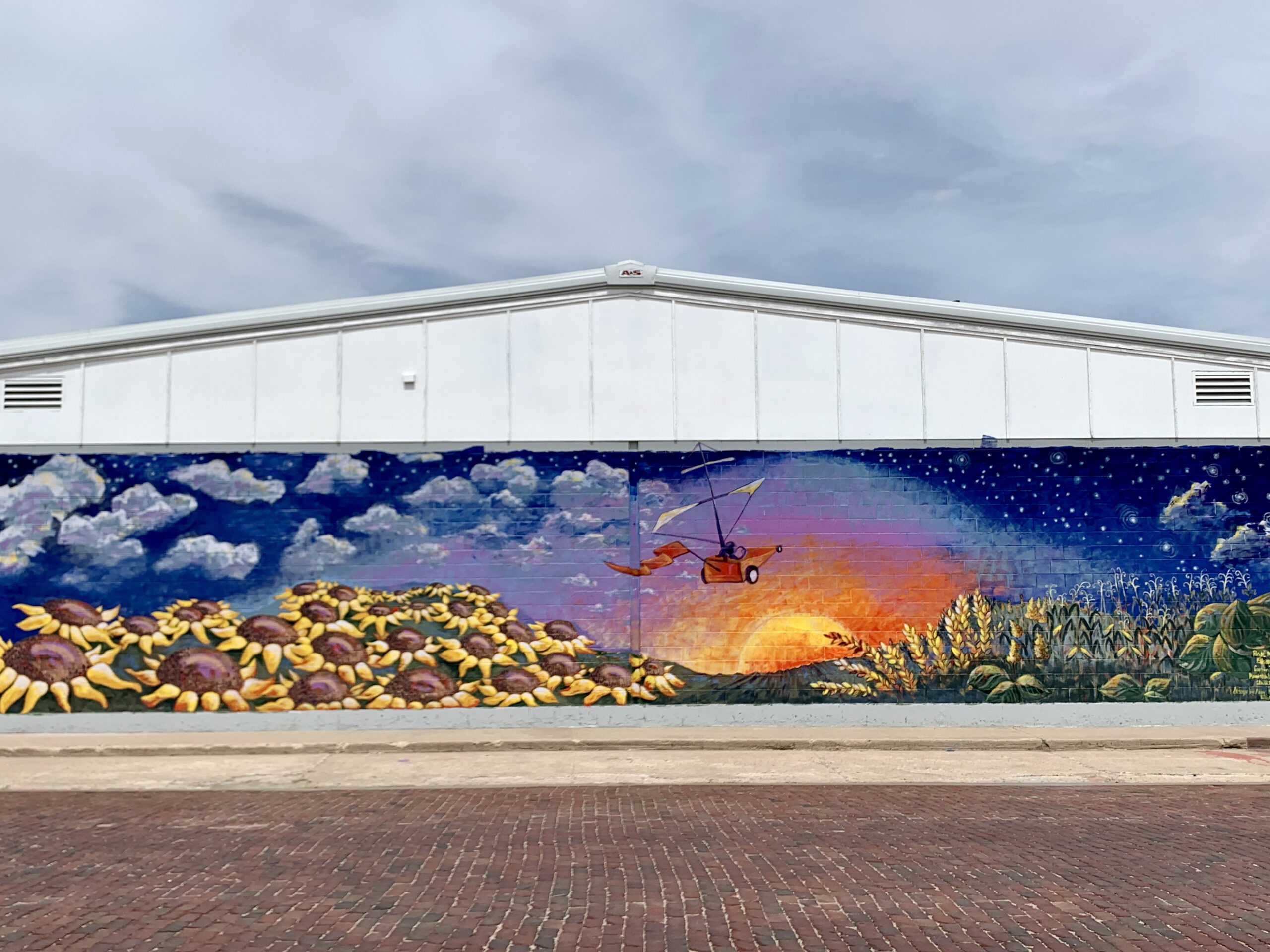 ARCHITECTURE
Some Main Street districts in Kansas have architecture that invites you to get out of your car to see it up close. Goodland is that kind of town. Many of the buildings were designed using Art Deco style.  The United Telephone Building (10th and Main) is an architectural wonder thanks to its bright colors and intricate patterns. Built in 1931, its design includes terra cotta panels set off by Aztec artwork.
Another downtown structure that deserves your attention is Elliot's Inc. (1019 Main St.), a building filled with home furnishings. The original color combination and Mid-Century modern styling stopped me in my tracks as I walked along the sidewalk across the street to view its architecture. What do you think of it?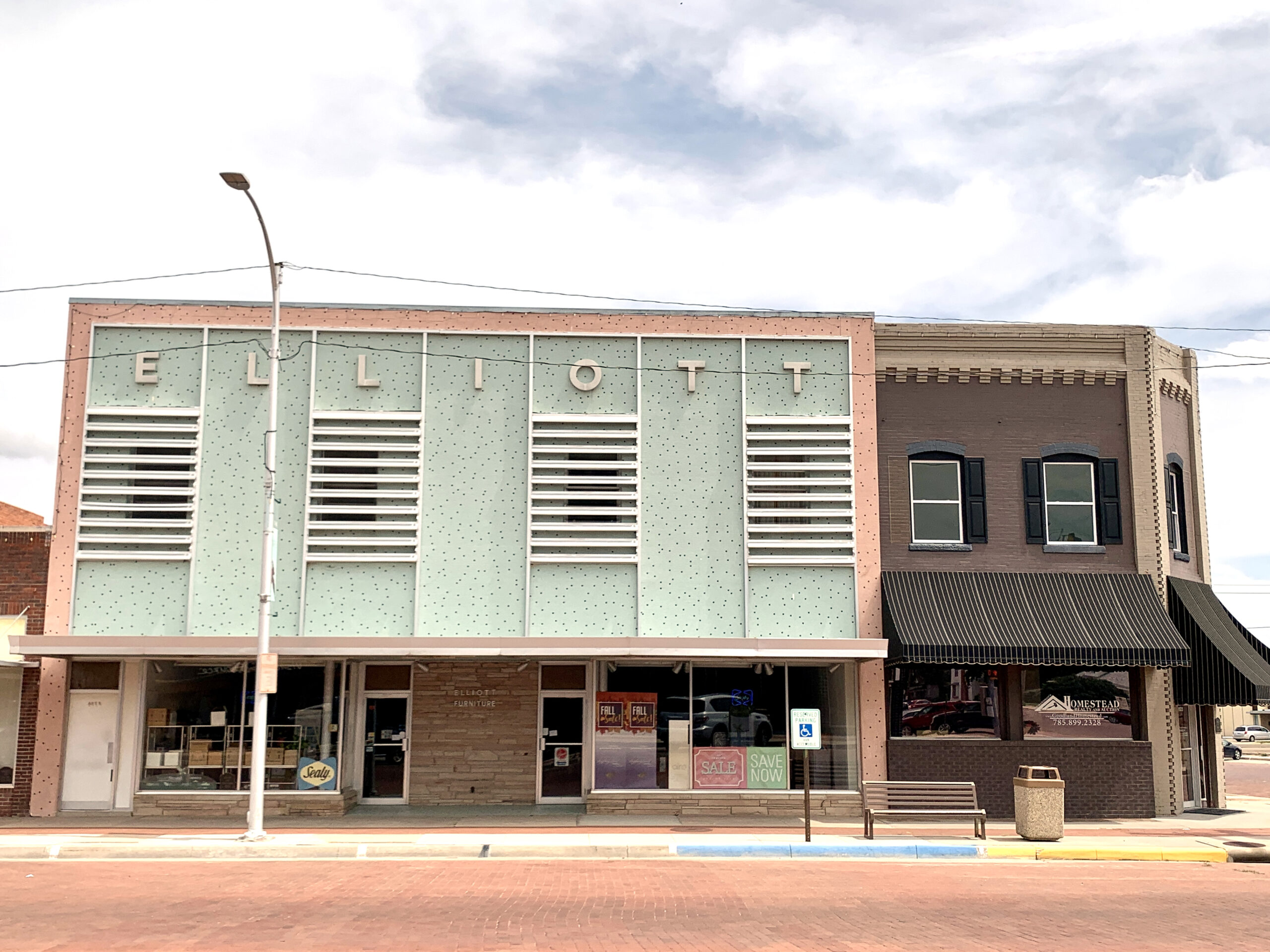 Without a doubt, Goodland has one of the most good-looking courthouses in the state. The same Art Deco design that is seen on the United Telephone Building is evident on the Sherman County Courthouse. I love the arched windows over the entry doors and the grille pattern on the windows.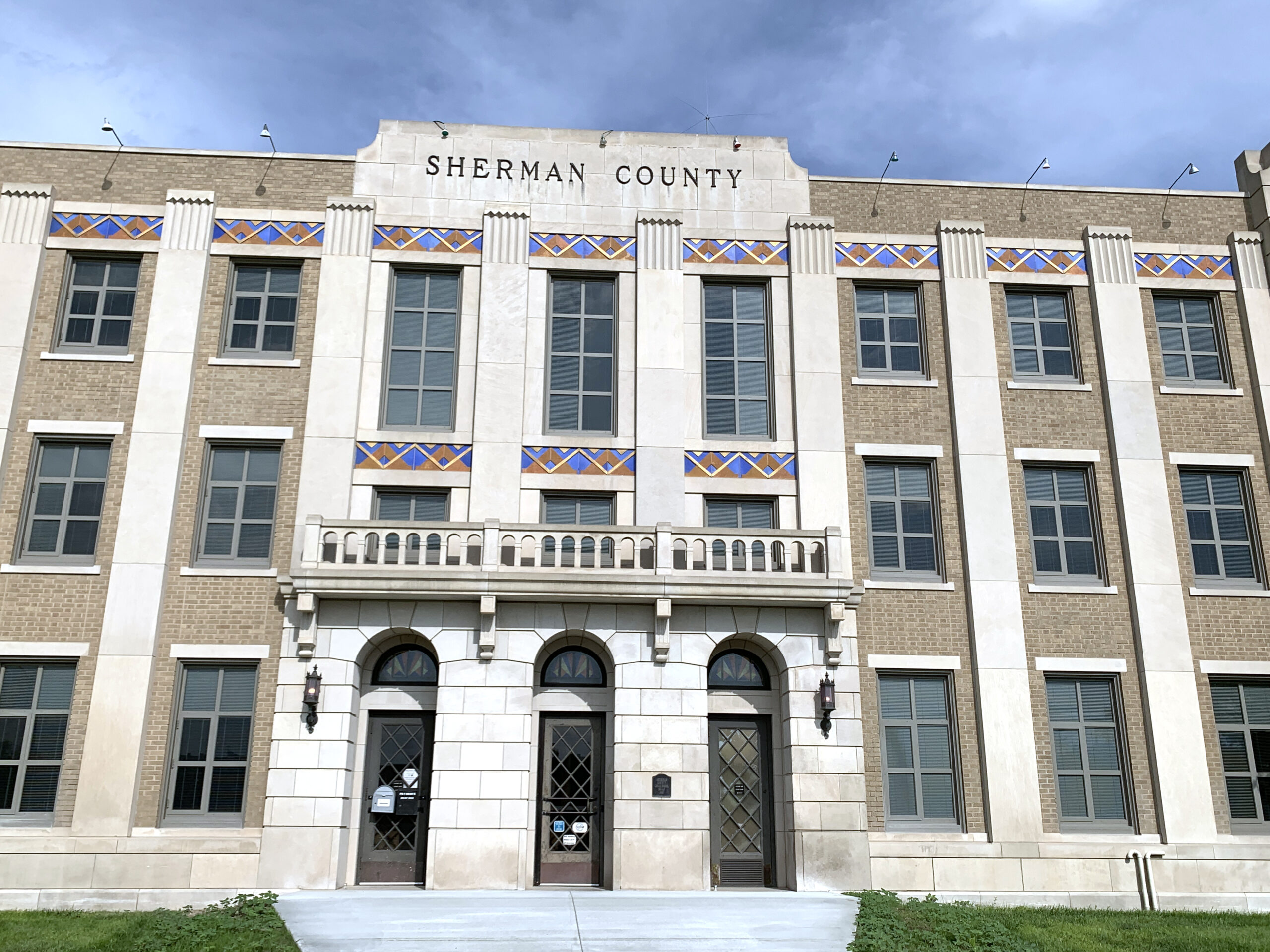 Located nearby the courthouse, "They Came to Stay" deserves a visit. The sculpture by Goodland native, Greg Todd, tells the story of homesteaders on the prairie and their determination to settle on the Kansas plains. Remember, settlers to the area didn't find trees (no timber for building homes), so they were forced to build their homes using sod bricks formed by hand. It was hard work that required true grit.
ART MUSEUM
Carnegie Arts Center (120 W. 12th St.), once home to the town's library, gives art lovers a chance to see rotating exhibits in its first-floor gallery. During my tour, I appreciated the work of Harley Torres' exhibition "Cigarettes and Tea, a Study of Self." The visual artist's pieces are made with neutral colors were ceramics unlike anything that I'd ever seen before. I encourage you to visit the gallery and appreciate the work of regional artists like Torres during a self-guide tour. The center also has a small retail section devoted to selling Kansas-made gifts. To plan your visit, check their hours and admission fees here.
SHOPPING
If you're cruising down the downtown area in search of a women's clothing store, Lou Lou's Boutique (110 E 11th St) is the best one in town. The highly-rated shop is known for friendly service and high-quality apparel. I thought the fashion-forward jeans and jewelry were affordably priced.
The two-room shop is stocked to the gills with on-trend home decor and gift items. During my visit, a local woman came in to chat and shop for a gift for someone. It's the kind of place where you're bound to leave with a full shopping bag. The owner is a sweetheart and is willing to help you find that perfect something for yourself or someone special.
Do you love to hunt down antiques? Goodland has a premiere antique mall that you should visit. Mor Mor's Antiques (212 E. 17th St.) is just around the corner from the downtown district. Antique dealers sell their finds from rented booth spaces.
From glassware to seasonal decorations and old books to jewelry, you'll discover it and more at Mor Mor's. Some of the booths are also stocked with handcrafted gifts making it a one-stop shop if you're seeking a present for someone. I recommend heading into the back room to view vintage signs and larger furniture pieces. I loved the massive chandelier pictured below.
MUSEUMS
To experience Goodland's heritage, you only have to drive a short distance from downtown to the High Plains Museum (1717 Cherry St.). The museum curators have done an excellent job of telling the story of the people of western Kansas. The outside of the building is a bit misleading as one might think the only thing on display is an old helicopter. Not true!
During my visit, a traveling exhibit from the National World War II Museum in New Orleans, "Manufacturing Victory" was on display. Video testimonials, artifacts, and information walls covered in photography that showcases the men and women who dedicated their work to the cause.
Just beyond the WWII exhibit, I discovered a museum filled with treasures. The largest of them was a full-size, automated replica of the first patented helicopter in America. Push the button and watch the blades go! Inspired by the Wright brothers, William Purvis and Charles Wilson built the two-story helicopter in Goodland. The 1910 design was an ambitious one. The helicopter's full-size version never flew vertically and eventually crashed. Even though a patent was released for its design about the same time, the two men returned to their day jobs after realizing the helicopter project was unsuccessful.
A 1902 Holsman rope-driven car is the second largest exhibit in the museum. It was the first automobile driven in Sherman County and was owned by Dr. A.C. Gulick. The car was meticulously restored. A prominent figure in the community at the time, you will still see the name displayed in town including a city park that is named after him.
Of the 8,000 objects on display, a few left me thinking about the early days of Goodland. It was the story of two train robbers. The criminal's original black masks, gun, and a money box sit on display. During the early 1900s, the Jones Brothers boarded a Union Pacific Train east of Limon, Colorado and robbed its passengers while they slept. One man tried to stop the robbery and was killed. Eventually, the robbers made their way to Goodland on foot where they sought refuge on Bartholomew's ranch. It was there that the Texas outlaws were shot dead by the Goodland Posse.
I consider museums an extended classroom, and High Plains Museum is one you should visit in Goodland. Admission to the museum is free, but donations are gladly accepted. Don't forget to sign the guestbook!
The Ennis-Handy 1907 Victorian House (202 W. 13th St.) is a must-see destination worthy of a tour. The Sherman County Historical Society has worked diligently to restore and maintain the property. The two-story home has a colorfully painted exterior and ornate woodwork inside. Over the years, the home has seen a lot of changes.
The house dates back to 1907. Widowed and with daughters, Mary Ennis pushed forward with plans to build the home after her husband's death. They resided there until 1917. Later, the home became a boarding house and then a funeral home. Eventually, Calvin Handy bought the home in 1956 and it stayed in the family until Edythe Handy died in 2000. (Fact: Edythe died in the home's dining room. Ask more about that during your tour.)
Today, you can view the home's craftsmanship first-hand and learn more about the influential families who resided in it. I appreciated the beautiful stained-glass windows above the front staircase and the second-floor patio.
DINING
There is no shortage of restaurant options when looking for a place to dine in Goodland. For breakfast, I'd recommend driving to the edge of town to Good Grounds Coffee Shop & Bistro (2402 Commerce Road). The drive-thru and lobby stay busy proving that it is one of the best places in town to enjoy a specialty coffee with breakfast.
The Vanilla Latte and Egg and Cheese Biscuit gave me the fuel I needed for a full day of exploring Goodland. If you're in search of a substantial breakfast, check out the Daily Specials that often include full plate meals. The Bistro Originals chalkboard features hearty sandwiches and wraps if you'd like to stop there for lunch. I suggest viewing the unique artwork for sale on the gallery wall while you wait for your meal to be prepared. Free Wi-Fi is available.
I chose to enjoy a late lunch at Crazy R's Bar & Grill (1618 Main St.). Several locals told me to visit the restaurant because it was "like a museum" and a "step back in time." Of course, I had to check it out!
The owner, who also doubles as the cook, has filled the restaurant with antiques from floor to ceiling. Nothing is off limits at the bar and grill. Bicycles dangle above your head. Road signs cover the walls. The bar is an antique salvaged and transported from San Francisco.
I sat in a wooden booth and reviewed the menu. Did I have the appetite for the infamous pork tenderloin sandwich? It's enough to feed two people. Instead, I ordered the Crazy R Burger and a side of homemade onion rings. An oldies radio station played in the background while locals stopped in for a mid-day meal. I look forward to returning to Goodland on a Wednesday to take advantage of the Prime Rib Special.
Because I wasn't able to visit all the places I wanted to while in Goodland, I'll plan to stop by again on my next KS I-70 road trip west from Wichita. I still want to check out McKinney's Sweet Treats, the Sherman Theatre, Flatlander Fall Festival, and to hunt down the Giant Grasshopper, a roadside metal sculpture on Highway 27. Oh! And I want to try Go Goodland Bingo, a fun way to enter to win a gift card while exploring the town.
Have you visited Goodland? What other destinations should I add to my bucket list?