Disclaimer: This post was sponsored by Salina Downtown. All opinions and photos are mine. 
It was a sunny morning in downtown Salina. The clouds were clearing after a Kansas rainstorm. I was elated for what promised to be a day of dining, shopping, and admiring art with beautiful weather on the horizon.
During a recent visit to Salina's downtown area, I was in awe of how much it's redeveloped in the last several years.
Santa Fe Avenue, a wide street flanked by one-of-a-kind businesses, is updated with gateway arches, concrete planters overflowing with botanicals, and sidewalks in brick designs. Towering sculptures dot the pedestrian-friendly corridor, and murals peek from adjacent alleyways.
The north-central community of over 45,000 people has much to be proud of. Daytrippers will be impressed by the downtown area's thoughtful design and unique businesses with something for every kind of traveler.
SHOP TIL YOU DROP
Grab your wallet – it's time to go shopping. Salina's picturesque downtown comprises original boutiques and retail shops in historic buildings.
THE BATH PUB
One-of-a-kind shopping starts at The Bath Pub (109 S. Santa Fe Ave.). The family-owned and operated shop creates custom, all-natural products for bath, body, pets, and the home.
Travelers who like interactive experiences will appreciate the store. You're encouraged to mix natural oils to custom blend lotions, sprays, bath salts, and household products.
If you're not sure what you're in the mood to create, consider one of the dozens of named scents created by previous shoppers.
The staff can also help you recreate a scent from an item you bring into the store, like an old perfume bottle or candle.
The fun continues throughout the store. Visitors are encouraged to take a photo in the store window's bathtub. Children accompanying parents will enjoy the kids-only area that encourages artful play.
Groups with reservations find the rentable event space with a  photo-worthy decorative wall and an entertaining space to create products.
PRO TIP: The Bath Pub keeps a digital library of every scent created, so if you need an item reproduced and shipped to you, they're happy to do it.
RED FERN BOOKSELLERS
A new addition to downtown Salon, Red Fern Booksellers (106S. Santa Fe Ave.), gives visitors and residents something to rave about. No expenses were spared when renovating the commercial space into a high-end, independent bookstore resembling a store you might see in a big city.
The smell of new books welcomes you as you walk through oversized wood doors into the store. The store's shelves are organized by category while stacks of the latest titles are arranged upon dark wood tables.
But you'll find more than books at Red Fern Booksellers. I was impressed to discover hand-made gift wrap, stationary for sale, puzzles, stickers, and handcrafted greeting cards. My visit ended perfectly when a butterfly greeted me as I exited the store, a delightful experience.
PRO TIP: If you're interested in a book the store doesn't have, the owner does his best to locate the title and get it to you quickly.
ON THE POT
For over 20 years, On The Pot (111 N. Santa Fe Ave.) has fostered the creativity of artists (and wannabe artists!). At the walk-in pottery studio, visitors are encouraged to select a piece they want to paint from a vast selection of objects. After painting it, the store's owners fire the piece, and it's available for pick up or shipment one week later.
Whether you're in the mood to create a seasonal gift for your home or a complete dishware set, On The Pot provides all the supplies you need to finish the project.
Halloween and Christmas are popular times of year to create new pieces. The cost of the experience includes studio fees of $7 per person and the cost of each piece.
Be sure to check out their inventory of Julie's Stickers, a collection of whimsical drawings and sayings, to add to your purchase. The owners are in the process of creating five downtown Salina stickers to sell as well.
PRO TIP: Traveling with family? Groups of 10 or more can book the studio for a reduced rate on studio fees with a reservation.
ECCENTRICITY BOUTIQUE
Women with excellent style shop at Eccentricity Boutique (104 N. Santa Fe Ave.). For 17 years, women have shopped for on-trend, reasonably-priced apparel and accessories.
From outfits with vibrant colors to unique Cansuelas handbags, the store lives up to its motto, "Be a Little Eccentric." Shoppers searching for day-to-day closet staples will also find what they're looking for.
The clothing and shoes inventory is constantly rotating for the seasons, and shoppers are guaranteed to find sizes available from XS to XL.
PRO TIP: Don't leave without perusing the jewelry table. All earrings are $16, a bargain for the quality and styles.
BARON MUSHMOUSE
You'll never see another store like Baron Mushmouse (141 S. Santa Fe Ave.). The home interiors shop is filled floor to ceiling with one-of-a-kind pieces hand-selected by the owner and her team. Each comes with a story, and some of the inventory is imported from France.
Beautifully upholstered chairs sit adjacent to elegant lamps and candleholders. Ornate plates adorn tabletops. Framed artwork, figurines, blankets, and garden urns reveal the shop's distinctly different inventory. Body products and greeting cards near the register make a fabulous gift for a friend.
PRO TIP: Browse Baron Mushmouse's clothing racks for Bohemian-style blouses, dresses, and dark denim jeans.
THE MARKET SHOP
Where do you go when you're ready to decorate for the holidays? The Market Shop (101 S. Sante Fe Ave.) is guaranteed to have something you'll want to add to your home decor. I consistently leave with gifts for myself or my family each time I visit the store.
Every well-equipped kitchen needs decorative towels and cookbooks with a pantry stocked with dip mixes and jarred condiments. You'll find it all and more at The Market Shop.
PRO TIP: Wind your way through the store's thematic displays for scented candles and home decor. The rear of the store is a clothing paradise for fashion-forward women.
BLUSHE BOUTIQUE
Blushe Boutique (128 S Santa Fe Ave.) is the store young women dream about. Its clothing racks are brimming with vibrant-colored clothing made of silky fabrics and woven materials.
Are you looking for a casual daytime outfit? Tables of denim jeans in the latest styles and hues beg to be tried on.
A new outfit isn't complete without matching accessories. Blushe Boutique's selection of hats, jewelry, and shoes makes shopping for a last-minute dinner date a breeze.
PRO TIP: Because the store stocks seasonal clothing, check the clearance racks in the rear of the store for mega deals.
FLIPPING FABULOUS
If you're the kind of shopper that appreciates the attention to detail of handcrafted furniture, you'll feel right at home at Flipping Fabulous (127 N. Santa Fe Ave.). The owner has helped homeowners refurbish old furniture for years to make it beautiful.
Locally-made furniture, art, and pottery are the focus of the shop's inventory, and Flipping Fabulous carries most of the supplies one needs for at-home projects. You'll discover the most extensive stock of Redesign with Prima in the world and Melange One Paints.
PRO TIP: Walk upstairs to admire custom-made gifts and home decor created by local and regional artists.
REBECCA JANE'S
If it's vintage or an antique, Rebecca Jane's (115 N. Santa Fe Ave.) has it. Walking into the store is a feast for the eyes. The store is divided into booths owned by different vendors, and each one is filled with uncommon finds ranging from clothing and jewelry to home accents.
Thanks to ever-changing displays, you're guaranteed to see something you want to purchase each time you visit.
PRO TIP: Plan to spend about half an hour inspecting the store to see everything it offers. If you bring a gal pal to shop, prepare to spend more time because so many of the finds are conversation-inducing.
SIP & SAVOR
Luckily for Salina visitors, there is an impressive restaurant or cafe on every block of downtown Salina. Whether you're craving high-end global cuisine or down-home dining, you'll find it.
AD ASTRA BOOKS & COFFEE HOUSE
Ad Astra Books & Coffee House (135 N. Santa Fe Ave.) gets better every time I visit. Their new location is more spacious with a bright and cheery vibe. The welcoming staff is patient while I decide what drink to order (the monthly specials benefit a local non-profit).
The café offers patrons a place to sit back and relax with a book or meet as a small group.
During my visit, several locals met friends and colleagues at oversized tables with access to free Wi-Fi. Other areas of the coffee house were dedicated to families with kids, and the back patio offered a quiet, more secluded place to unwind.
PRO TIP: Check the Facebook events page for upcoming live music performances and Open Mic Poetry sessions.
BAROLO GRILLE
Barolo Grille (112 S. Santa Fe Ave.) is one of those restaurants you wish you knew about sooner because the food and atmosphere are delightful. Whether you're stopping for a light lunch or enjoying an evening meal before a concert or play, it should undoubtedly be on your list of places to dine.
The menu consists of "world regional" fare, which to my surprise, includes 15 types of sushi rolls as well as nigiri and sashimi platters.
At lunch, my knowledgeable server reviewed the menu with me and suggested the Troublemaker Rolls (8 pieces of sushi) that lived up to the hype. Served next to a bed of seaweed salad, it was some of the best-tasting sushi I've had.
The linen tablecloths, orchestral music playing in the background, and robust menu options deliver an unforgettable meal experience at Barolo Grille.
PRO TIP: Visit the additional dining room to appreciate a massive mural honoring Salina painted by artist Mindy's Murals.
THE PRICKLY PEAR GRILL AND CANTINA
When a local resident talks up the margaritas in town, you go. The Prickly Pear Grill and Cantina (123 S. Santa Fe Ave.), a Tex-Mex-inspired restaurant serving crave-worthy drinks and Southwestern dishes, is one of the newest additions to downtown Salina.
I stopped for a refreshing margarita only to discover it was already Happy Hour at 2:30 pm. The setting was relaxed, and I made conversation with the bartender between sips while sports played on the TVs. I look forward to returning for lunch and Horchata Bread Pudding.
PRO TIP: Go for $5 house margaritas during Happy Hour, served Monday-Friday from 2 pm- 6 pm, which includes five appetizer specials.
DAGNEY'S
I never leave Salina without stopping at Dagney's (105 E. Iron Ave.) for a small scoop of homemade ice cream. Open Wednesday-Saturday, they serve nearly 30 different flavors every day.
I felt like a kid again, savoring every bite of Lemon Custard ice cream as a Dagney's employee shaped homemade waffle cones behind the counter. The color-changing plastic spoon made the whole experience nostalgic.
PRO TIP: Pack a refrigerated cooler bag to bring home a pint of ice cream. Non-dairy flavors made with a coconut base are available.
YAYA'S EUROBISTRO
When you're in the mood for a chef-prepared meal using the freshest ingredients and exquisitely plated, you dine at YaYa's EuroBistro (251 S. Santa Fe Ave.). My dinner experience started with complimentary bread and savory dipping sauce with a glass of house red wine.
Choosing my entree, Penne Carbonara with Chicken, wasn't easy because the menu ranged from seafood dishes and steaks to wood-fired pizzas. I appreciated the pasta dish, topped with a raw egg yolk that I was encouraged to stir into the black pepper cream sauce before enjoying it.
PRO TIP: Inquire about the specials of the day. If dining Monday-Friday from 3 pm-6 pm, ask for the Happy Hour menu
ADMIRE PUBLIC ART
Salina's downtown art scene is thriving. The walkable district is a gallery for muralists and sculptors to showcase their talented work, and Salina intends to add more street art.
SCULPTURE WALKING TOUR
Santa Fe Avenue is lined with unique, ever-changing sculptures. Sponsored by Salina Arts & Humanities, the public can vote on their favorite sculpture using the SculptureTour Salina Walking Tour brochure available at most businesses downtown. The winning sculpture is purchased by the City of Salina and kept in the community.
At the time of my visit, 22 sculptures were installed on Santa Fe Avenue between Elm Street and South Street. All sculptures are available for purchase. So far, over 40 sculptures have been purchased by private or corporate buyers, and some have been donated to the community.
MURALS/ALLEY ART  TOUR
Incredible murals are viewable as you walk along Artwork Alley and various locations around the city. Salina Kanvas Project's Boom! Street Art and Mural Festival returns this fall to feature the work of six additional artists or art duos.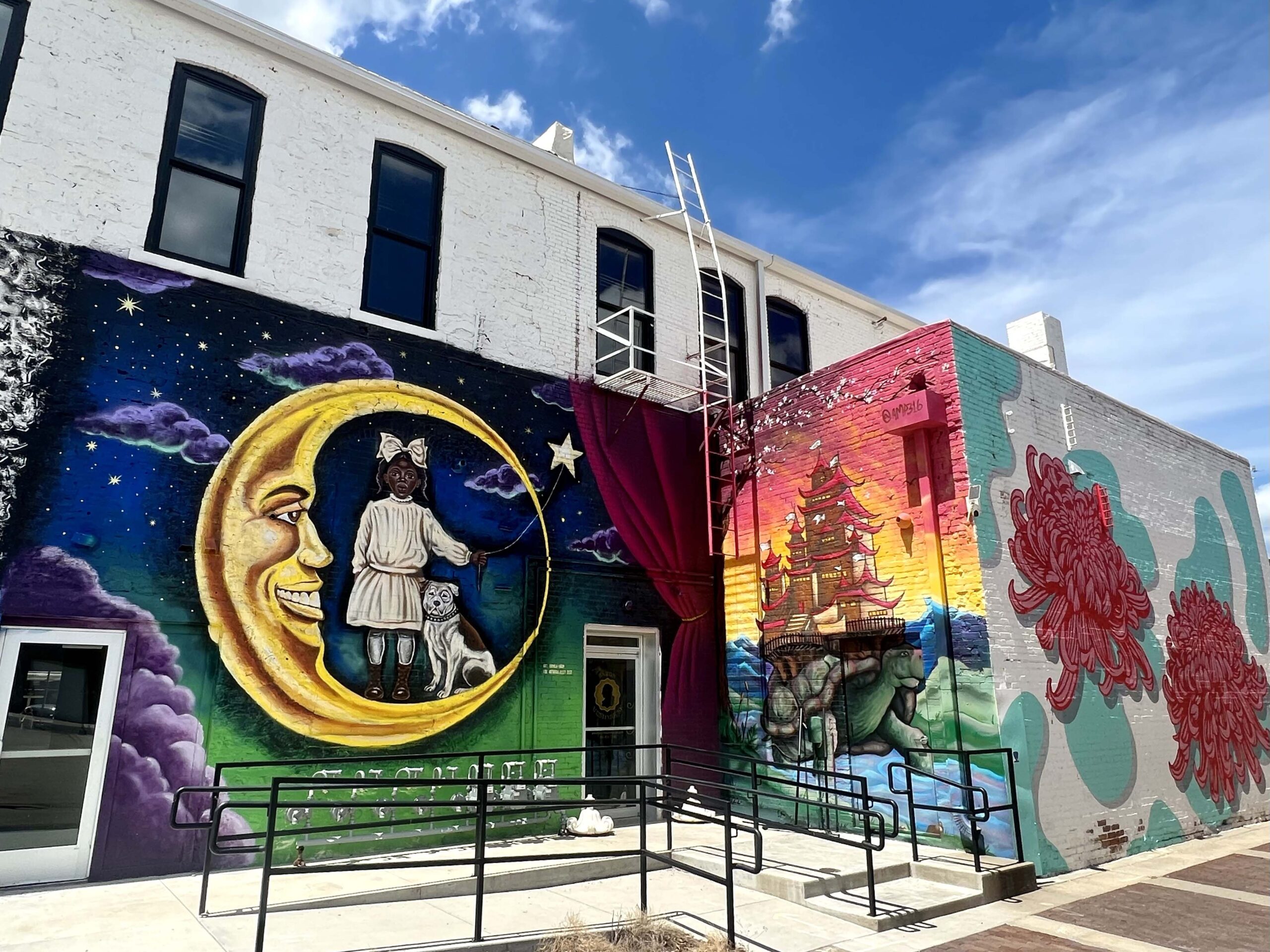 While all the street art designs are worth discussing, the enormity of the Mural at the Mill (343 N. Santa Fe Ave.) by Guido van Helten begs visitors for a closer look. The Australian muralist's work wraps around all sides.
MORE TO ENJOY
DOWNTOWN ARCHITECTURE
Like The Stiefel Theatre (151 S. Santa Fe Ave.), the city's historic performance hall, many of Salina's buildings deserve a second look for their awe-inspiring design. As you walk the downtown corridor, admire the Art Deco architecture created during an era that incorporated colorful details and geometrical forms.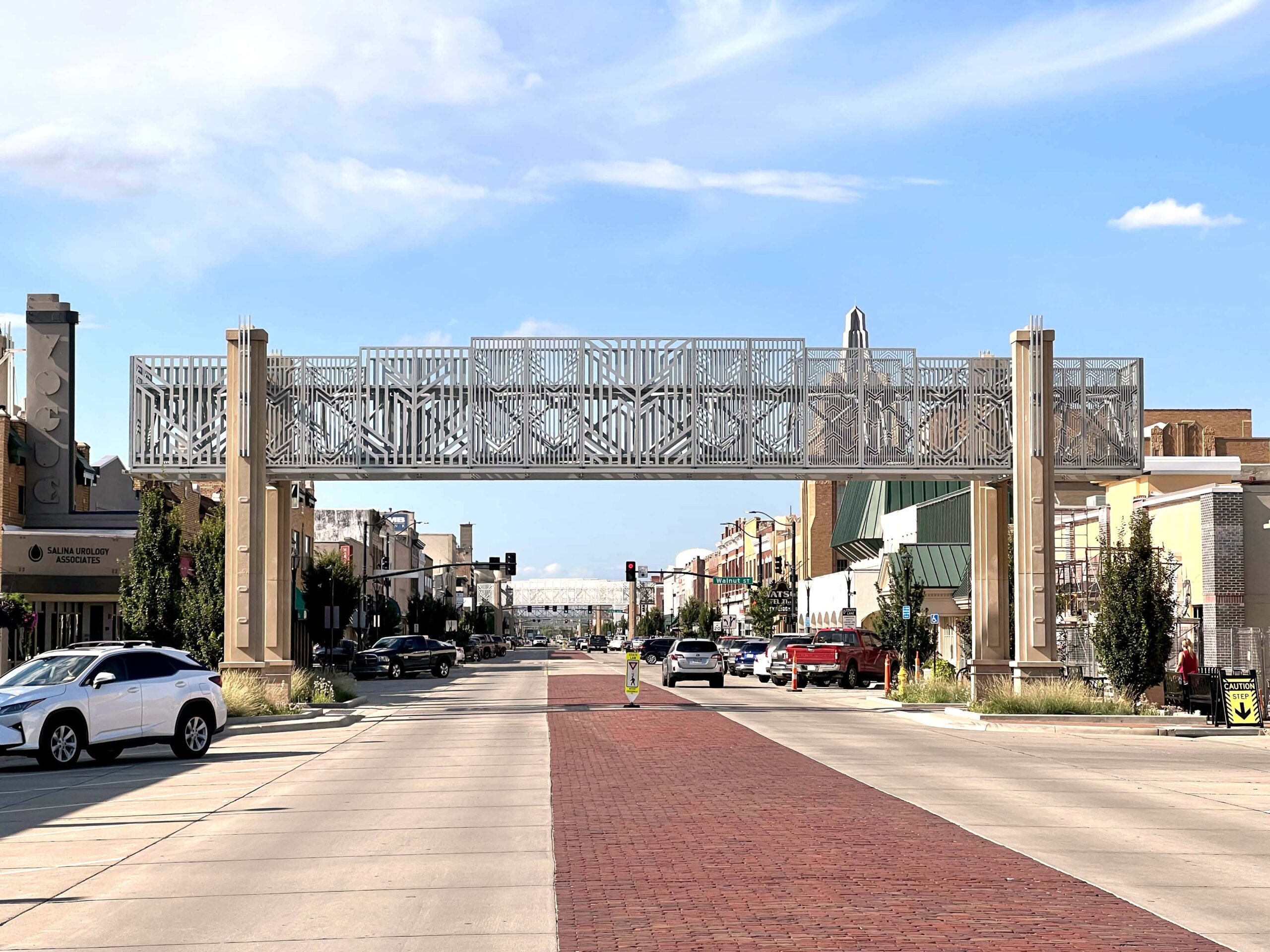 HISTORIC IMAGES
I love it when people add historical elements to renovated buildings. At Blue Skye Brewing and Eats (116 N. Santa Fe Ave.), black and white prints on the building's exterior offer a glimpse into the city's past.
FREE BOOK BIN
Visit the free Little Library bin near Mural at the Mill. The concept was created to encourage readers of all ages to take a book and share a book.
LIVE MUSIC
City Lights Stage (199 N. Santa Fe Ave.) is the place to be for a free First Friday Concert Series show in the evenings from April-September. Walk over to the nearby Hello From 67401 Mural during the concert to take a selfie.
There is a buzz of creative momentum in Salina's downtown. You can feel it as you shop, eat, and admire the area's art scene. I recommend spending the day exploring it like a local.
The best way to stay updated about events and businesses worth checking out is to visit Downtown Salina's website.
To view previous posts I've written about Salina, read Fun Day Trips from Wichita and The Road is Calling: KS I-70 West.