Disclosure: Visit Salina sponsored this post. However, all opinions and photographs are my own.
When I was asked if I wanted to return to Salina, Kansas for a visit, I couldn't pack my bag fast enough. Having stayed overnight there before, I was giddy for new experiences. Salina is a town that has so much to do that you need to stay multiple days. It offers big-city attractions and dining but still somehow still feels like a small town.
The residents have always treated me kindly. Their welcoming spirit is genuine. I'm one of the town's biggest fans for its progressiveness, focus on the arts, and plethora of entertainment options.
If you haven't been to Salina in years, this is not the same town. The downtown district underwent a major renovation project opening boutique shops, loft apartments, new restaurants, and a five-story hotel.
LODGING
HOMEWOOD SUITES BY HILTON SALINA DOWNTOWN
Of all of the hotels that I've stayed at while on the road travel writing, Homewood Suites by Hilton Salina Downtown (155 E. Mulberry St.) is by far one of the best. The luxury, service, and proximity to the town's attractions make it the foremost hotel to enjoy when visiting Salina.
I had the pleasure of staying in the 2 King Beds 1 Bedroom Suite on the fifth floor overlooking the downtown corridor. I was pleasantly surprised by its design and square footage. Large enough to sleep six people, it was so spacious that I thought to myself, "Wow! This room is the size of an apartment."
It had all of the comforts of home and more, including a full kitchen, two flat-screen TVs, and floor-to-ceiling windows. I felt spoiled. As much as I loved it, I appreciated the rest of the hotel just as much.
The new hotel features Hilton's expected amenities and then some. The beautifully decorated hotel is designed in a modern style with references to the region from the lobby's opulent, gas-powered fireplace to the private library with the finest furnishings.
With multiple seating areas in the lobby area, it's easy to carve a little space out for yourself. I escaped into the library on a couple of occasions, a space that includes framed Birger Sandzén prints amongst its stunning furnishings.
Guests also have access to complimentary free nearby parking, a hot breakfast, free WiFi, evening socials Monday-Wednesday. The impressive evening socials give guests a chance to unwind with an alcoholic beverage and a light dinner – and it's all included in your stay.
Additionally, YaYa's Euro Bistro fine dining restaurant is connected to the hotel offering patrons indoor and patio dining experiences. I recommend planning your stay around one of their events, which has included small group wine tastings as well as entertainment on the patio provided by Salina Symphony ensembles. Prefer room service? You can order dinner from the restaurant and have it delivered to your room. 
The fitness room was the largest I'd ever seen in a hotel and it featured top-of-the-line exercise equipment. For swimmers looking to do laps, the pool is definitely large enough. Lounge chairs also make it an ideal place to sit back and close your eyes in relaxation. The facilities were clean and spacious.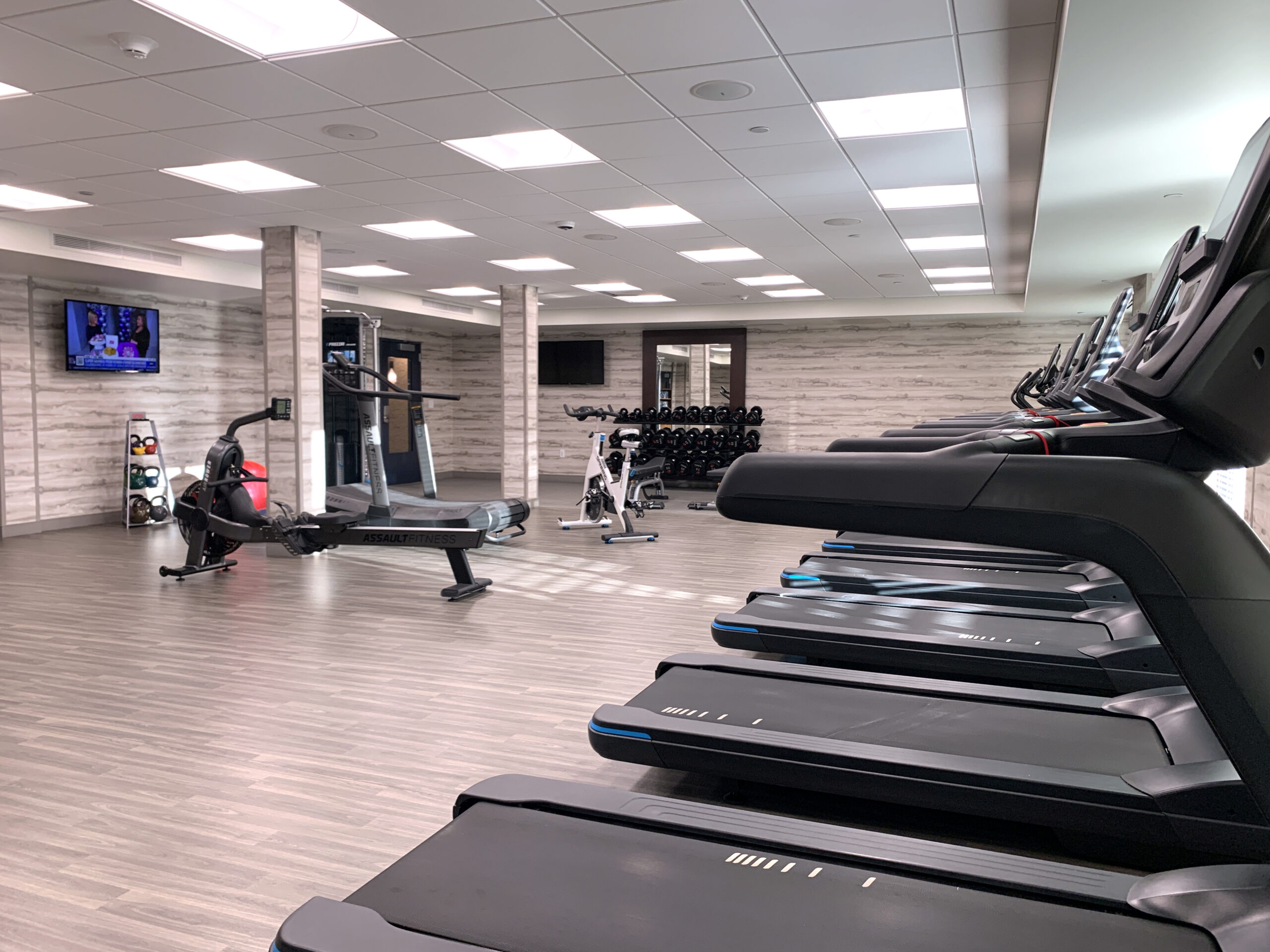 Homewood Suites by Hilton has thought of EVERYTHING. For travelers who have an extended stay, they've provided a laundry room for guests to use, a delightful discovery. Imagine arriving home with a suitcase of clean clothes!
As a guest, you don't want or need for anything. It feels good to be spoiled, especially if you're a Hilton Honors member.
And it gets better! Upon check-in, you'll be asked what kind of complimentary coupon you would like to use at the hotel's Starbucks cafe. Buy One, Get One specialty coffee beverages? Don't mind if I do. Homewood Suites by Hilton rolls out the red carpet. After getting settled into your room, you'll want to extend your stay. I highly recommend booking your reservation.
ATTRACTIONS
SALINA COMMUNITY THEATRE
It had been almost a decade since I watched a play. I'm glad I discovered the Salina Community Theatre (303 E. Iron Ave.). I walked away from the production of "The Half-Life of Marie Curie" in awe of the actors' ability to capture the audience's attention and hearts.
The 90-minute dramedy, set in 1912, told the story of scientist Marie Curie who spent two months at her friend Hertha Ayrton's seaside home recovering from the emotional scars from public scrutiny. The two-person cast performed in a black box theatre where the audience sat only feet from them. It was a moving experience.
More impressive still, the theatre group began 61 years ago. Today, Salina Community Theatre remains a distinguished provider of theatre and theatre education between Topeka and Denver. No small feat!
They work hard to make theatre accessible to people of all ages. In fact, one of their programs, Center for Theatre Arts, includes vocal music and theatre dance classes for all ages. The classes are offered to students starting as early as first grade through adulthood. I think they deserve a standing ovation for the work they do with the community and to entertain audiences.
To view upcoming shows and order tickets to the theatre's next production, visit here.
SMOKY HILL MUSEUM
Where can you experience a Kansas tornado (virtually!), play a pinball machine, explore the history of Salina, and walk inside an 1858 dugout replica? The nationally accredited Smoky Hill Museum (211 W. Iron) has wowed visitors since 1977.
With over 30,000 artifacts in the collections, you're bound to see and experience exhibits like you never have before. And it's always changing! Even the permanent exhibits are continuously refreshed to include new artifacts.
I love a museum that tells a story well. Did you know that Salina was once the third-largest producer of flour in the world? The newest exhibit, "Crossroads of the Heartland," explains the rise of Salina. In 1862, settlers chose the area because it was ideal for agriculture, which explains why you see so many mills in the region.
Eventually, the town became a crossroads for industry that included the railroad, Schilling Air Force Base (closed in 1966), technology companies, trucking, and healthcare.
The museum includes an abundance of hands-on activities for visitors of all ages. From examining parts of a buffalo to building a city and starting a tornado to playing with old-fashioned toys, Smoky Hill Museum is an entertaining experience. Make sure to walk upstairs to The Curiosity Shop for a nostalgic, immersive experience. Kids love it, too!
Before you exit the museum, purchase Kansas-made products and keepsakes in the gift shop. They have a wide selection of travel guides and non-fiction books about Kansas.
I bought a book about roadside oddities, "Kansas Curiosities" and notecards depicting prairie scenes. After exiting the building, take a photo with Patches the Hippo outside.
There is no charge to visit the Smoky Hill Museum. They are closed on Sundays, Mondays, and major holidays. Plan your visit here. If you can't make it to the museum, view the online exhibits.
STIEFEL THEATRE
Harry Connick, Jr. Heart. STYX. Merle Haggard. All the greats have played at the Stiefel Theatre (151 S. Santa Fe Ave.). How is it that a theatre in a seemingly small town in the middle of Kansas could attract premiere music acts? When all the right things come together, it's meant to be. For starters, the theatre is a design masterpiece.
Opened as the Fox-Watson Theatre in 1931, it was the idea of a wealthy grocer and banker in Salina. W.W. Watson, with help from others, opened the doors to the movie palace considered "one of the most beautiful in Kansas." (Source: Stiefel Theatre). It was later renamed after Milton Stiefel who was a major contributor to its renovation.
Fast forward decades later after a major renovation in 2003. The theatre's state-of-the-art sound system, backstage accommodations, and stunning interior make it a must-stop venue for performers.
Audience members travel from surrounding states to listen to bands and comedians surrounded by art deco design – and what a sight it is with gold leaf finishes, crystal chandeliers, and a lobby that takes your breath away.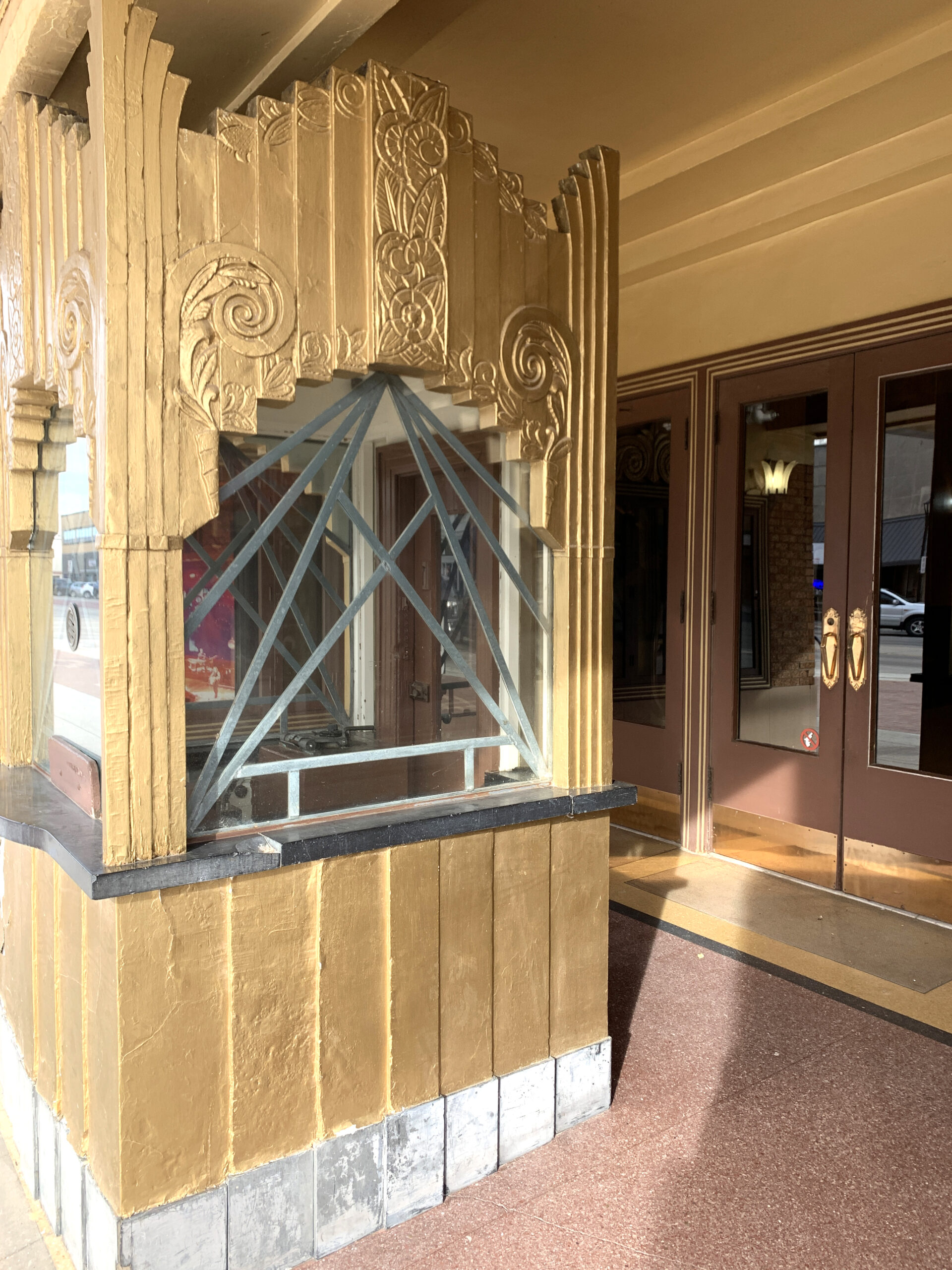 To stand on the stage and look out into the auditorium, you can almost imagine what it's like to perform in front of a packed house of 1,265 seats. Front row ticket holders sit less than, maybe, ten feet from the stage. The glass chandelier that illuminates the audience is original to the building's design.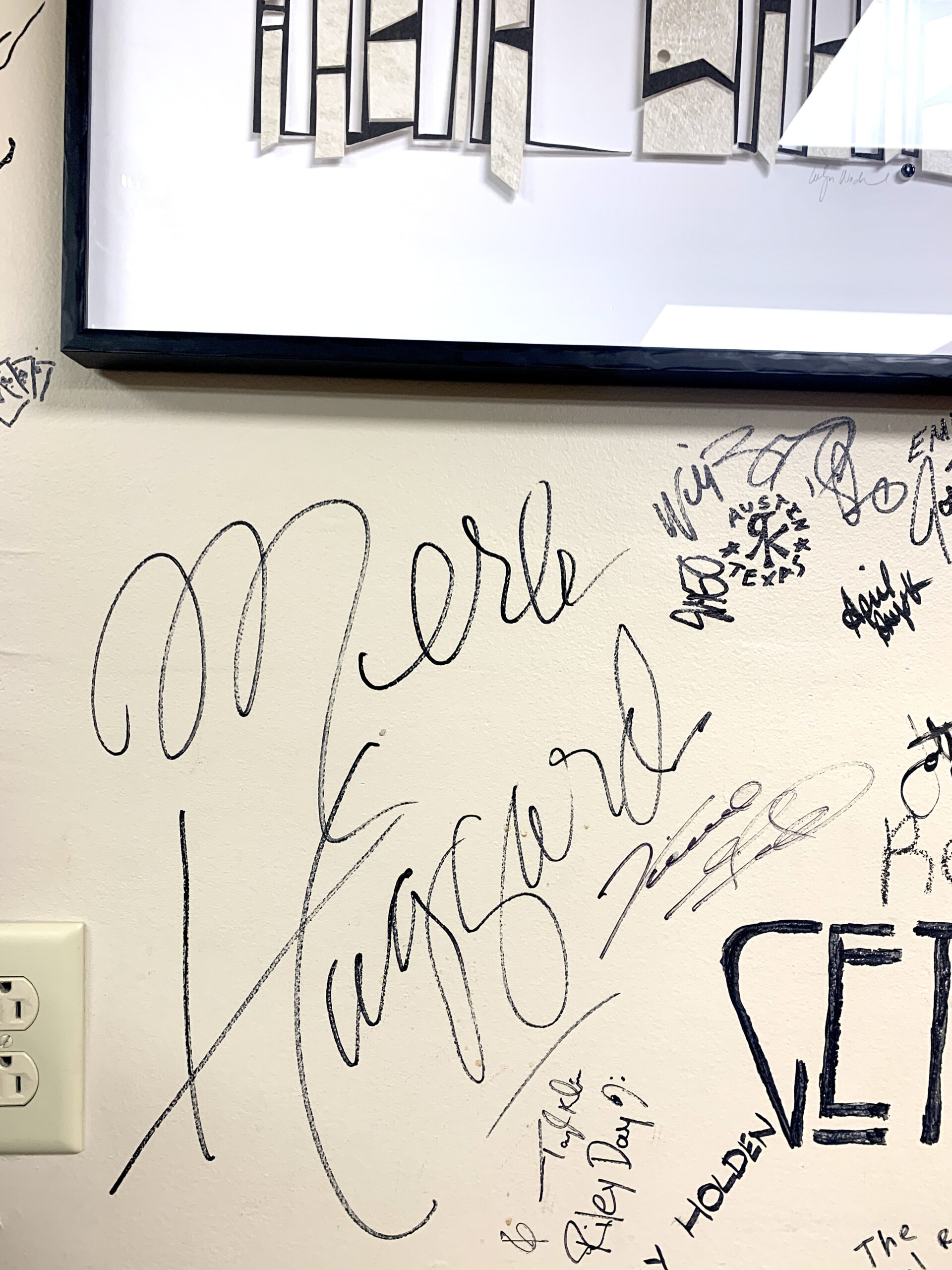 Fortunate enough to tour the backstage area, I stared at the signatures and doodles that covered the walls of the largest dressing room. Bands of my youth had made their mark. Other musicians, who I wish I could see play live, had scrawled their signatures on the walls.
I can't wait to return to see a concert at the theatre. Are you interested in doing the same? View their lineup of upcoming events here.
Later, I met up with the executive director of the Salina Symphony. Did you know the symphony also graces the Stiefel Theatre's stage? In their 66th season, the symphony is a 200 person production that consists of volunteer and paid musicians.
A one-time violin player in a youth orchestra, I was impressed to learn that they have experienced musicians teaching students in the symphony's Youth Education Program.
If you also appreciate listening to orchestral music or perhaps have always wanted to hear it, you can purchase tickets to one or all of the six concerts performed each year. The holiday show is so well attended that it was expanded to two days.
View upcoming concerts and reserve your seats by accessing their website here.
ROLLING HILLS ZOO
The Rolling Hills Zoo is a top attraction in Salina. The sprawling park (take the $3 tram!) is open seven days a week to welcome animal lovers to explore the animals in their habitats. Big cats, wild birds, primates, giraffes, and reptiles make up the majority of the outdoor exhibits. The zoo is building "The Pride of the Prairie," a new lion habitat to give guests a face-to-face encounter with the cats from inside a cave.
My first priority when touring Rolling Hills Zoo was to visit the giraffe exhibit. I approached the area slowly as to not startle them. To my surprise, Zuri, Billie, and the youngest, Korey, were as interested in me as I was in them. Korey, who was born in December 2020, is 10 feet tall and growing. The other giraffes are 11 years old.
I visited the zoo in the early afternoon hours when most of the animals were napping, including a bear in a hammock. However, a tiger rose from his slumber to yawn in acknowledgment of passersby. Capybaras and flamingos explored. Barnyard animals greeted children.
The zoo has an indoor museum that allows guests to journey through 64,000 feet of scenery with animatronic humans and animals comparable to what you would see and hear at a big city theme park. The space is also filled with taxidermy giving one's stroll through the museum an immersive quality.
A visit to Rolling Hills Zoo should be at the top of your list of things to do when in Salina. To experience the upcoming events, view gate admission prices and the zoo's hours, visit the website.
MURAL AT THE MILL
I was pleased to discover that the Salina Kanvas Project's mural was now complete. The large-scale painting (343 N. Santa Fe) was painted by Australian artist Guido van Helten who typically is commissioned to do major projects in large cities across the globe. It's a spectacular mural. For more information about the project, visit an earlier post I wrote about it here.
BOUTIQUE SHOPPING
During my free time, I stepped inside a number of gift and clothing boutiques in the downtown area. Country Seasons Boutique (201 S. 5th St.) is a consignment store that carries curated and new retail from apparel to seasonal decor. The window displays are beautiful. In search of wall art? They stock a large selection of paintings and framed prints.
Known for carrying antiques, market finds, and locally-made jewelry, Rebecca Jane's (115 N. Santa Fe) is where you can always find a gift for yourself or someone else. Heed my advice. Take your time winding your way through the narrow pathways that lead you through the booths. With so many cute items to see (items are refreshed frequently), you'll need extra time.
Baron Mushmouse (141 S. Santa Fe) is a new store downtown that carries a bit of everything. The eclectic inventory will capture your attention. The home furnishings include antiques and one-of-a-kind pieces. They have the most hilarious greeting cards and novelty items that I've ever seen.
In search of new clothes to add to your closet? Sanity Boutique (135 S. Santa Fe) is an apparel store where women of any generation can find clothing that appeals to them. New arrivals sit front and center as you walk into the store. As you meander through the boutique, you'll notice dressy and casual separates, shoes, and on-trend jewelry. The prices are reasonable given the high-quality selection.
I came home with a pair of earrings from Eccentricity (104 N. Santa Fe), a women's clothing store with racks of apparel organized by color and season. They carry Vera Bradley, Kut denim, Scout jewelry, Spartina handbags, and a long list of well-known brands. The staff is super nice and knowledgeable.
The Bath Pub (109 S. Santa Fe) is a new store where shoppers can create their own custom bath and body products. It's a great place to host private parties. Ask about the fragrance recipe cards before making customized bath products.
FOOD & DRINK
AD ASTRA BOOKS & COFFEE HOUSE
Part cafe, partly used bookstore, Ad Astra Books & Coffee House (141 N. Santa Fe) resembles a library with tables and chairs for lounging. The relaxed atmosphere is where locals meet up for specialty coffee or tea to chat about local happenings. Exposed limestone and brick walls anchor bookshelves stocked with titles in every genre.
Also a place for families, the youngest visitors will appreciate the children's book section and inviting gumball machine. I recommend asking about the specialty coffee of the month. Proceeds from my purchase of a Bee Kind Latté went to a local non-profit. You'll find it difficult to leave without buying a book, t-shirt, or Kansas-themed gift.
DAGNEY'S ICE CREAM
Word on the street is that Dagney's Ice Cream (105 E. Iron St.) serves some of the best tasting ice cream around. With 29 flavors on the menu, I was determined to select the best one. I sampled the Maple Bacon (it was incredible!), but eventually settled on Rocky Road, a flavor recommended by a local.
Thick, chunky, and dense in flavor, it satisfied. Word to the wise! Order a smaller size than you're craving. The ice cream is filling. If you love it, they sell to-go pints. Ask about new flavors.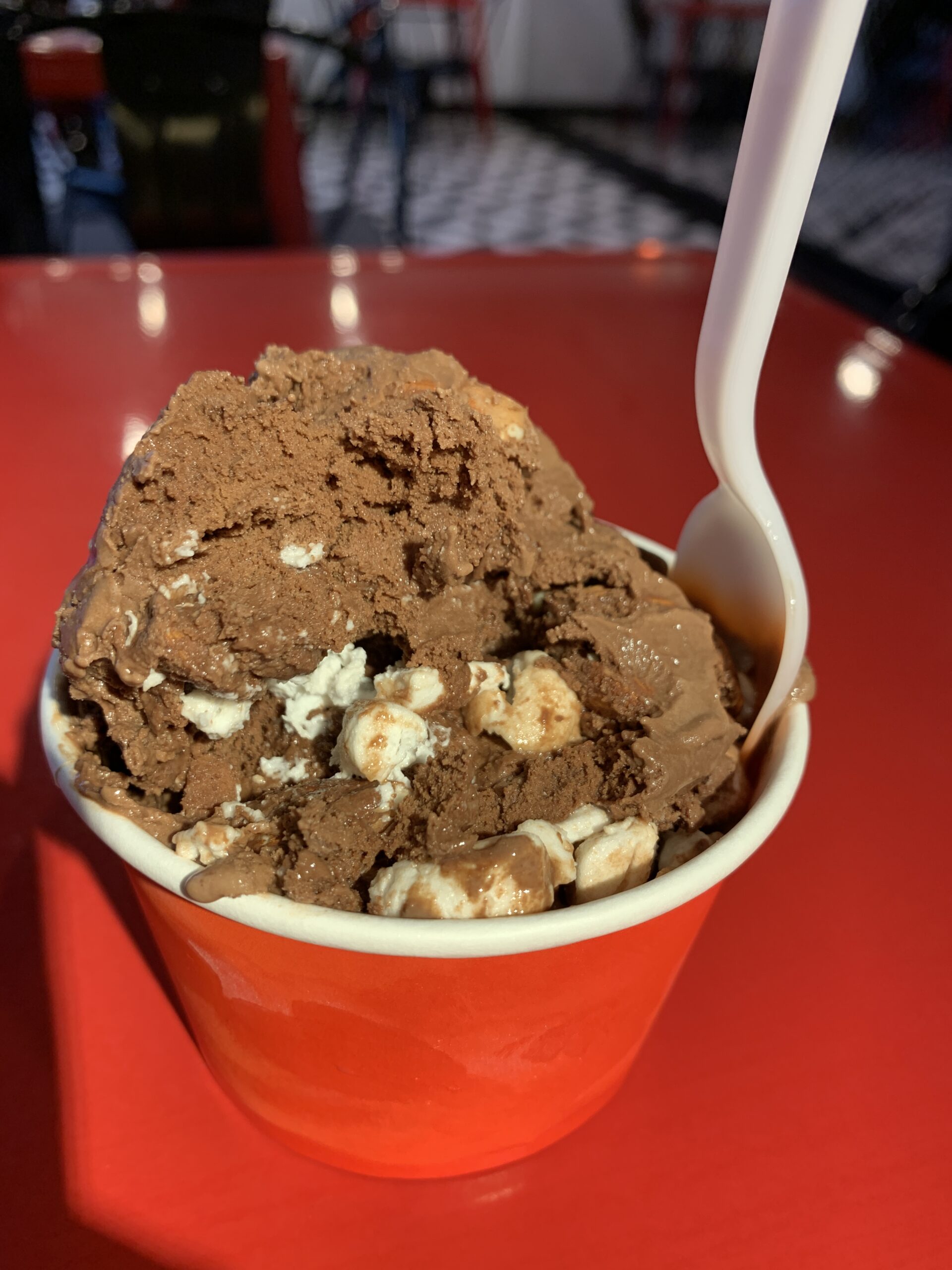 MARTINELLI'S LITTLE ITALY
To visit Salina without eating at Martinelli's Little Italy (158 S. Santa Fe) is a crime. They serve the best Italian food in Kansas. I've repeatedly visited the restaurant for its incredible food and crave it when I'm not in Salina.
What makes it worthy of a visit? Authentic flavor, impeccable service, and it's located in the heart of downtown Salina across from the Stiefel Theatre. Everyone raves about this place.
Recently reopened after renovations, the ambiance is top-notch. Red and white checkered tablecloths and jazz music set the scene. Martinelli's serves everything from chicken parmesan (I chose the half sandwich and chopped salad combo), specialty pasta, steaks, and seafood. Your server will tell you the daily special and soup of the day. 
Leave room for homemade tiramisu or creme brûlée. Ask for the drink and dessert menus before ordering your meal to plan ahead. The family-style portions are HUGE. A quarter-size pasta dish is prepared with a half-pound of pasta. The spaghetti comes with a one-pound meatball. You'll need a to-go box.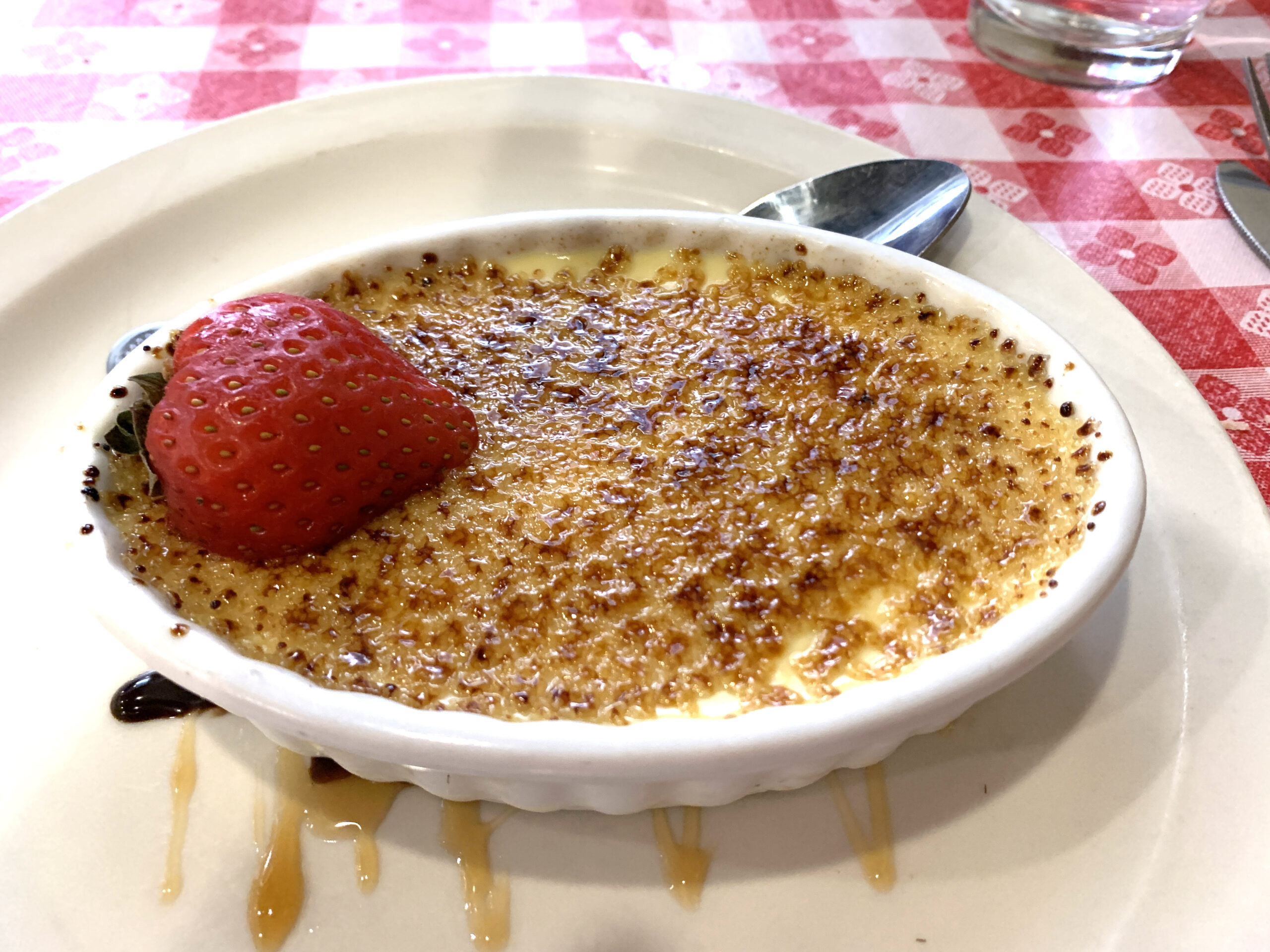 DAIMARU STEAKHOUSE & SUSHI BAR
When you're in the mood for exotic food, Daimaru Steakhouse and Sushi Bar (3045 S. 9th St.) fits the bill. The book, I mean menu, includes pages of delightful options including sushi rolls, pho, Cantonese entrees, and Pad Thai.
I was craving fried sushi rolls, so I ordered the Big John. Even though it was plenty of food for one person, I also ordered shrimp fresh spring rolls. I'm a sucker for peanut dipping sauce. And who can resist spicy mayo?
Daimaru is popular with locals. The sushi chefs never stood still. I watched as they prepared enormous sushi platters. Artfully designed, the sushi tasted as good as it looked.
You're never at a loss for exciting things to do or places to discover in Salina. No matter your interest, you can find big-city attractions and dining in a small town, welcoming setting. Check out an earlier post I wrote about Salina for bonus travel ideas here. I promise you'll be impressed with Salina and want to visit it repeatedly.