Disclosure: Kansas I-70 Association sponsored this post. However, all opinions and photographs are my own.
A one-time wild frontier town known for its colorful history and Volga German heritage, Hays, Kansas, offers today's visitors a glimpse into the past and modern experiences for travelers passing along KS I-70. You're guaranteed to enjoy your stay in Hays.
I discovered that there is more than enough to do. I squeezed a lot in my itinerary during an overnight stay. You may just want to spend an entire weekend touring the small town's attractions, dining options, and historic landmarks.
HISTORY
Founded in 1867, the railroad town was put on the map by the Union Pacific Railway Eastern Division and was named after Historic Fort Hays. The military post provided refuge for settlers and railroad workers to escape Indian resistance. The town attracted workers but as well as colorful characters who enjoyed saloons, brothels, dance halls, and gambling houses.
A couple of years later, James Butler Hickok, a skilled marksman, became sheriff of Hays. He killed men in shootouts to end the lawlessness in town. But Hickock was sheriff for only three short months. The citizens didn't appreciate his style of law, and another sheriff was chosen. In 1876, he was shot in the back of the head and killed while sitting in a South Dakota saloon playing cards by a young gunslinger, Jack McCall.
I loved walking around downtown Hays and imagining it as a lawless town. Many of the original buildings have been restored. The photo below shows the historic George Philip Hardware building, established in 1894, at 719 Main Street. Over the years, the structure has been a general store, public land office, and the Hays Free Press. The limestone building now houses a dress boutique shop.
The Wiesner's Department Store building is now the Be Made Mercantile in The Bricks of Downtown Hays area. A mix of specialty shops, offices, and restaurants now occupy many of the historic buildings brought back to their beautiful beginnings with thoughtful restoration. The downtown corridor is a treasure. It was named "Most Beautiful Main Street in Kansas" by MSN.
LODGING
HILTON GARDEN INN AND CONVENTION CENTER
The Hilton Garden Inn and Convention Center's (221 W. 43rd St.) modern style and unexpected luxury surprised me, considering its reasonable rate. It's consistently ranked high on hotel rating websites. While I'm sure, there are several respectable hotels to stay at when in Hays, I highly recommend booking your overnight accommodations here.
The 100-room hotel features a restaurant and bar, indoor pool, fitness room, and free parking. I was shocked at the size of my room. It was larger than some of my college apartments. I had ample space to spread out my work gear and plug in all my gadgets. The TV provided streaming channel options. I suggest you bring your Netflix and YouTube credentials to make logging into your platforms a breeze. You'll also appreciate the in-room coffeemaker and tea station.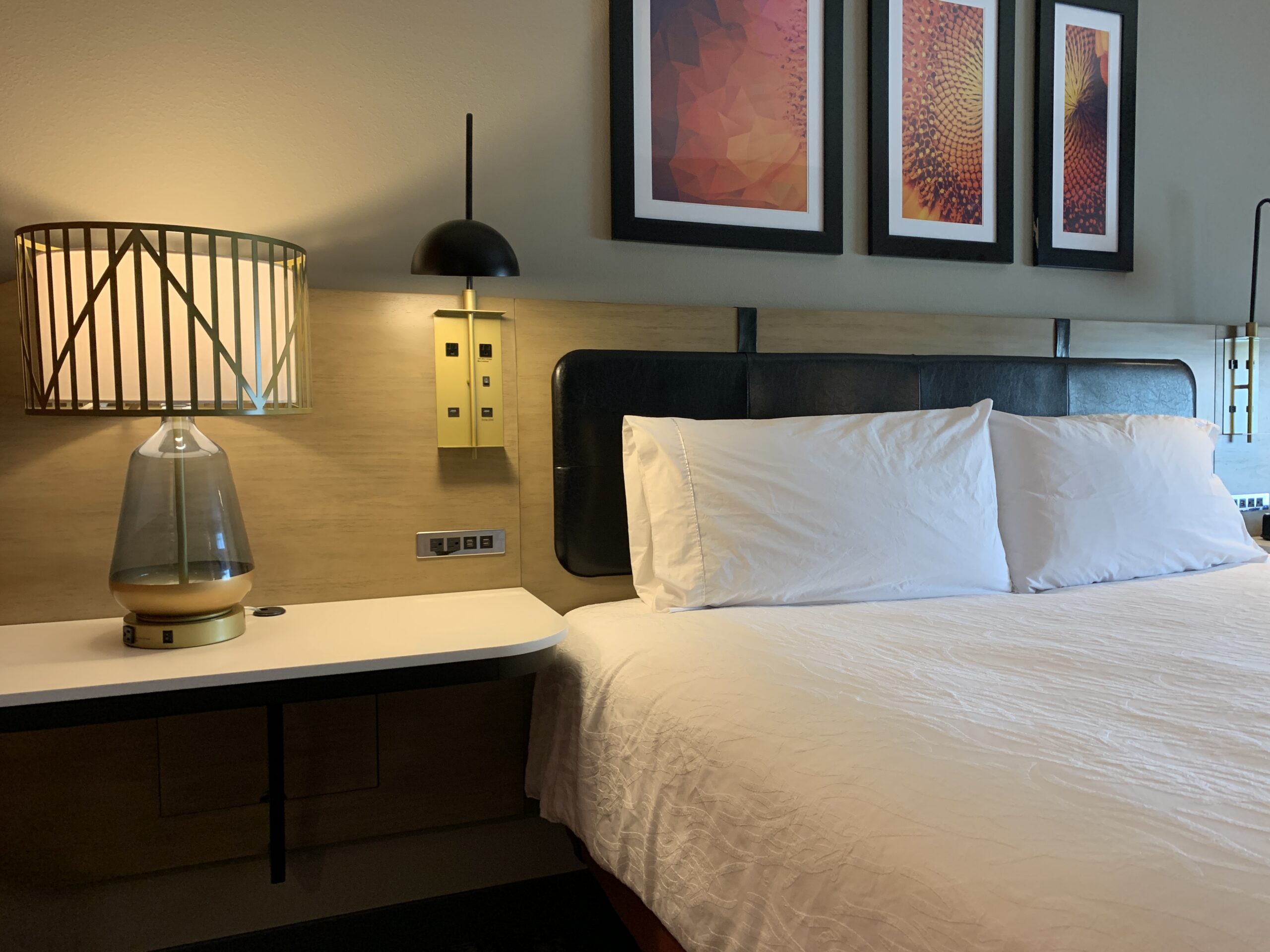 Hilton Garden Inn is one of those hotels where you look back at the sign as you leave and think, "I want to stay here again." It's modern, spacious, clean, and has many awesome amenities. A pet-friendly hotel, I feel good knowing that the next time I visit, I can bring my four-legged family member with me during my return trip to Hays.
HAYS ATTRACTIONS
STERNBERG MUSEUM OF NATURAL HISTORY
In Hays, you must visit Fort Hays State University's Sternberg Museum of Natural History (3000 Sternberg Drive). I can tell you first-hand that it's no ordinary attraction. The collections are impressive in size and quality. They focus on evolutionary science with an emphasis on the Great Plains. Fossils, rocks and minerals, dinosaur bones, and more make touring the exhibits a treat for visitors of all ages. As a native Kansan, I loved that many of the collections' artifacts were found in the Sunflower State.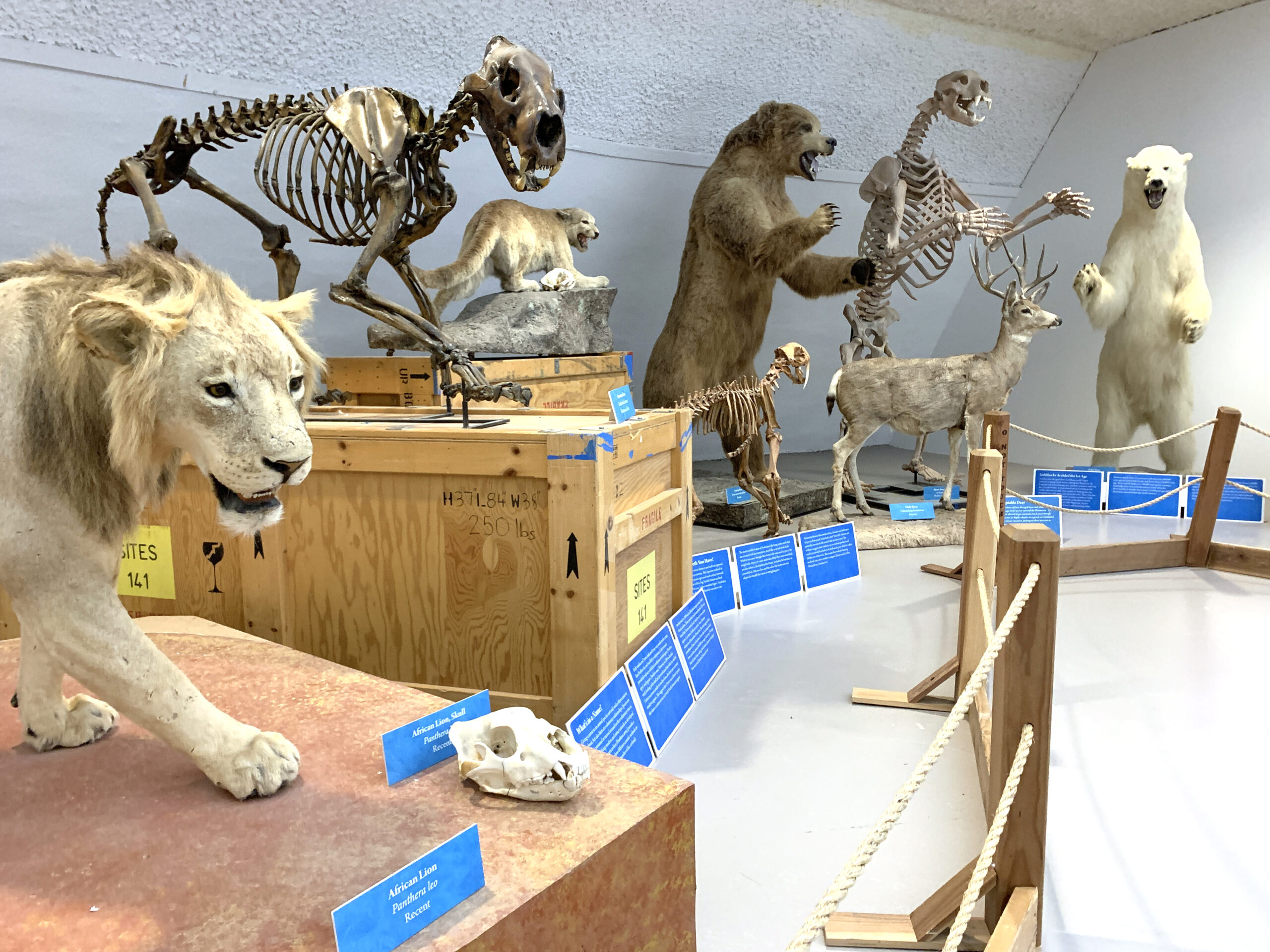 The geology specimens will rock your world. You'll love looking through and into glass-encased exhibits at colorful rocks, minerals, and crystals. The exhibits help you better understand three distinct geologic eras. Their beauty and historical significance wowed me. Perhaps you've seen geodes and rocks before but never the size and color of the ones on exhibit at Sternberg.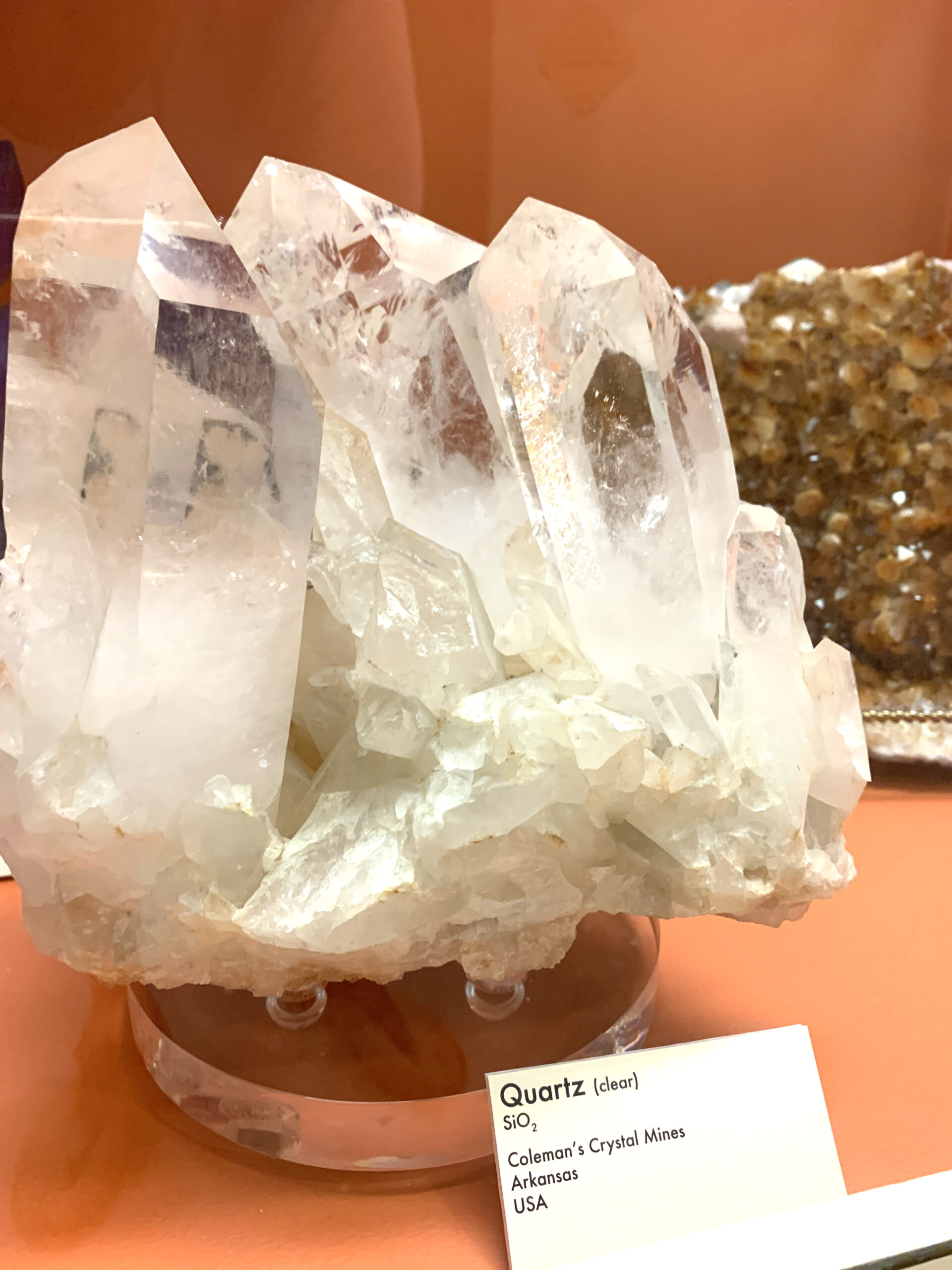 The museum's paleontology area allows visitors to get an up-close view of animatronic dinosaurs, prehistoric animals, sea swimming creatures, and fish that lived in Kansas over 80 million years ago. It was a different world when the seas flooded North America. The museum's exhibits give visitors a glimpse into the past.
As an adult, I appreciated the "A Look Inside" collection of x-rays of animals. Scientists use the images to look at the skeletons of animal specimens that lived millions of years ago. Before leaving this area of the museum, make sure you observe the freshwater creatures swimming in aquariums. The live tortoise exhibit is also worthy of a look. Did you know a tortoise's leg is similar to an elephant's? Fun facts like these are on display throughout the center.
Kids will love the Discovery Room for its hands-on activities. The space also has rows of enclosed aquariums featuring live snakes, frogs, and spiders. In another area of the museum, the Fossil Dig Site gives children the chance to unearth dinosaur "bones."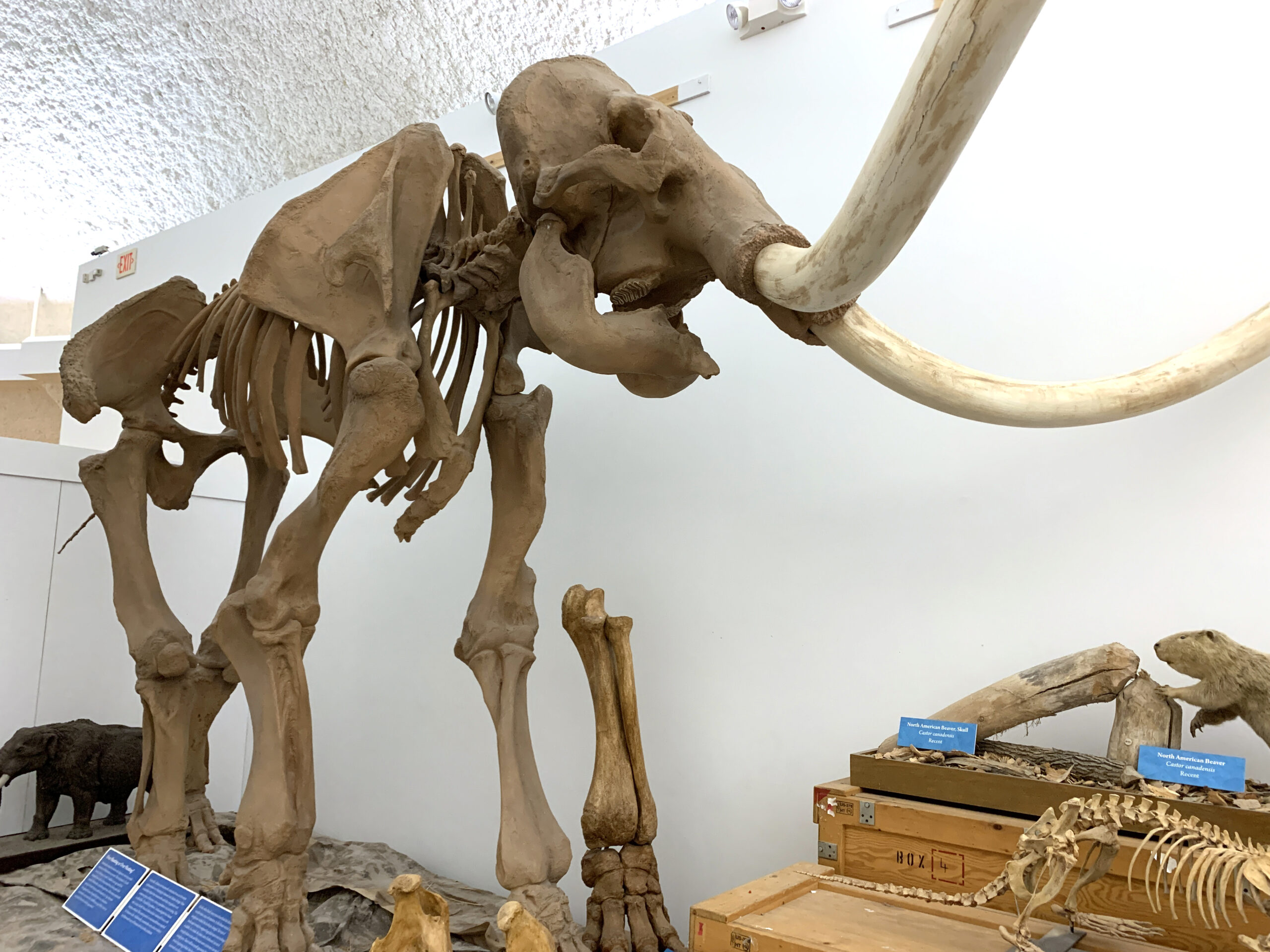 A major draw of the museum is its collection of fossils found in the Great Plains, which largely exists because of the work of Charles H. Sternberg. He collected fossils in Kansas starting in 1867. Today, his family's fossil collection includes more than 400,000 vertebrate and invertebrate specimens. You can also tour rooms stocked with plant fossils. Sternberg amassed many world-famous fossils like the Tylosaurus marine lizard pictured below.
An extraordinary place, the museum has won the Best of the Best Official People's Choice Award as a local tourism attraction. It truly is worth a visit.
ELLIS COUNTY HISTORICAL MUSEUM
Another major attraction for visitors to Hays is the Ellis County Historical Museum (111 East 30th St.). Actually, it's more of a campus rather than a single museum. You can request a tour of the Volga German Haus and Fire Museum on location. The limestone and brick churches are no longer open to the public; however, you can still view their detailed architecture.
What do you consider when admiring the architecture of another time? I think it tells a story. Many of the buildings in Hays were constructed with limestone, a prevalent material in the area. The residents worked hard to erect the buildings that stand today.
HISTORIC CHURCHES OF ELLIS COUNTY
To understand Hays as a community, it's necessary to get to know its German heritage. The settlers who chose Ellis County as their home brought with them Roman Catholic influences. The ten churches in Hays and the surrounding area are exceptionally tall with Gothic-style architectural details. If you're interested in taking a self-guided Historic Churches Tour, you can download the brochure here or contact the Hays Welcome Center for details.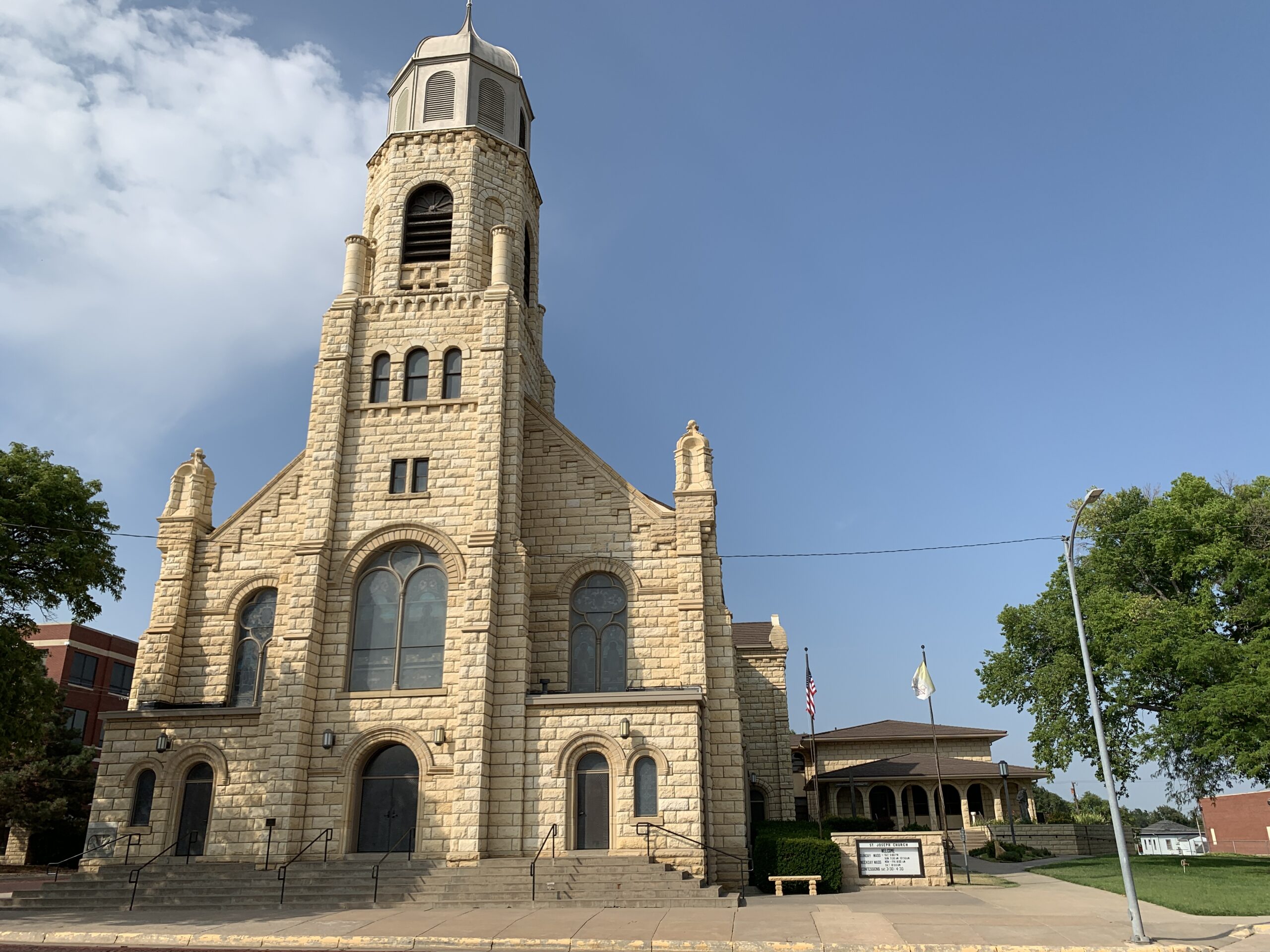 I made a stop outside of Hays in Victoria, Kansas to gaze upon "The Cathedral of the Plains" aka The Basilica of St. Fidelis (900 Cathedral Ave.) It is so massive that you can see it in the distance when driving on KS I-70. The Roman Catholic church is built in the shape of a cross and its entrance faces west. Adorned with two towers that reach 141′ tall, it seats over a thousand people making it the largest church west of the Mississippi. It's also considered one of the 8 Wonders of Kansas. I was awe-inspired by its majestic beauty.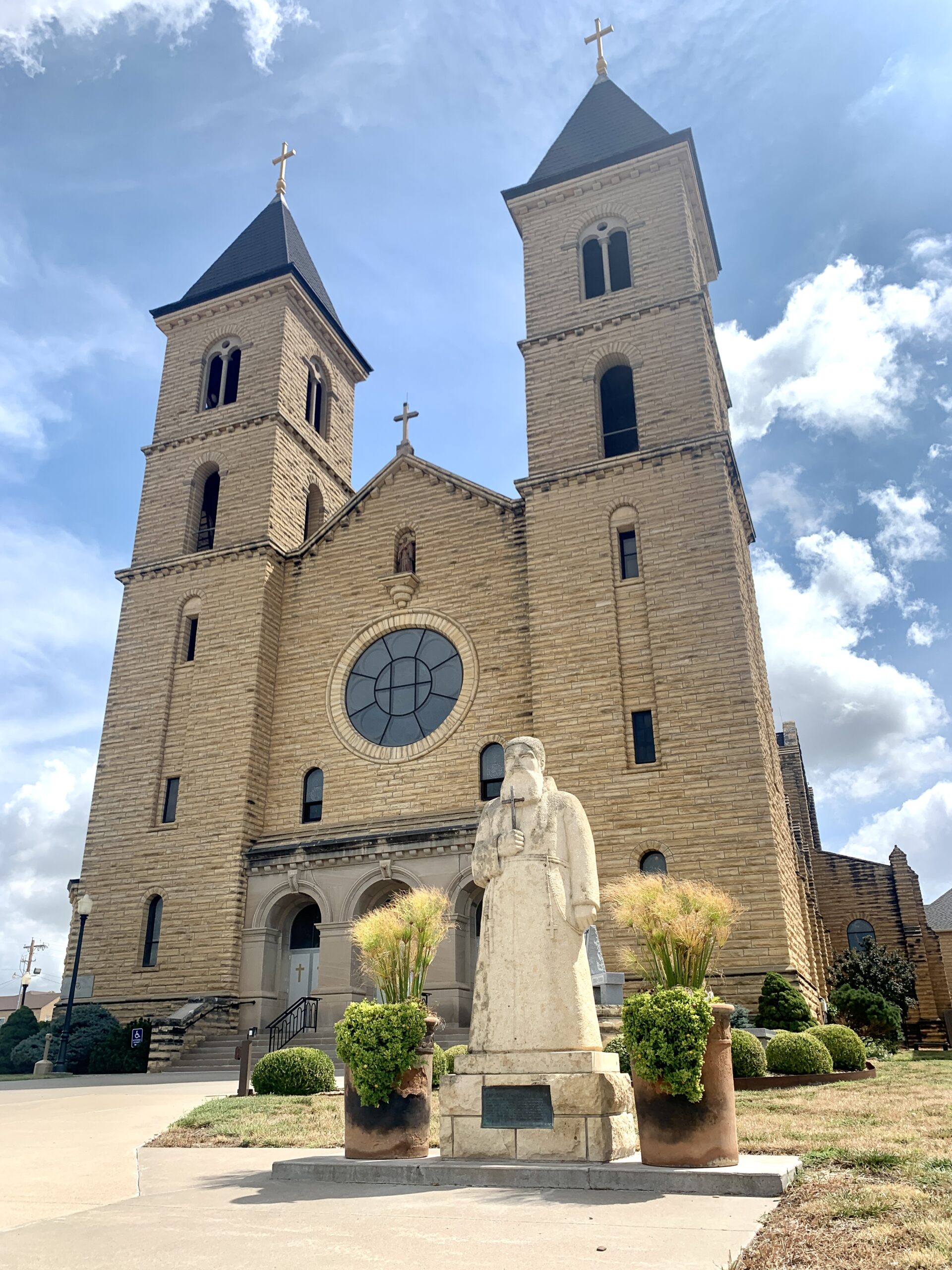 KSU AGRICULTURAL RESEARCH CENTER
I never thought I'd learn so much about Kansas farming and ranching until touring the KSU Agricultural Research Center (1232 240th Ave.). It gave me a humbled appreciation and better understanding of the work that goes into producing a successful harvest or cattle herd.
Greeted by a welcoming employee, he volunteered to take me on a private tour of the grounds. He told me about the work Kansas State University is doing there. It's more than a farm – it's a science lab. I learned that their lab research makes improving and innovating traditional farming methods possible.
Because of their lab testing and research, rural farmers know how to improve their methods resulting in a better harvest or herd. From cattle nutrition to land management and plant pathology to entomology, the folks at the center work year-round to learn from nature. In fact, it was at the KSU Agricultural Research Center that many of the biggest contributions to the science of farming took place. Using ultrasound information at the center helped scientists learn more about beef marbling, which led to the USDA's grading system for quality.
You don't have to be a farmer to appreciate the work the KSU team is doing. Even as a novice gardener, I walked away, having learned more about working the land and how it benefits us all. You'll find the tour fascinating. You don't have to schedule a tour and can stop by anytime during their office hours.
PETE FELTEN SCULPTURES TOUR
A sucker for public art, I'm always game to go on a treasure hunt for pieces I've never seen. Find a Felten is a self-guided tour of 16 limestone sculptures created by Hays artist, Pete Felten. Each one helps to tell the story of the Kansas town.
I appreciated the wonder of each piece – and to think that Felten is a self-taught sculptor! His first commissioned piece of Buffalo Bill Cody is on display front and center at the Hays Public Library. From small in size to 24-ton creations, Felten has shaped stone to represent the best of Hays' history like the Hereford Bull pictured above. To see 16 Felten sculptures, you'll need to drive to the locations not located in the downtown district. Use this brochure to plan your adventure!
BOOT HILL CEMETERY
The 1885 site, Boot Hill Cemetary, is where outlaws "died with their boots on." It sits at Fort and 18th Street in what is now a suburban neighborhood of Hays. The site is located on a hill that serves as the final resting place where many were buried during the days of Wild Bill Hickock. "The Homesteader," another Felten sculpture marks the location.
I found it easy to park nearby the cemetery and take a short walk to the monument. It's yet another way to understand the lawlessness and corruption that once ruled Hays. It's reported that 79 outlaws were buried there. Will you visit the burial ground?
HISTORIC WALKING TOUR
Continuing my journey through Hay's past, I opted to take a self-guided walking tour of the infamous buildings that made up old Hays City. The area of town, referred to as Chestnut Street District includes 25 buildings with bronze plaques that explain each one's significance.
For me, there is something about standing outside the door of what once was Tommy Drum's Saloon and Paddy Walsh's Gambling Hall that sends my imagination into overdrive. How many gunslingers were killed there? What did the music sound like from the saloons? And now I'm standing where they stood.
THE BRICKS DOWNTOWN HAYS
Strolling along picturesque downtown Hays is a pleasure. The Bricks in Downtown Hays is a walkable district with breweries, bakeries, boutiques, and entertainment venues. Honestly, there really is something for all ages to enjoy. I'd recommend checking for upcoming events on the Facebook page before planning an outing.
DINING
BREATHE COFFEE HOUSE
I found Breathe Coffee House (703 B Main St.) to be the perfect way to start my morning in downtown Hays. They serve "oddly correct coffee," crepes, smoothies, and scones. The cafe's mission is to serve as a place for people to connect, to feel cared for by others, and to welcome people of all faiths and backgrounds.
As I sipped on my latté made from Kansas City roaster, Oddly Correct, I noticed that an entire wall was covered in shelves housing mugs. To join the Coffee Club, the cafe devotees pay $25 that serves as a donation to fund outreach projects. The cafe is a non-profit that supports Dialogue Ministries.
Warm and welcoming, the cafe is a cozy place to enjoy a cup of coffee.
PAISLEY PEAR WINE BAR, BISTRO and MARKET
Another delightful space to relax and unwind after a day of exploring downtown Hays is Paisley Pear Wine Bar, Bistro and Market (1100 Main St). Established in 2017, the wine bar has been serving beverage flights and wine slushies since 2017. During my visit, I chose a $12 wine flight of dry varieties from a long list of options. My favorite selection was a cabernet sauvignon from Skyfall Vineyards. Thankfully, my server was kind enough to provide me samples of cheese from Alma Creamery, which paired well with all of my choices.
I took my time sipping and enjoying the selections as I watched women arrive to attend a baby shower in a separate event space in the back of the building. Smaller groups gathered at tables in the tasting room to drink wine and catch up on the latest happenings.
Paisley Pear occupies a 100-year-old building that was JB Basgall Grocery. Check out the photo below. You can see the original floors! If you stop in for one of their popular wine slushies, a wine flight, or a cocktail (they have a full bar!), take a few moments to get up and walk around the space. You'll love their retail inventory of Kansas-made products.
GELLA'S DINER + Lb BREWING CO.
I had heard about Gella's Diner + Lb Brewing Co. (117 E. 11 St.) before arriving in Hays. They are well-known in town for their excellent pub grub and craft beer. My dining experience lived up to the hype. Gella's was worth the stop.
I chose a seat at the bar so I could have a clear view of the brewers at work behind the glass wall. My bartender was friendly and happy to provide a few beer samples until I eventually decided on a pint of the unfiltered Grapefruit Radler. Undecided between two lunch options, she persuaded me to order a local's favorite, a Smothered Bierock covered in creamy cheese sauce with homemade chips. She also ensured my meal came with creamy bacon horseradish and sweet onion dip to eat with the chips. Lunch never tasted so good! And the beer? It was crisp and aromatic. I'd order it again. Maybe a growler of it.
Knowing that I didn't have room left for dessert, I ordered the French Toast Brulèe anyway. The crisp exterior gave way to a pillowy center as my spoon cracked into it. Combined with vanilla bean ice cream and fresh whipped cream, it was beyond delicious.
I recommend stopping at Gella's for lunch or dinner whenever you're in Hays. The restaurant is large enough that it can easily accommodate groups. Menu prices were reasonable for the quality and portion sizes. If you drink craft beer, you can expect 12 taps, with two rotating regularly.
TRIO TAP HOUSE
The dinner bell was ringing, and I was hungry. Trio Tap House (1106 E. 26th) claims they are a place to enjoy "an honest meal and a proper good time," and they weren't kidding. I nestled into my seat and reviewed the menu. I was craving a hearty salad. The Dry Aged Steak & Blue checked all the boxes. It had fresh romaine lettuce, creamy blue cheese crumbles, red onion, and a steak cooked to medium rare.
To wash it down, I chose Breckenridge Brewing Company's Peach Palisade Wheat. One bonus to stopping into a brewery in western Kansas? You're bound to find several Colorado beers on tap.
DEFIANCE BREWING COMPANY (DOWNTOWN)
A new downtown brewpub, Defiance Brewing Co. recently opened its second location (111 W. 7th St.). I've been a fan of their beer for a couple of years, so I stocked up my cooler before heading for home. My lunch, a large house salad with champagne vinaigrette, hit the spot as I was in need of something fresh and light. Radio hits from my college years blasted in the background and I whispered the lyrics between bites.
If you're a craft beer fan, I suggest visiting their downtown location. They offer 12 beer selections and a quarter of the menu are IPAs. Rumor has it they are aging beer in barrels in the side room. Craving lunch or dinner? Ask for a menu that features wood-fired pizzas, sandwiches, and salads.
My time in Hays may have been short-lived, but it wasn't without delightful moments. You will feel the same as you dive deep into the town's history, enjoy a meal in good company, and appreciate all that the downtown district has to offer. In fact, you may just need to extend your hotel stay another night to make sure you have a bonus day to enjoy Hays. It's a thriving small town that offers big fun.