People are asking me, "Vanessa, what town should I visit that has cool things to do and see within driving distance of Wichita?" It's at that moment when I nearly burst with excitement because I can't wait to give them a personalized list of day trip-worthy towns.
Which one of these destinations will you drive to this weekend?
MCPHERSON, KANSAS
McPherson, Kansas is one of those towns you wish you had visited sooner and can't wait to return to again. A short drive from Wichita, the central Kansas town is the perfect getaway for a day trip.
If you're in search of Main Street shopping, diverse dining options, historical museums and buildings, phenomenal artwork, and fun outdoor activities, then McPherson is the ideal place to spend time exploring.
View a suggested itinerary here.
HUTCHINSON, KANSAS
The town of Hutchinson is a hidden gem located about an hour from Wichita, Kansas. Known for its history of salt mining, it is actually a pretty sweet town to visit. Just as you would expect from a quaint Midwestern town, its downtown district is lined with antique shops, eateries, and gorgeous public art.
Learn how to spend a day in Hutch here and view a bonus post about the town's many murals here.
PRATT, KANSAS
Kansas is dotted with charming small towns, but few are as fun to spend the day in as Pratt aka "The Gateway to the High Plains." Upon arrival, the town rolls out the red carpet and welcomes you.
Located a bit over an hour's drive from Wichita, visitors will quickly discover that there are many must-see places to experience.
Make the most of a day in Pratt here.
SALINA, KANSAS
What's not to love about Salina, Kansas? The downtown district is renewed, the arts scene is vibrant, and the entertainment and dining options abound! The community has everything you're looking for and more in a Midwest town.
Santa Fe Avenue, a wide street flanked by one-of-a-kind businesses, is updated with gateway arches, concrete planters overflowing with botanicals, and sidewalks in brick designs.
Plan your visit here to see Salina's top attractions.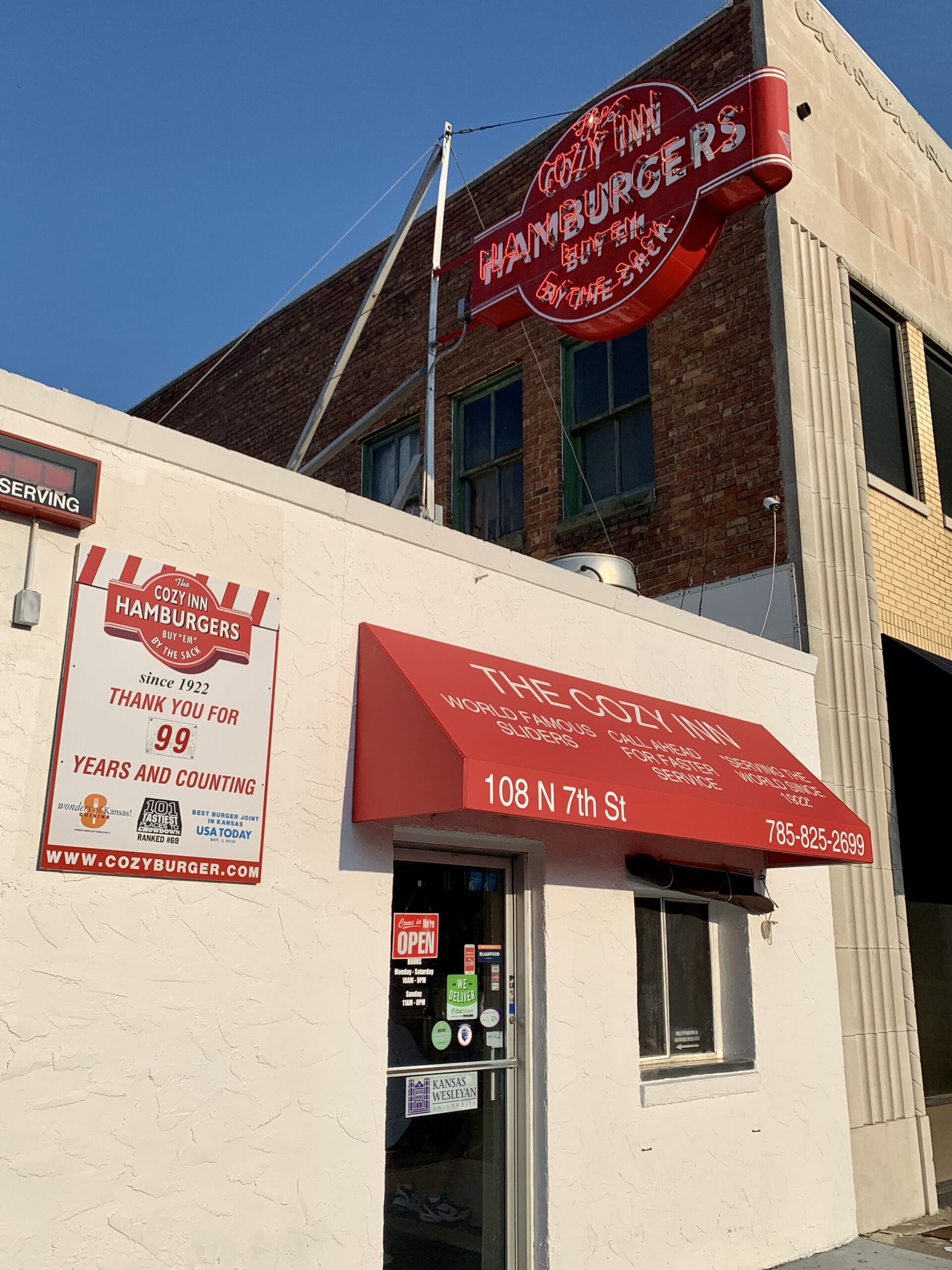 ABILENE, KANSAS
Abilene, Kansas offers visitors a multitude of places to explore that celebrate its history. Voted the Most Beautiful Small Town in Kansas by House Beautiful (2020), it deserves the recognition.
From the American flags lining Buckeye Avenue to the museum honoring U.S. President Dwight D. Eisenhower to the restored downtown buildings, Abilene proudly represents small-town America. Take Exit 272 from KS I-70 to experience the award-winning town for an afternoon.
See what you're missing here.
DERBY, KANSAS
A 20-minute drive from Wichita, Derby has a multitude of options for keeping the family entertained. I suggest adding it to your summer day trip bucket list, especially during the summer months.
Derby offers countless places to enjoy. Whether you're walking amongst dinosaurs, shopping, or enjoying a delicious meal indoors, it's certainly worth the short commute from Wichita.
View the area's top attractions here.
LINDSBORG, KANSAS
Välkommen to "Little Sweden" in Lindsborg, Kansas! The charming town is home to educators, artists, and business owners who celebrate their Swedish ancestry.
Only an hour's drive from Wichita makes an ideal day trip for travel enthusiasts who want to experience a picturesque small town with plenty of things to do, from dining to exploring art galleries to shopping.
Discover the best way to spend a day in Lindsborg here.
NEWTON, KANSAS
When people ask me about my favorite Kansas towns, Newton tops the list. It's less than a 30-minute drive from Wichita and offers a long list of entertaining attractions, dining options, and locally-owned shops that make for a nice day trip.
Newton's walkable downtown district, local restaurants, and nearby attractions make it a fantastic option for day-trippers in search of adventure.
View a sample day trip itinerary here.
WELLINGTON, KANSAS
A 35-minute drive south of Wichita, Wellington is a Kansas town rooted in history with a thriving community of businesses and attractions. Three museums, scenic parks, unique shops, and hometown dining make it worth exiting I-35 South to see for yourself. Plus, the residents are just as welcoming as the town is charming.
Wellington is a wonderful place to spend a day exploring some of the top attractions in south-central Kansas.
Review a sample day trip itinerary here.
EMPORIA, KANSAS
Emporia, Kansas, is nestled in the beautiful Flint Hills off Interstate 35 between Topeka and Wichita. From outdoor recreation to dining and shopping, your choices are nearly endless.
Emporia is much more than another college town in Kansas. It's a community comprised of a multitude of things to do and welcoming residents.
Review a sample day trip itinerary here.
If you're like me, you can't wait for the next opportunity to travel. I hope I've inspired you to use a tank of gas to travel to one of these delightful towns within a short distance of Wichita.
Feel free to ask questions about the destinations in the comments below. I'm always happy to chat about travel and customize your experience to your likes and dislikes.