Disclosure: Kansas I-70 Association sponsored this post. However, all opinions and photographs are my own.
Topeka, Kansas is a city that intrigues me. It's a metropolis of doers, makers, and creative people. Its attractions reflect a spirit of progress. I was impressed by its eclectic arts scene, restaurant options, and historical museums. When given the chance to Exit I-70 to Topeka and stay overnight, do it. You won't be disappointed.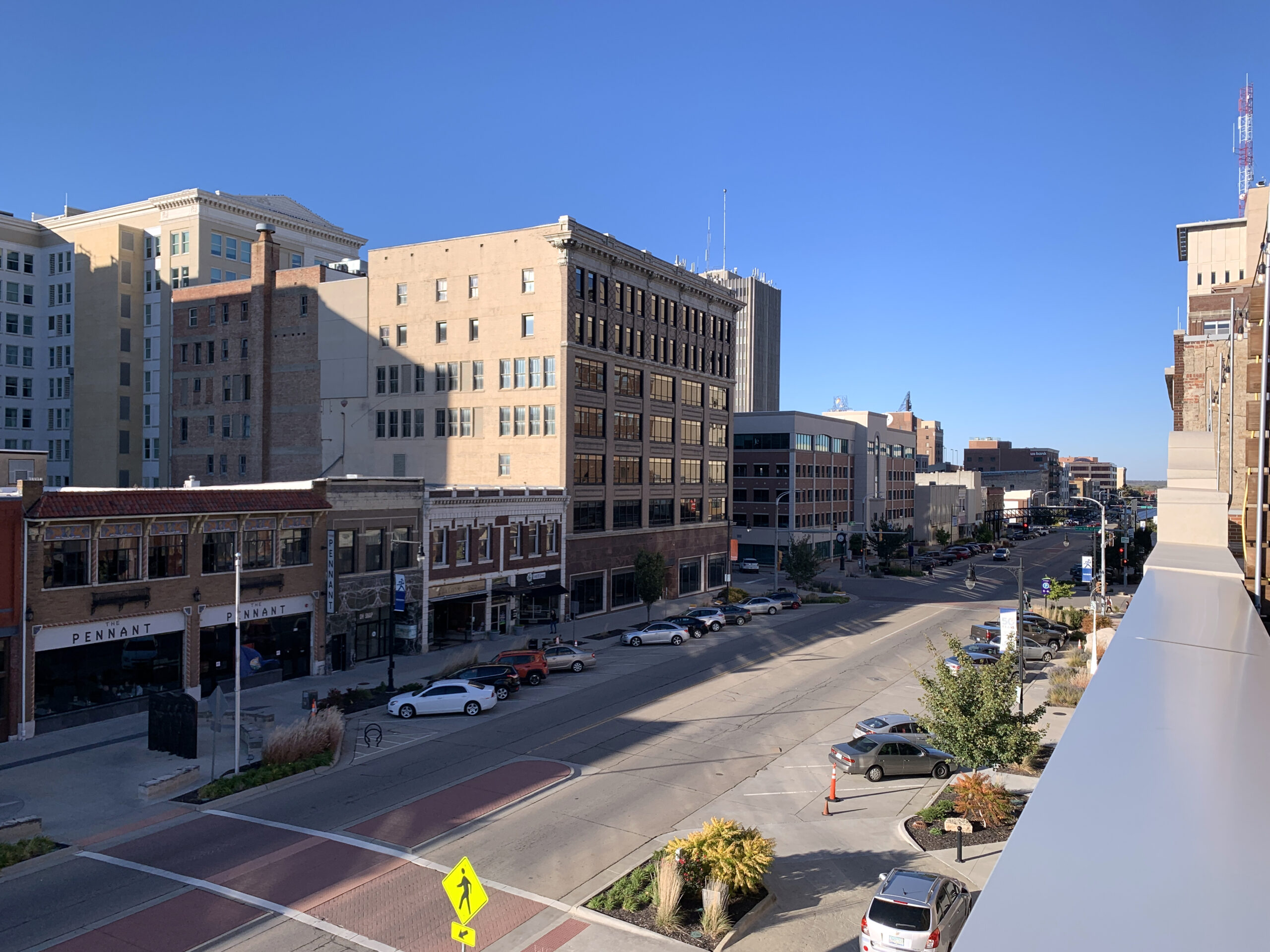 BREAKFAST
The first stop on my travel itinerary took me to Judee's Coffee (2111 SW Chelsea Dr.). I heard that the coffee shop was highly recommended for serving the kind of coffee connoisseurs rave about.
As I drove up to the building, I saw shoppers milling around a nearby business looking at furniture on display. Some people were exiting with full shopping bags while others were excitedly making their way inside. It was a thrift shop. Very cool.
Judee's Coffee is located adjacent to God's Storehouse, a massive store housing gently used household goods and apparel. Just my luck. I could enjoy breakfast and then shop for antique glass and vintage jewelry afterward.
The barista crafted the perfect chai latté for me. The cafe smelled of freshly baked peanut butter cookies while I sipped my drink and watched shoppers peruse the shelves. Quiche, homemade tarts, and cookies sat in the pastry case waiting for someone to enjoy. A line formed at the counter.
To my surprise, the cafe's menu prices were quite reasonable. A brown sugar latte on the seasonal board was only $2. Considering they serve Oddly Correct coffee from Kansas City, it was a real value. Later, I chatted with the employees and learned that the cafe's menu prices are set low to make good coffee accessible to everyone. They refer to it as "generosity at its best."
That's a mission that I can get behind, and I'm sure you can as well. When in Topeka, consider driving to Judee's Coffee for a breakfast treat before a morning of shopping. View the cafe's hours here.
KANSAS MUSEUM OF HISTORY
Since I was less than a 10-minute drive from the award-winning Kansas Museum of History (6425 SW. 6th Ave.), I set out to discover the stories of the people and places that make the Sunflower State unique. For the price of a $10 adult admission, I gained access to exceptional exhibits. In fact, it's one of the 8 Wonders of Kansas History.
The best way to appreciate the collections is to start in the Early People exhibit and work your way through to the museum to the Recent Past. Along the way, you'll learn how Native Americans settled in areas of Kansas, the impact of the Civil War on the state's people, and the tragic story of Bleeding Kansas.
A full-size covered wagon helps you to imagine what it must have been like to travel as a family and settle on the frontier. As you meander into the largest room, you'll discover the impact of passenger trains on the state's economy. Later, exhibits featuring artifacts of the early 20th Century set the scene while you listen to the voice of the state's most distinguished soldier, President Dwight D. Eisenhower, as he delivers a speech.
The final exhibit features pop culture artifacts from the recent past. It's an immersive experience. Sit down in the 1950s dinner. Gaze at the glass shadow boxes filled with fast food artifacts. Think back to the early days of Big Cheese Pizza and White Castle, NuWAY, and Pizza Hut. Which Kansas restaurant was your favorite as a child?
One of the highlights of touring the museum was seeing John Brown's chair. It was the same one he sat in while keeping watch from Charles Smith's farmhouse on the Underground Railroad. Additionally, the hatchet of the infamous bar room smasher Carry Nation is on display at the museum, which I always wanted to see up close.
Other displays you might appreciate include walking through Santa Fe's oldest surviving locomotive and standing underneath the first Kansas-built plane from 1911.
Set aside at least an hour to take a self-guided tour of the Kansas History Museum. If you bring little kids with you, ask the visitor's desk about interactive trivia game that makes their experience through the museum just as enjoyable as yours. View the museum's hours and admission prices here.
NOTO ARTS & ENTERTAINMENT DISTRICT
It was time to drive back toward downtown. First, I took a detour to the NOTO Arts & Entertainment District in North Topeka for a walk-thru its many art galleries during First Friday. Known for its large collection of street art and eclectic shops, it attracts locals and tourists in search of culture.
I started my tour of the historic district by ducking inside the NOTO Art Center (935 N. Kansas Ave.) to get my bearings. While there, I discovered a quaint gallery space featuring a tribute to the city's green spaces, "See Topeka." Did you know that the Top City is home to 109 public parks? Paintings inspired by travel posters showcase many of the parks from Ted Ensley Gardens to Animaland.
I encourage you to visit NOTO on the First Friday of the month to appreciate paintings, sculptures, and metalwork by regional artists. Each independent gallery sets its own hours but they all stay open late on First Friday. If you're an artist, you'll definitely feel at home here.
Visitors also enjoy the quirky antique stores and inviting eateries that make up the restored neighborhood. You'll likely need a couple of hours to truly shop the stores because each one is stocked full of collectibles and uniquely individual pieces. If you're someone who drools over mid-century furniture, step inside of Eclectic Designs. Stores like Kaw River Rustics, Pinkadilly, and Corner Market are worth shopping at for home decor finds.
If hunger sets in while shopping, I recommend grabbing a bite to eat at The Wheel Barrel (925 N. Kansas Ave.) known for award-winning grilled cheese artisan sandwiches. Check the sidewalk board for the day's specials. Norseman Brewing Company (830 N. Kansas Ave.) serves a full menu of craft beer selections and hearty meals in a dimly lit taproom made for Vikings.
Street art and oversize murals make NOTO Arts & Entertainment District a must-stop. Notable murals include brightly colored scenes of animals, dreamscapes, and flowers. You'll stop in your tracks when you see the building that doubles as a massive mosaic. It's covered with intricately placed, tiny pieces of colored glass.
Make sure to look for the golden "Bull Giraffe" located in Breezeway Park. Keep your eyes peeled for the murals with flying pigs, prancing elephants, and be sure to trek across the rainbow crosswalk.
LUNCH
The Pennant (915 S. Kansas Ave.) is not your typical burger joint. It's a two-story destination for fun that just happens to serve tasty burgers and milkshakes. It's also a bowling alley, bar, and retro arcade. Stepping inside the restored historic building is like transporting back to your childhood when all you dreamed about was a day of play and yummy treats.
Famished from a morning of exploring the city, I dined on the Pennant Original Burger topped with everything with a side fries (don't forget the truffle sauce for dipping). If you're craving it, you'll find it on the menu. Homemade chili three ways. Patty melts. Milkshakes topped with cupcakes and sprinkles. Most patrons leave the restaurant with a box because they don't want to leave a bite behind.
Before you visit The Pennant you need to bring three things: an appetite, your A-game, and a roll of quarters to play Space Invaders or Pac-Man in the retro arcade. Plan your visit and view their hours here.
BROWN V. BOARD OF EDUCATION NATIONAL HISTORIC SITE
There was just one more place I had to explore before checking into my hotel. Brown v. Board of Education National Historic Site (1515 SE Monroe St.) is listed on the Civil Rights Trail recognized as a place where the events that happened there changed the world.
The day Monroe Elementary School opened in 1927, it was was a racially segregated school. Parents of several students joined others in Topeka as plaintiffs in the Brown v. Board of Education lawsuit against the "separate but equal" doctrine, which was eventually ruled as a violation of the 14th Amendment by the United States Supreme Court.
Having been a product of the bussing system as a child in the 1980s and a high school teacher later in life, I felt chill bumps walking through Monroe Elementary School during my self-guided tour.
Visitors should start their tour inside the gymnasium to watch a 30-minute introductory film explaining the climate of the civil rights era and the case that ended legal segregation in public schools. Afterward, you can walk inside each classroom dedicated to the timeline of events. The upstairs is closed to visitors.
I was moved to tears as I watched videos of civil unrest. I imagined what it was like to be a student at Monroe Elementary School. A visit to the historic site is one that is well spent and it is certainly a memorable one.
If you have questions upon entering the school, I recommend asking the knowledgeable National Park Service ranger on site. To view the museum's hours, plan you visit here. Admission is free. Tip: Don't miss the mural directly across the street painted by Kansas City artist Michael Toombs that commemorates the landmark Supreme Court decision.
LODGING
The state's capital city is host to many hotels, but I had my eye on one in particular that I heard was beyond measure.
Cyrus Hotel (920 S. Topeka Ave.) is a modern boutique hotel that recently opened in downtown Topeka. Luxury rooms, elegant restaurant and bar, and close proximity to top attractions make it a solid choice for lodging in the capital city. When people ask where I stayed overnight in Topeka, I can't wait to rave about the hotel.
The building is over 100 years old, but you can't tell from its up-to-date style. Hip furnishings with brass finishes are the backdrop for well-designed spaces throughout the hotel. My corner room had floor-to-ceiling windows that provided stunning views of downtown, especially at night when the skyline was aglow.
I found the in-room amenities to be exceptional. The interior design included built-in storage and an oversized desk. A frequent traveler, I appreciated the convenience of having a refrigerator, Keurig coffeemaker, and free Wi-Fi access in the room. When it was time to retire for the night, I loved the luxurious bed linens. Cyrus Hotel considered every detail when designing a space for ultimate relaxation.
Hotels guests will appreciate the lounge with a fire pit in the courtyard. Ready for dinner and drinks? You don't have to leave the hotel to find an excellent dining option. Fedeli's Steak & Pasta Restaurant & Bar serves classic fine dining in a sophisticated setting. They're known for locally-sourced steaks, but I was craving Linguine Carbonara. The dish met every expectation and then some.
As I sat at the clothed table enjoying my meal and sipping on an espresso martini, I felt as if I had been transported outside of Kansas to New York City. To top off the experience, I indulged in an after-dinner drink, a classic Old Fashion. Swanky, indeed.
For guests who would prefer to enjoy breakfast at the hotel, it is served from 6:30am-10:30am downstairs. One of my favorite Topeka restaurants, The Pennant, is located across the street and they will also deliver a meal to you at the hotel via guest services.
If you get the opportunity to choose your accommodations for an overnight stay in Topeka, I hope you'll choose the Cyrus Hotel. Not only does it make for a comfortable stay in the heart of the city, but the amenities spoil you. Did I mention it is also pet-friendly and street parking is free from 5pm-9am? It just keeps getting better.
That's exactly what you can expect from an overnight visit to Topeka. Every destination, restaurant, and neighborhood will surprise you. It's a city that works hard to evolve and progress. It's more than the home of the Kansas Statehouse, it's a travel destination with unparalleled attractions that you need to experience for yourself.
With more than enough to do in Topeka, an overnight stay is simply not enough time to experience it all. I look forward to visiting the Topeka Zoo, Mulvane Art Museum, and Old Prairie Town at Ward-Meade Park.
Are you ready to book your overnight stay at the Cyrus Hotel and explore Topeka? Leave your travel questions for me in the comments below.