Updated November 23, 2022
Calling all wine enthusiasts! I have a treat for you.
After traveling extensively across the Sunflower State, I realized that I explored a number of Kansas wineries. I've put together a guide for your reference should you find yourself on the hunt for the perfect tasting merlot or searching for flavorful fruit wine.
SHILOH VINEYARD & WINERY: WaKeeney, KS
Drive west from WaKeeney on KS I-70 to Exit 120 to M Road to get to Shiloh Vineyard & Winery (17079 M Rd.). I was told it was a popular stop for visitors to the area in search of a relaxing place to sip wine and enjoy the gorgeous scenery. A family-owned winery founded in 2008 by the Johnstons, it features a tasting room, event space, and serves as an official Harvest Host for overnight RV guests.
A popular venue for hosting weddings, receptions, and private parties, the barn below is available for rental. A nearby patio attached to the tasting room provides outdoor seating. The winery and event spaces stay consistently busy, but they always welcome wine lovers who show up to sample wine.
Visit the tasting room to enjoy the winery's long list of varieties, order a wine flight or ask about the Wine of the Week. I would highly recommend asking for a guided tour to fully appreciate the winery. Visitors can schedule an informative tour by appointment.
EMPTY NESTER'S WINERY: Lecompton, KS
Aside from hosting history seekers, Lecompton is home to several businesses including Empty Nester's Winery (338 Elmore St.). Owned and operated by a husband and wife team, they serve a variety of fruit wines. Surprisingly, the wines didn't taste as sweet as I expected.
Opened in January 2021, visitors can choose from four dry wines and 12 semi-sweet wines for a tasting flight. Ask for a wine slushy!
When the owners are not busy making wine or socializing with customers, they also make preserves, jams, and jellies available for sale in the tasting room.
Empty Nester's Winery focuses on quality wine and excellent customer service. They host game night on Thursdays and invite a food truck to park out front on occasion.
Z&M TWISTED WINERY & TASTING ROOM: Leavenworth, KS
Everywhere you turn in Leavenworth, there is a business or group that proudly supports the military. Z&M Twisted Vineyard & Tasting Room (620 Cherokee St.) is no different. They partner with Homegrown by Heroes and Farmer Veteran Coalition Kansas to produce locally sourced wine.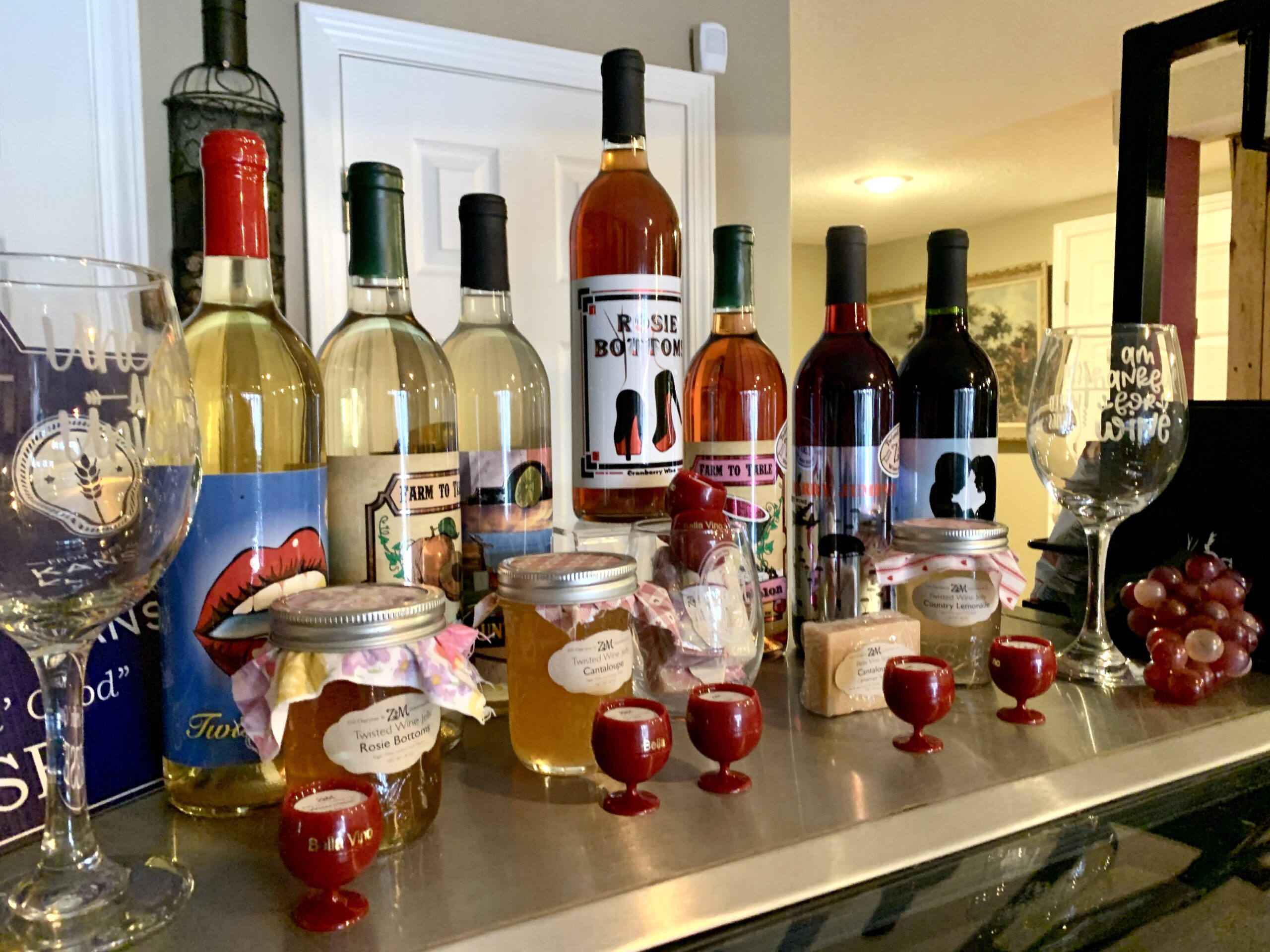 The veteran-owned and operated winery's tasting room is centrally located downtown across from Hay Market Square. They are open for wine tastings and retail shopping. I chose a seat at the tasting room counter and ordered the Tasting of the Month, a flight of five selections.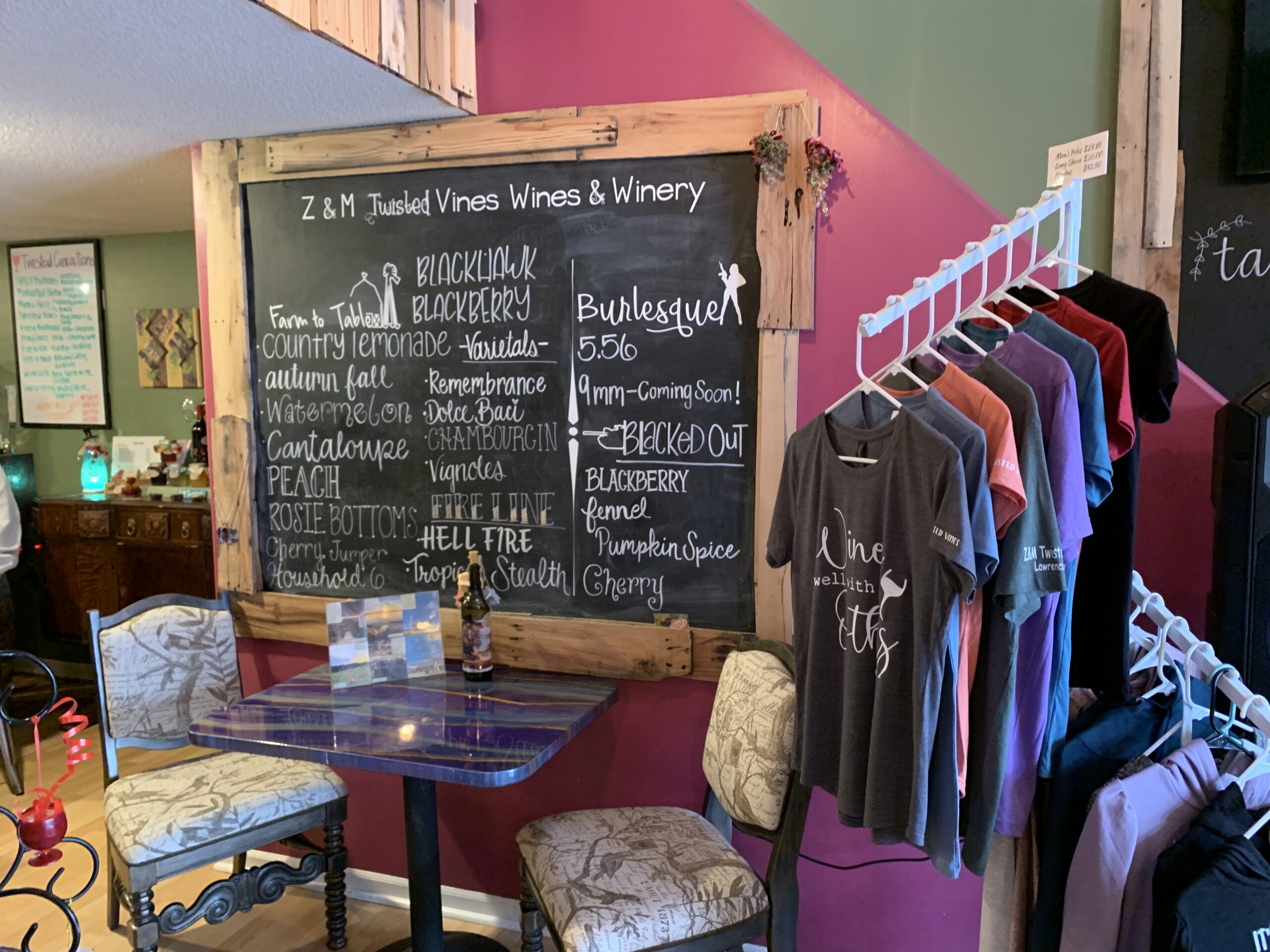 A flight lets you discover a wine that you will appreciate the most – take home a bottle for your personal collection. They also sell jarred jellies and gifts for all of the wine lovers in your life. Plan a visit to the tasting room by viewing their hours here. Call head to book group visits and reserve space for events.
ROWE RIDGE VINEYARD & WINERY: Kansas City, KS
As a Kansan, I'm still amazed that the state produces incredible wine considering the extreme weather we often experience in the Midwest. I was impressed with Rowe Ridge Vineyard & Winery (11255 Leavenworth Rd), a five-minute drive from my lunch stop. The tasting room offers vino enthusiasts a chance to sample flights of a large selection of wines (6 wines + logo glass $8).
Located on 10 acres, the tasting room is open Thursday-Sunday from 12pm-5pm or by appointment. Marc and Pame Rowe have operated the vineyard since 2005 and depend on volunteers to help them harvest grapes from over 3,000 vines. The first vineyard in Wyandotte County, they produce 9 varieties of hybrid and American native grapes.
My recommendation is to bring someone with you to the tasting room and each purchase a different flight so you can sample all of the wines. When in doubt, choose the dry to semi-sweet flight. Bottles range from $17-$18 and fruit wine bottles are $16. View the current list of wines available here.
JENNY DAWN CELLARS: Wichita, KS
When in Wichita, make your way to the city's first and only urban winery, Jenny Dawn Cellars located in historic Union Station (703 E. Douglas, Suite 180) for a glass of wine, or better yet, a wine flight.
Owned by Kansas State University grad, a certified sommelier and winemaker, Jenny McDonald launched the winery in 2016 after years of honing her craft. Visitors to the tasting room can expect a lesson in wineucation as they sip on award-winning wine—a win-win.
Thanks to her extensive research in Napa Valley, and her partnership with grape growers in California and Kansas, McDonald brings the best in handcrafted wines to Wichita. Jenny Dawn Cellars began from McDonald's unrelenting passion to make and serve first-class wines that easily competes with any nationally recognized brand in concept and quality.
I highly recommend the Traditional Flight, which appealed to my love of dry wines and included four options from white to red. We also appreciated the Rosé and Trains Flight, a journey of semi-sweet wines.
GRACE HILL WINERY: Whitewater, KS
There's no better time to enjoy Grace Hill Winery in Whitewater, Kansas (6310 S. Grace Hill Rd) than during fall. The weather is delightful for an impromptu charcuterie and tasting experience from the top deck.
We enjoyed Chloe's Cuvée, a semi-sweet white and then sipped in Beach Day Rosé. We brought our own snack since it was my birthday, but they do sell goodies to nibble on. When inside the tasting room, use a map pin to mark your hometown and don't forget to say hi to the winery's cute cat.
There is also an indoor tasting room that serves about a dozen wine drinkers at a time. Bottles of wine are available for purchase. I recommend arriving when they open on the weekend to avoid waiting to be served or you can book a tasting here. View their food and wine menu here.
There is always a fun event planned at the winery. Check this link to see what upcoming events are open to the public.
WANDERING VINE AT THE CASTLE: Shawnee, KS
What could feel more magical than drinking fine wine inside a castle? Visit Wandering Vine at the Castle (12401 Johnson Dr.) to enjoy a delicious chef-prepared meal and a wine flight. Open Wednesday-Saturday for lunch and dinner, the castle welcomes locals and tourists who are seeking a sophisticated dining experience.
The building has been a number of businesses over the years but has always remained a memorable landmark on the edge of downtown Shawnee. Today, it's owned by Kansas City residents who have enlisted the expertise of an executive chef and sommelier to celebrate food and drink. One step inside the castle and you are transported to an exceptionally beautiful setting.
Reservations are highly recommended, however, I stopped by the castle for a wine flight during the late afternoon between meal times and was served swiftly in the bar area. I chose Reds of the World, a flight that included three pours from Portugal, Washington, and Spain ($16). Premium wine flights are $26. I loved them all.
KC WINE CO.: Olathe, Kansas 
KC Wine Co. (13875 S. Gardner Rd.) is not just a tasting room next to a vineyard. It's a winery destination located on five acres with a multitude of things for visitors to enjoy. You'll love the famous wine slashes, traditional wines, and hard ciders.
The owners wanted guests to use all of the senses while visiting. Whether you're noting the smell of fresh cedar inside the red barn or sitting on a swing and enjoying the view with a wine glass in hand, you'll get the full experience.
STONE PILLAR VINEYARD & WINERY: Olathe, Kansas
Stone Pillar Vineyard & Winery (11000 S. Woodland St.) is nestled in the heart of Olathe. Well, technically Olathe built itself up around the vineyard. It seems more like Olathe built itself around the vineyard given that the property's deed from 1865 hangs framed on the wall. The five-generations, family-owned vineyard and winery produced wine, hard ciders, and wine slushies.
ROSEWOOD CELLAR: Great Bend, Kansas
Rosewood Wine Cellar (1901 Lakin Ave.) is a shop devoted to vino enthusiasts. Of course, you'll find a wine-tasting bar (free samples!) as well as rows of handcrafted wine bottles for sale, but the store is much more than another retail store. Rosewood Wine Cellar's products are made or harvested by client-employees with disabilities. Each time you make a purchase at the shop, you sustain employment for them.
The staff is incredibly friendly and knowledgeable about the award-winning wines. They carry two dozen varieties of wine that are grown a short drive west of town.
WINE TRAILS
Die-hard wine enthusiasts will appreciate that a mapped wine trail is made especially for them. The Kaw Valley Wine Trail includes 16 Kansas wineries located in the northeastern part of the state. You should also check the Kansas Wineries map by KC Wine Road. To get a glimpse of all of the wineries in the state, use Kansas Tourism's interactive map to plot your course.
Can't make it on the road any time soon to a winery? Tune into the KNSS 98.7FM radio show, "The Good Life" with Guy Bower on Saturdays from 12pm-1pm. A Wichita-based wine expert who chats with guests about food and wine.
Enjoy the adventure and cheers, friends!